Credit Card Freebies
£100 vouchers, European flights etc
Get Our Free Money Tips Email!
For all the latest deals, guides and loopholes - join the 12m who get it. Don't miss out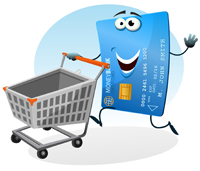 Perform a legal smash and grab raid on a credit card company right now. There are tonnes of freebies available: flights around Europe (taxes still apply), £100 gift vouchers and more.
Credit cards offer free gifts to new cardholders. Sign up for the card, spend what's needed, pay off in full, grab the freebie, and forget it!
The six golden rules
Credit cards are so lucrative, companies are often willing to pay £40-£80 to acquire a new customer: small potatoes compared to their potential profit from debts. This money materialises in a variety of ways: heavy advertising spends, introductory 0% offers, and free gifts or inducements to sign up for the card.
Before you get a freebie credit card, there are six things you need to know. Get this wrong and it can cost you large, so please read the following (even if you only have time to read and remember the headlines it should help protect your pocket).
Best Buys
Travel freebies
Our top picks for cards which give you travel related freebies, including flights and air miles:
Best Buys
Vouchers, discounts and reward points
Some of the top freebies are on reward cards, which give you points everytime you spend that you can then convert into vouchers:
Cashback sites may pay you for signing up
As an extra boon, members of specialist cashback websites can be paid when they sign up to some financial products. Do check that it's exactly the same deal though, as terms can be different. And remember the cashback is never 100% guaranteed until it's in your account.
Full help to take advantage of this and pros & cons in our Top Cashback Sites guide.
Find out when new freebies are available
Some of the other freebies available are mostly through bonus reward scheme points given on application. If you spot any more top freebies, discuss them in our forum.
In the past Caribbean flights, MP3 players and £50 shopping vouchers have been briefly offered, among other things. Yet they come and go quickly. To ensure you don't miss them, sign up to my free weekly Martin's Money Tips email, which includes all top MoneySaving freebies.
For other types of credit card benefits, including free extended warranties and ID fraud protection, see the Credit Card Perks guide.
Get Our Free Money Tips Email!
For all the latest deals, guides and loopholes - join the 10m who get it. Don't miss out
Credit Card Freebies

Q&A
If I open a card just for the freebie and cancel it will it harm my credit score?

There's no definitive answer to this one, as lenders look for different things when deciding whether to give you credit. In general, it might be better to cancel it if you're not using it, as having open cards that aren't being used can be considered a fraud risk. Make sure you pay off, or transfer, the balance of the card before closing. For more information on cancelling your cards read the Old Credit Cards guide.

What if I don't get the freebie after I got the card?

First of all make sure you've met any requirements for getting the freebie - most cards have a minimum spend trigger before they'll give you the gift. If you think you have met these requirements then contact the credit card company to see why you haven't received anything.

What if I want to transfer a balance onto the card?

Cards which offer a sign-up freebie do not tend to give cheap balance transfer deals - by far the best thing to do is use separate cards for spending and balance transfers. See the Balance Transfers guide for an overview of the best cards out there currently.

Should I get PPI with the card?

Payment protection insurance is commonly sold with credit cards - the idea is it'll make some payments for you, usually for a year, if you are unable to (eg, if you lose your job).

But in many cases it has been mis-sold. Borrowers didn't realise they were signing up for it, or it was totally unsuitable for them, and some big lenders have been fined.

The protection isn't always bad, though policies sold with cards are often overpriced (you pay a monthly amount depending on the size of your balance). If you want it, compare the lender's cover with standalone providers such as Paymentcare or Best Insurance.

Always be vigilant to check you aren't getting more than you bargained for when you fill in the application, then check your statement each month to check you aren't inadvertently paying for extras if you didn't ask for them.
Representative APR
Where credit cards or loans use a representative APR, this means that 51% of successful applicants will be given the stated interest rate.
Credit Cards
With credit cards, the rate for purchases (as opposed to balance transfers or cash withdrawals) is used as the main rate to advertise the card.
So if that is described as 19.9% representative APR, then 51% of people accepted will get 19.9% APR, but 49% will get a different rate (likely to be higher).
Personal Loans
Loans are slightly simpler as they only have one rate. So if a loan is advertised as being 7.5% representative APR, this means 51% of accepted applicants will get 7.5%, and 49% will get a different rate (likely to be higher).
Of course, some people will be rejected outright for the card or loan too.