If you're planning to drive to France and go through Paris, Lyon or Grenoble, beware. New rules mean you're likely to need to display a vehicle emissions sticker on your windscreen, while older cars could be banned altogether at certain times.
The three French cities have introduced the 'Crit'Air' scheme, which is designed to curb pollution and requires most vehicles driving within designated 'environmental zones' to display a window sticker (known as a vignette).
The stickers cost €4.80 (around £4.13), including postage to the UK. There are six categories of sticker, which are colour-coded according to how much vehicles pollute and range from the cleanest (Crit'Air 1), for electric or hydrogen-powered vehicles, to the most polluting (Crit'Air 6).
While the vignettes only cost a few pounds, if you're caught driving without one in an environmental zone you could be hit with a hefty on-the-spot fine of €68 (£59) for cars or €135 (about £116) for HGVs and buses.
Be careful when buying one though. MoneySavingExpert.com has identified at least one non-official site selling the vignettes at more than six times the price on the official website. Don't be fooled – always buy through the French environment ministry (see full help on how to get a sticker below).
For more ways to cut the cost of driving at home and abroad, see our 50+ Motoring MoneySaving Tips.

Get Our Free Money Tips Email!
How do the new restrictions work?
Not all vehicles require a sticker – cars registered before 1997, motorbikes and scooters from before June 2000 and trucks and buses from before 2001 are all excluded from the scheme and can't be driven at all when the restrictions apply.
While technically you can drive a vehicle without an emissions sticker through the restricted zones when the restrictions aren't in force, the RAC strongly recommends that if you're planning to drive in Paris, Lyon or Grenoble, and you qualify for a vignette, you get one and display it at all times. Otherwise there's a risk you may be caught and fined, especially as restrictions could vary locally.
Here's how the driving restrictions work in the three cities:
In Paris: The restriction affects all areas inside the city's orbital road, known as the Boulevard Périphérique. It is usually in place between 8am and 8pm, Monday to Friday. That means you need to display a vignette if you want to drive in central Paris during those hours. If you don't qualify for a vignette – or you don't want to buy one – you can only drive outside those hours.
In Lyon and Grenoble: There are no specific hours when the restriction is in place. Instead, it can be imposed on days where pollution is judged to be particularly high. Again, if you don't qualify for a vignette – or you don't want to buy one – you will be unable to drive in certain areas when the restrictions are in place.
Full details of all France's traffic restrictions and schemes can be found on the EU's Urban Access website.
Authorities in about 20 other French towns have already signalled their interest in adopting the vignette scheme, so if you're a fan of driving holidays in France you'd be wise to get to grips with it now.
How to get a sticker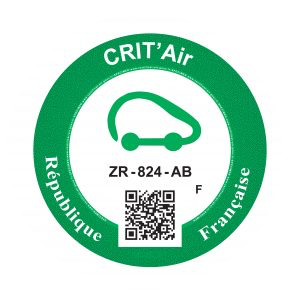 Go to the French environment ministry's website to apply – don't buy from anywhere else as we've seen some non-official sites selling these stickers at vastly inflated prices.
It's not necessary to apply for a particular vignette. Simply fill in the order form – it's in English – with details of your vehicle and you'll be sent the right one. (If you're unsure and want to check your vehicle's European emissions standard, use the RAC's website.)
This is the ONLY way to apply if your vehicle is registered in the UK – you can't get a sticker once you're in France. To fill in the form you'll need the following info:
Licence plate number
Date of first registration
Fuel and vehicle type
Serial number (VIN)
A digital copy of your vehicle registration document (to be uploaded)
Name and address
Payment details (you can only pay by debit card)
It can take up to 30 days from your application to receive the vignette by post – you can track its progress. Unfortunately there's no express delivery option, so apply well before your holiday. If you leave it too late, you'll have no option but to avoid the restricted zones.
Once your vignette arrives, attach it to the lower right-hand side (as seen from driver's seat) of your windscreen in such a way that it can be read by someone outside the car. View the official instructions for how to do this, or watch the video below (even if you don't speak French, you can see how it's done).