Calling Mobiles Cheaply
Instantly cut the cost
Get Our Free Money Tips Email!
For all the latest deals, guides and loopholes - join the 12m who get it. Don't miss out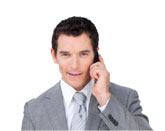 You can halve the cost of calling mobile phones without even changing provider. Most free calls don't include calling mobiles; it's often the bulk of the bill.
Beat this trap by dialling a special number which cuts the cost to 6p/min weekdays and 7p/min weekends, saving you £100s.
Easy tips to begin
Before looking at how to call for less, there are a couple of practical points to speedily reduce your bill.
It's cheaper to call a mobile from a mobile...

If you have a mobile that includes 'cross-network' minutes, use them to get the calls for free instead of using your landline.

As you pay a monthly fee for those minutes, it's better value to use them to call mobiles rather than landlines; the latter are usually included in landline packages anyway.

It's cheaper to call a landline from a mobile than mobile from landline

There's a simple stat everyone should know...

Calling a mobile from home... costs up to 11p/min
Calling home from a mobile.... is often free

If someone calls a landline from a mobile and they have a free minutes package, the call will be included. Even if not, it's usually cheaper than calling a mobile from home (though do check your tariff). So why not make a pact with friends and family that when one of you calls a mobile from home, the other should immediately hang up and call back?
Cheap, no hassle, landline to mobile phone calls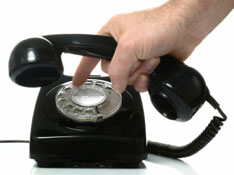 This is all about using specialist cheap override phone companies. These allow you to massively cut the cost of calling mobiles from a landline, without changing phone line. With some you don't even need an account.
How override providers work
You 'override' your home phone provider so you pay the override provider's charges rather than your home phone provider's charges. They all work a slightly different way; but the process is usually something like this.
Step 1: Dial its access number. It gives you a special phone number to call from your home phone, which connects you to its network.
No-frills providers
These are no-frills providers, and while feedback is generally good, if you do have problems it can be hard getting in touch with the company to fix it.
Cheapest for each call
Our special, easy to use, free UK CallChecker tool provides a daily updated list of the cheapest way to call mobiles. It's best to use if you want the ultimate solution and are able to keep checking for the cheapest number and use different providers for different call types.

An example of weekday results for a BT line
(this is a screenshot so don't rely on these, get the latest rates on the CallChecker)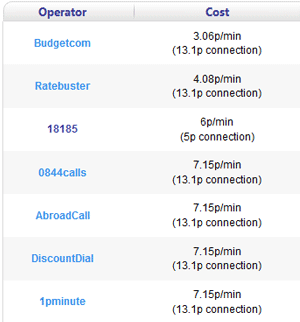 You shouldn't need to search every day though, most providers will announce the call price at the beginning of the call, so if it's risen simply come back to the UKCallChecker to find the current cheapest.
Get Our Free Money Tips Email!
For all the latest deals, guides and loopholes - join the 10m who get it. Don't miss out
The easy solution
For everyone barring BT customers, the one-stop shop for calls at any time of the day or week is 18185 which is consistently cheap, though it can be beaten for some calls. To use it, set up an account online and arrange to pay by direct debit.

Get access to the service by dialling its freephone access code. No prizes for guessing it's 18185. You're then billed for the calls at the end of each month. The cost depends on who provides your landline...
Sister provider Call1899 undercuts it slightly at weekends, charging 6p/min.
Call costs on 18185 from a BT, Primus or Post Office landine.

It charges 6p/min during the day and 7p/min at weekends plus a 5p connection charge per call. If you have a BT line but get it via another call provider, eg, TalkTalk, sometimes it blocks access to these types of prefix numbers. If that affects you, you can still save via the cheapest call by call section below.

Call costs on 18185 from a Virgin/non-BT landline.

Here you can't dial 18185, instead you must dial a normal landline number at slightly increased prices. It costs 10p/min weekdays and 6p/min weekends, a massive saving over Virgin. However, you can do it even cheaper by using the system below.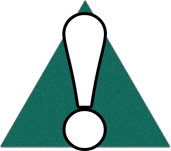 Some can't dial 18185 from home phones
Some telecoms companies block access to override provider 18185. If that's the case you need to use the second type of override provider. With these you access the service via a special number which can be dialled from any phone.
This access number is at a fixed tariff (eg, 0844 123456 costing 7p/min plus connection) and billed via your home phone company, there's no separate bill. The override company then gets a cut of your phone provider's call revenue.
The only problem is you're paying as soon as you dial the provider's system, so even if the person is engaged, you pay - but this is small compared to the saving. Plus if your landline isn't BT, the price you pay can vary (it's rare, but it's worth noting).
The cost of calling mobiles
Provider
Daytime weekday
Daytime weekend
Evening weekday
Evening weekend
From a BT landline
BT
11.3p/min
11.3p/min
5.3p/min
5.3p/min
TalkTalk
12.26p/min
12.26p/min
7.15p/min
7.15p/min
18185
6p/min
7p/min
6p/min
7p/min
From cable (Virgin) lines
Virgin
Up to 31.61p/min
Up to 24.46p/min
Up to 31.61p/min
Up to 24.46p/min
18185
10p/min
6p/min
10p/min
6p/min

Standard rates. Correct as at 16 April 2012
What's the call quality like?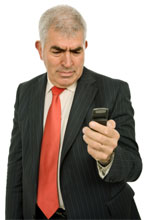 Override providers are no-frills companies, there's no customer service and capacity is limited. This means sometimes you'll call and not get through - that's the nature of the beast and the reason they're so cheap. If this happens, just use the UKCallChecker to find the next cheapest provider.
As for line quality, generally it isn't too bad. It can vary, as providers underbuy line capacity and utilise the internet to route calls to make them cheaper. However, for most non-business calls override providers should be fine, and they'll save you a fortune.
Call mobiles FROM mobiles for less
The cheapest system is to use free minutes included in your mobile package to call any mobile phone (see the Cheap Mobiles guide for how to get the best deal). If you don't have cross-network minutes or have run out it's possible to use similar techniques to the ones above for cutting the cost:
Use an override provider
Again 18185 wins here as it has special normal phone numbers (eg, 020 8xxx xxxx) you can dial on your mobile phone (don't use the 0844 type as they cost a lot more from mobiles). It then charges 10p/min daytimes and just 6p/min weekends to call mobile phones.
However it's important to note you will pay the cost of calling the 020 number and sometimes this will defeat any saving, so it's important to check the cost first. Yet in many cases a saving is possible, especially if you only have inclusive minutes to landlines.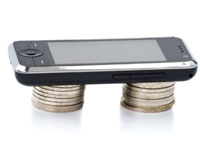 Alternatively there are a few "simply dial" providers which can be used from a mobile, such as TopUpDiscount and CheapestChat.

Here, instead of dialling an access number followed by the number you're calling, you first top up your line with credit. Dial an 09 (premium) number which costs, say £1.50; your mobile is then charged up and you have £1.50 available to make calls. You then dial its access number for UK mobiles at the cheap rate.
The size of the saving
Cutting the cost of calling mobiles is easy and quick, and the savings are huge. Using 18185 alone could nearly halve your costs over BT, as the table below shows.