Cheapest nappies
Get a rash of savings
Get Our Free Money Tips Email!
For all the latest deals, guides and loopholes - join the 12m who get it. Don't miss out
Bundles of joy they maybe but the bundles they produce are anything but joyful! This article looks at how to cut the cost of nappies, whichever type you prefer - so for once, I really am talking poo!
Nappies aren't just smelly (after use obviously), they're costly too. Whether you want to stick with disposables, or investigate the much cheaper re-useables (and here don't think old fashioned cloth, actually, their look and operation is surprisingly modern) the cost savings can be huge.
In this guide
The big battle – disposable vs re-useable
The major battle is of course between the convenience of shoving the soiled nappies in the bin, and shoving them in the washing machine. The ease of one is balanced by the cost savings of the other. As a ball-park figure over the two and half years your child's in nappies you'd pay roughly £900 on disposables and £400 on re-useables, that's a major financial difference.
So to start let's look at re-useables….
Re-usable nappies
It's tough to get out of the mindset of a sheet of cloth and a pin, yet modern re-useable nappies work and look almost identical to disposables. The only difference being bits of them are washed rather than chucked.
The degree of saving that can be made largely depends on the type of re-usable nappy you opt for. There are several available but the main ones are: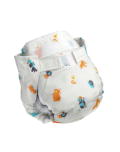 All-in-ones. With these nappies, the inner nappy and the outer waterproof wrap are combined. They look a lot like disposables and are usually fastened with velcro. although less fiddly, as they are bulkier they tend to be slightly harder to launder and take longer to dry.
Two-piece. These consist of a nappy part and a wrap for going over the nappy. Two piece nappies can either be flat (terry style circa 1980!), pre-folded or fitted (which are more like a disposables).
How many nappies will I need?
How many nappies you buy depends on how often you are prepared to do washes but as a rough guide about 25-30 nappies and at least three wraps is a good guide.
It is possible to buy a starter pack, though actually these tend to work out slightly more expensive than bulk buying individuals. More importantly if you fork out for a starter kit and then realise re-useables aren't for you, you've wasted your cash, this way you can start with just a few.
| Type of Nappy | Price |
| --- | --- |
| Flat | £1.75 - £3.50 |
| Shaped & One Size | £4.75 - £10.99 |
| All-in-one | £7.90 - £14.50 |
What else will I need?
As well as the above you will need to decide whether to go for washable or disposable nappy liners. If you opt for washable liners you again will only need about 20-25; with flushable liners you will obviously need one per nappy change (a flushable liner costs around 2p compared to a disposable nappy at 11p-18p). You may also need booster pads, nappy grips and a bucket with lid to store dirty nappies before washing.
| Accessories | Price |
| --- | --- |
| Covers/Wraps | £3.50 |
| Flushable Liners | £0.02 |
| Washable Liners | £1.30 |
Try before you commit
If you're not sure if real nappies are your thing, Babykind offers two trial options; you can either hire a trial kit for £5 + £1.50 per nappy for two weeks or buy nappies and then get 70% of your money back if you change you mind. So you can test the waters and turn back without too much loss if it doesn't work out.
Some sites also offer free advice if you're unsure about which nappies to go for, try the Nappy Lady.
Laundry services
If you like the thought of re-useable nappies but aren't too keen on all the extra washing there are a few companies that will provide all the nappies, pick up the dirty nappies and deliver nice fresh clean ones to your door. However this can work out as £1000 over 2.5 years and so isn't going to save you much – far better to wash them yourself, after some rough calculations of standard energy use and detergent this will cost around £130 over 2.5 years for one baby.
MoneySaving tips
Wash less soiled nappies at 60 degrees rather than 90. Wash covers (wraps) at 40 degrees if possible, so they last longer. Use quick drying liners so you can dry them without using a tumble dryer.
This article is only concerned with the MoneySaving aspect of re-usable nappies. See here for an environmental discussion
Cutting down the cost of re-useables
Once you've decided to go for re-usable nappies, it's possible to shave even more off the cost. To make sure you're not getting a bum deal, compare prices of legitimate retailers on a shopbot like Kelkoo*, Shopping or Pricerunner*. They will scour retailers for you and search for the cheapest price.
Local council incentives
Many local councils offer cash incentives to encourage people to switch to reusable nappies. Alternatively, some may offer free samples or trials; great if you want to find out if re-usable nappies are your cup of tea see the box below
See a list of council's offering incentives
Disposable nappies
If re-usable nappies aren't up your street, there are a few tricks you can use to slash the cost of disposables.
Brand vs supermarket own-brand

Shops' own brand nappies are much cheaper than some other well known brands and are often made by the same manufacturers. The price difference can be as much as £1.50 per pack and that adds up into the £100s when you're buying 5340 nappies per baby!

Be a nappy tart

Many companies, like Pampers and Huggies, offer money off and freebies for new mums, in the hope they will get hooked on their brand for the duration of their baby's needs.

Be a nappy tart by grabbing these whenever you can. Websites are a good place to start, as well as big chains like Boots, Sainsbury's and Tesco. Often GP surgeries give out starter packs – check whether they're available at yours.

Though always be careful to check your baby's botty has no adverse reactions to shifting brands
BOGOFs & bulk buying

BOGOF stands for buy one get one free and these deals are a great way to save money on consumables which don't go off and you use regularly.

When you see offers like these, it's a good idea to stock up and grab as many as you can. Basically it's the equivalent of 50% off: not a bad saving.

Try Fixture Ferrets which will do all the hard work for you and locate any special offers running on nappies in your local supermarkets.

Boots bounty

Boots Parenting Club

Boots runs a free parenting club, which gives you a "free" changing bag when you buy a pack of nappies, money-off vouchers and extra points. All you need is an advantage Card (also free). Read more about the Boots Parenting Club.

Boots Bonus Machine

The Boots Bonus Machine (as I like to call it) is an oft ignored machine located in bigger Boots stores, which looks like a cash machine. If you put your card in, you can print out discount vouchers every time you shop, saving you oodles. A recent offer spotted by a savvy chat forum user was 100 extra points (worth £1) when you buy any Huggies product. Because some of the nappies in this range only cost 99p, you effectively got paid 1p to take the nappies away.
The savings
By switching to re-usable nappies you can save yourself up to £650, even more if you decide to carry on using re-usables for any other new arrivals. The above savings are based on shaped all in one nappies but the price can be slashed further if you opt for basic terry nappies which can be bought for as little as £50.
A rash of savings - the cost of six changes a day over two years
| Disposable | Cost | Saving |
| --- | --- | --- |
| Branded nappies | £970 | - |
| Own-brand nappies | £750 | £220 |
| Re-usable(1) | Cost | Saving |
| --- | --- | --- |
| With some disposables for holidays/nights(2) | £390** | £580 |
| 100% Re-usables | £320** | £655 |
| Second hand re-usable nappies | £240** | £862 |