About MoneySavingExpert
The Site, History and Team
Get Martin's Free Weekly Email!
For all the latest deals, guides and loopholes - join the 10m who get it. Don't miss out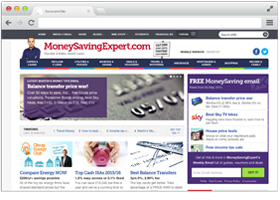 MoneySavingExpert.com is the UK's biggest consumer website, with about 15 million users a month. The site's dedicated to cutting your bills and fighting your corner with journalistic research, cutting-edge tools and a massive community – all focused on finding deals, saving cash and campaigning for financial justice.
The average person in the UK can give themselves the equivalent of a 25% pay rise by being an active, savvy consumer and shifting to the very best deals. This site's here to show you how. To get started, see the Money Makeover guide.
A brief intro
Founder and editor Martin Lewis created MoneySavingExpert in February 2003 for just £100. The site's ethical stance and consumer revenge approach have made it the UK's official No. 1 money site. It's won many awards and is now a constant port of call for consumers and policymakers alike.
In September 2012, the site joined the MoneySupermarket group (see Martin on joining MoneySupermarket). This will boost the technology resource and secure the site's future, meaning even more people will benefit from its unbiased, campaigning stance. Yet the site continues to operate as an entirely independent entity and its stance of 'putting the consumer first' is protected by an iron-clad legal Editorial Code.
Honours: The site's honours include Radio 2's Most Useful Website of the Year, a Parliamentary Motion commending the site and the B&B Personal Finance Awards New Media winner. The site was No. 1 for business information in the Hitwise Awards.
How the site works
The site never charges to save people money, nor does it take any advertising. Companies cannot pay to buy space on the site (see the How this site is financed guide for more info). Any top deals, best buys, tips or suggestions on the main site are purely down to journalistic research from Martin and the team (see the Editorial Code).
The underlying philosophy is that we live in an adversarial consumer society:
A company's job is to make money. A consumer's job is to maximise their cash. Companies spend billions on advertising and teaching their staff to sell, yet we don't get buyers' training.
We want to redress the balance and aim to do it in a number of ways.
Watch Martin's Money Rant Video
Martin Lewis explains the philosophy behind Money Saving Expert
Terms and conditions of use
It's important to let you know information on this site does not constitute financial advice. All information is based on journalistic research and analysis rather than tailored advice aimed at individuals.
Decisions should be taken only after considering the effects on specific circumstances. Please read the full legal terms and conditions. To protect the site, Martin Lewis is a registered trade mark belonging to Martin S Lewis, and Money Saving Expert, MSE and MoneySavingExpert.com (among others) are registered trade marks owned by MoneySupermarket Group PLC.
The history and growth of the site
The easiest way is to let Martin tell the tale ...
I'd been working as the Money Saving Expert on TV as well as writing a national newspaper column since 2000. During the course of my research, I began to send tips to my friends as and when I spotted a good deal and jokingly used the subject line 'Martin's Money Tips'.

After a couple of months, I was at a party and people I'd never met before were thanking me for the emails. It turned out my friends were forwarding it to their friends. To make it easier, I set up an email list built around a basic homepage so anyone could get the info.

The email grew quickly and soon hit 1,000 recipients. I decided the site had potential to help me promote my journalism work, and paid a web designer in Uzbekistan £100 to design a more professional version. This was launched on 22 February 2003, which I count as the moment this site was born.

By fortune, that coincided with a step up in the profile of my broadcasting and the two became symbiotic, building my reputation and thus bringing people to the site.

After that the growth was nothing short of exponential. Now, 12 years later (February 2015), that same Martin's Money Tips is sent to more than 10 million email addresses. And there are nearly 26 million visits a month to the site, from 15 million different people in the UK.

For years now, running the site has been my main job, and still is, though since we joined MoneySupermarket I've now got the highfalutin title of "Editor-in-Chief". As you can probably imagine, I don't do everything on this monster site by myself. There's a loyal and dedicated team – who suffer my extreme MoneySaving pedantry to ensure everything is up to standard.

Looking back, I'm staggered by how it all happened. I wish I'd been clever enough to design the growth with a master plan, but, in truth, it's been a gradual instinctive thing over many years.

The fact this once little site is now a campaigning beast, as well as a place to save people money, is a source of great pride. We're now called upon by charities, policymakers, ministers and even Prime Ministers to help communicate and discuss policies that shape the nation's personal finances.

Yet the most important thing's still that this is a place consumers can call home.
The MoneySavingExpert Team
At first, the site was a one-man band. Then, in May 2004, the first team member joined as full-time web manager to look after the technical side of the site. Now based at what we lovingly call MSE Towers in central London, there are just a few more...
The MoneySaving Team
Editorial and Forum Teams
Technical and Office Teams
Amy. Senior Money Writer (see biog)
Andy. Managing Director
Andrea. Forum Editorial Liaison (see biog)
Archna. Head of Clubs & Operations (see biog)
Anthony. Senior Deals Researcher (see biog)
Cai. Commercial Executive
Deborah. Deals Manager (see biog)
Carol. PA to the MD
Eesha. Money Analyst (see biog)
Catherine. Martin's EA
Gary. Deals Editor (see biog)
Constance. Legal Counsel
Guy. Managing Editor (see biog)
Dan L. Operations & Compliance Manager
Helen. Chief Product Analyst (see biog)
David D. Data Development Analyst
Jenny. Lead Writer (see biog)
David G. Senior Front End Developer
Jo G. Associate Editor (see biog)
David M. Assistant Front End Web Developer
Jordon. MSE's Coupon Kid (see biog)
D'lena. Web Developer
Lucia. Deals Researcher (see biog)
Duane. Senior PHP Developer
Luke. Sub-editor
Eleanor. Delivery Lead
Megan. Consumer Writer (see biog)
Erica. Head of Commercial
Nick. Consumer & Technology Writer (see biog)
Imogen. User Relations Executive (see biog)
Rhiannon. Deals Researcher
Jason. Service Desk Analyst
Rosie. Money Analyst (see biog)
Jermaine. Assistant Front End Developer
Sally. Senior Writer & Editorial Operations Manager (see biog)
Josie. Commercial Executive
Sam M. Personal Finance Writer (see biog)
Julia. Senior Search Executive
Sarah G. Deals Researcher (see biog)
Mark. Digital Designer
Sarah M. Senior Deals Researcher (see biog)
Matthew. Commercial Executive
Steve N. News & Features Editor (see biog)
Neil. Head of Technology
Susie. HTML Email Developer
Rachel. Finance Business Partner
Tom. Deals Researcher (see biog)
Raffaele. Front End Developer
Tony. Insurance Analyst (see biog)
Richard. Head of New Product Development
Weleid. Consumer Researcher (see biog)
Rose M. Clubs Product Manager
Will B. External Affairs & Campaigns Officer (see biog)
Roxanne. Clubs Support
Zorica. Forum & Community Researcher (see biog)
Ryan. User Relations Manager (see biog)
Sam. Senior Designer
Sarah E. Senior PR Manager (see biog)
Shaun. Head of Delivery
Shrey. Back End Developer
Stephanie. Assistant Back End Developer
Tamar. Head of Legal
 
Tara. Head of Online Performance
Will H. Digital Analyst
Yasin. Operations & Project Manager
The MSE Charity Fund
This site's dedicated to empowering consumers and putting money in their pockets, and the MoneySavingExpert.com Charity Fund does it even more directly. With over a million pounds donated so far, it's MoneySavingExpert.com's way of giving back to users.
Two-thirds of the money goes to support The MSE Charity, which offers grants to groups to provide education and information about consumer and debt issues. The rest goes to five general charities nominated by site users.
This is separate to the money Martin put into the Martin Lewis Charitable Fund when MoneySavingExpert.com joined the MoneySupermarket group. For more information on what Martin's donated see his blog.