Income Tax Calculator
How much tax will I pay in 2016/17?
Get Our Free Weekly Email!
For all the latest deals, guides and loopholes - join the 10m who get it. Don't miss out
Enter Your Details
How much tax will I pay?
See Your Results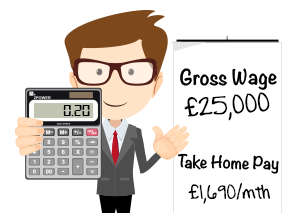 IMPORTANT! This is only a ready reckoner that makes standard assumptions to estimate your tax breakdown. There are many other possible variables, for a definitive source check your tax code and speak to the tax office. Source: Listentotaxman.com
Tax Year
Pick the tax year for which you want to work out your after-tax salary. This calculator has the capability to display your pay details, as they would have been, back as far as 1999.
Remember that the tax year begins on 6 April of each year
Tax Code
This is NOT required. However, if you know your tax code, include it here, and the answer will be more accurate, as all assumptions the calculator makes will be disregarded.
Monthly Pension Contributions
If you pay into a pension via the PAYE system on a monthly basis, enter the amount here. This assumes you pay your pension from NET pay, and thus get tax relief on contributions from HMRC. The calculator won't be accurate if you pay by salary sacrifice.
This can be in percentage format eg. 4% of your salary, or you can enter the actual amount you pay into a pension per MONTH eg. £500.
Repay 1998-2012 Student Loan
If you went to university, started between 1998 and 2012, and took out a Student Loan Company loan, then this is repaid through the PAYE system.
You begin to repay the loan once your earnings go above a certain threshold, currently £17,335. Student loans will be repaid at a rate of 9% of the additional income over and above this threshold. Tick the box to include the repayment in your calculations.
If you took out a student loan before 1998, you have to repay this by direct debit, not through the PAYE system. This means it can't be included in this calculator.
Exclude National Insurance
Tick this box if you want to exclude national insurance contributions from the calculations.
Allowances/Deductions
Tax-free allowance: If you receive any additional tax-free annual allowance, click on this.
Deductions from tax-free allowance: Equally, if your tax-free allowance needs to be reduced, click on deductions here.
If you have both allowances and deductions, enter the net figure, eg, if you have a £200 allowance but a £300 deduction, enter a tax-free deduction of £100.
Other allowances or deductions can includes employee benefits such as childcare vouchers or season ticket loans.
Female 60-65
The reason we ask your age and gender is so we can identify whether we should subtract National Insurance payments from your take home pay.
Sadly, the data feed we get into our calculator can't distinguish based on date of birth, so results for women aged 60-65 don't include NI subtractions - which is right for some, and wrong for others.
If you're a woman aged between 60 and 65 who hasn't yet reached state pension age, please look at the results for a man aged 60-65, as that will calculate your National Insurance correctly.
Tools & Calculators to slash your bills
More Tools & Calcs