Little Lifesaver travel guide
Free printout to tackle travel hassle
Get Our Free Money Tips Email!
For all the latest deals, guides and loopholes - join the 12m who get it. Don't miss out

Alana | Edited by Martin
Updated September 2016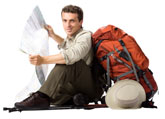 The Little Lifesaver is a free passport-sized printable personalised travel tips guide, where you can store your key details. It's packed with key holiday info, including which plastic is cheapest to use and your flight cancellation rights.

Unfortunately you won't be able to print out the guide from your mobile, just from PCs and Macs. So email yourself this guide and check it out when you're able to print from a computer.
Crucial things to know before you go
Whether it's knowing your rights or getting the cheapest deals, there are a range of facts that are crucial to know before you book or travel.
Ask for a complaint form while on holiday

If there's trouble while you're in foreign climes, always ask for a complaint form there and then. If not, you may lose compensation rights, because rules say you must give them a chance to get it sorted at the time.

If your accommodation's grotty, photograph and video it and get quotes from other disappointed holidaymakers. Note down who, what, where, when, why and how things went wrong and keep receipts for any extra spending.

When you get back, contact your holiday company and clearly say what you want, be it a refund, compensation or just an apology. Travel trouble is the one bit of consumer protection where you've an extra right to claim for losing enjoyment.

If the tour operator won't play ball, check if it's a member of a trade association such as the Association of British Travel Agents, the Association of Independent Tour Operators, or the Federation of Tour Operators, as they may be able to intervene. If your problem is with a flight, see the Flight Delays guide.

Package holidays can be cheaper than DIY

Don't automatically plump for booking your own flight and hotel on the internet. If you're going away specifically for seven, 10 or 14 days to a traditional holiday destination, a package holiday booked correctly will often undercut getting a DIY internet break with separate hotel and flight - plus you get more consumer rights.

Always try to beat the price by checking out several comparison sites and trying your luck at haggling - see the full Cheap Package Holidays guide for step-by-step info.

It ain't where you stay, it's how you book it

Do it right, and you can end up in the same room for half the price. Many hotels use variant pricing, so book them on different websites and the difference can be enormous.

Some popular chains sell spare capacity via 'secret room sales', but there are ways to uncover what the hotel actually is. See the Secret Hotels guide for step-by-step info, and check Hot Hotel Sales for deals when available, plus our Cheap Hotels guide for a host of other MoneySaving tips.

Not all flight comparison sites are the same

Don't be fooled into thinking all cheap flight sites are the same. There are three main types:

Comparison sites: These are best if you know exactly when and where you want to go. Top ones include Kayak*, Skyscanner* and TravelSupermarket*.

Annual travel insurance wins for 2+ trips

Travel agents often make more money selling insurance than holidays. If you already know this, it's likely you have an annual travel policy. But you may still be paying over the odds.

Annual travel insurance tends to be best if you make three trips in a year, otherwise cheap single trip policies win.

For all the options and a comparison of over 50 providers, for singles, families and the over-65s, read the full guide to the Cheapest Travel Insurance.

Halve the cost of car hire by booking ahead

Rent a car abroad from big names and it can cost more than the holiday. Book the right way and you can often get an identical car and conditions for half the price. In Marbella in Spain it can be cheaper to hire a car for a week than get a return taxi from the airport. See the full step-by-step Cheap Car Hire guide.

EHICs are only valid if with you

The free European Health Insurance Card (EHIC) replaced the E111 form in 2005. It entitles the holder to free or discounted medical treatment in state-run hospitals in any EU country plus Iceland, Liechtenstein, Norway, and Switzerland.

If you're travelling to Europe, ensure you've got a valid one as it means you're treated like a citizen of that country, which is extremely useful in emergencies. Be warned - it's only valid if you've actually got it with you when you get in the hospital. Read more in the Free EHIC guide.

Some cards are cheaper than others when abroad

Provided they're cleared in full at the end of the month to minimise interest costs, credit cards are often cheaper than debit cards when spending overseas.

Both types of card usually add a fee to your exchange rate and a fee for taking out cash, but many debit cards also add a fee each time you spend.

The very cheapest way to spend abroad is to get a specialist credit card for overseas spending. The best ones are listed in the Cheap Travel Money guide; they can save you £100s as you get a much better exchange rate. Alternatively, if you want foreign cash, use the Travel Money Maximiser holiday cash comparison tool, or download the iPhone or Android app.