HSBC will pay £150 if you join, then £50 extra after 1yr, but it's a high minimum pay-in – see all options

A reduced service will be running on most of South Western Railway's network until Saturday 27 October

Plus 3 FREE vegan Magnum ice-creams in our 100+ supermarket coupons to save £100+
Tools & Calculators to slash your bills
More Tools & Calcs
Poll
How much do you spend on holidays in a year?
This week's MoneySaving poll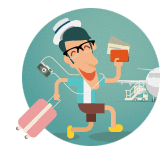 There's a lot competing for our cash, yet many put holidays near the top of the pile. So we wanted to see how much of your income you spend on them.

How much AFTER-TAX income do you spend on all your holidays (UK and abroad) in one year?