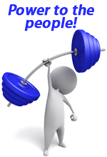 It is possible to make a difference. Both government and regulatory policy makers want to hear from consumers; whether it's Bank Charges, Annuities, online shopping or more.
Therefore, for once complaining may make things better, so this new guide runs you through the main open consultations, and how to have your say.
Before you start...
If you're looking to respond to a consultation, it's worth noting these quick tips:
Information provided may be published. If you do not want your views to be made public once the consultation has closed, say this on your response.

Say if you're an individual or an organisation. Organisations love to hear directly from consumers so say if you are responding as an individual or on behalf of an organisation.

Organisations can't help with individual cases. If you send if personal stories it's very unlikely that anyone will be able to investigate on your behalf.

Organisations are collecting information to make things better for consumers in the future so you will be playing a part in helping others if you respond.
We're not updating this guide at the moment, see the full range of government consultations on the gov.uk website