Barclaycard Loophole
6.9% for life for existing customers
Get Our Free Money Tips Email!
For all the latest deals, guides and loopholes - join the 12m who get it. Don't miss out

Martin and Dan
Archived 18 Nov 2009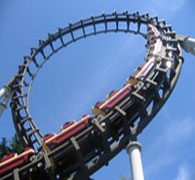 Barclaycard-holders rejoice, you've the potential for cheap debt by using a loophole in Barclaycard's little known existing customer offer, cutting your interest costs by up to 80%.
Good deals were once only for new customers, yet the searing competitive heat means big providers fight to retain their existing customers. And as Barclaycard's in more pockets than any other, it's fighting hardest. This means there's no need to apply for a new card, protecting your credit history.
In this guide...
What's the deal?
Barclaycard will allow most existing customers to shift debts to it from other credit cards at 6.9% APR with a one off fee of 2.5% (fee introduced in Sep 08). In practical terms it pays off other credit or store cards for you, so you owe it the money instead.
Best of all this is a 'life of balance' offer so the rate lasts until all the debt moved to it is repaid. You can shift an amount up to your existing credit limit (though you could try asking it to increase that) to a maximum of £5,000.
This is its standard offer, but a few customers will be given a slight variant, and a few (especially if you've defaulted before) may be refused. To find out, call it up and ask.
As with all balance transfer deals, it's vital to always make at least the minimum repayment once you've shifted the debt, and preferably more. After all, the aim here is to speed up reachig your debt-free date! Also, if you no longer need the outstanding credit on the card you switch from, call up and cancel it (read full Credit Rating guide).
Barclaycard isn't the only company doing this (see the Credit Card Shuffle article) yet it's never discussed. It's ignored by commercial internet comparison services as they make their money through 'lead fees' when people apply for new cards, and as they tend to brief the newspapers about cards and loans, the subject gets rarely touched.
How does this compare to other offers?
The market's best deals are still for new customers. So those with a decent credit score can beat this (see Best Balance Transfers article).
New customers can do short term balance transfers at 0% for up to 18 months. These are great if you can pay off the debts in that time or you're willing to become a credit card tart, constantly shifting from deal to deal.
Yet for those looking for long term easy credit, the best new customer direct comparison 'life of balance deal' is 7.9%, compared to Barclaycard's 6.9%, with a one off fee of 2.5% - so for existing customers this is very attractive.
Why not go for a new customer deal?
To get this rate you needn't apply for a new card, so no credit search is done, which protects your credit score. Better still, those with a bad history elsewhere stand a much better chance of getting this than a new card, and while 6.9% isn't table topping its a pretty good rate for long term debt. As a new customer you'd need a top credit history to get it.
When do 'new' become 'existing'?
There is no hard and fast rule, but the definition is simple, those who no longer have access to a new customer deal are existing customers.
For example, Barclaycard offers new customers a 0% balance transfer deal if they request it upon card application, but in practice allows people a couple of months after signing up to request it.
So as soon as you're no longer eligible for this, you're eligible for the existing customer offer.
The catch!
This is a balance transfer only deal, meaning only shifted debts are included. Any existing or new debts on the card from spending remain at their normal high rate – 16.9% to 29.9% (depends on your credit score).
This isn't as much of a problem as it once was. If you have debts at different rates on the card (e.g. spending debts at 19.9% and balance transfer at 6.9%) Barclaycard now biases your monthly repayments towards paying the most expensive debts off first (it used to pay off the cheapest, leaving the others quickly accruing interest).
What it still means though is, to attack your debts as quickly as possible, you want to get rid of the 19.9% debts, so the balance is paid down quicker.
The loophole solution
Defeating this is remarkably simple. Before balance transferring debts onto it, clear the card, either by repaying it, or if possible simply moving all the debt onto another card (doesn't matter what it is as the debts only briefly there).
As soon as the debt is moved (wait until you get the statement to confirm the balance is zero), simply balance transfer it back to Barclaycard along with the debt you were planning to move. Therefore, rather than some debt at 19.9% and some at 6.9%, all is now at the 6.9% for life. However, if you've no other option, it's still better to get the cheap rate on some of your debt, so do the move.
This technique can be used even if all your existing debt is on Barclaycard, providing you have another card with a sufficient credit limit. Simply move it to the other card and straight back.
Once that's done, put the Barclaycard away, and never, ever, ever, ever use it for spending on. Do that and the same problem reoccurs. If you do need a card for spending, use an entirely different one (see Best Lend for Spend article).
There is nothing in Barclaycard's terms and conditions to stop this and its customer tracking software generally isn't sophisticated enough to spot this behaviour. However, in the unlikely event an on-the-ball customer service representative spotted this and understood the significance, it's worth being aware Barclaycard does retain the right to refuse transfers willy nilly.
Size of the saving
Someone with £5,000 debt on Barclaycard at 18.9%, paying the minimum monthly repayments would take 22 years to repay it, paying over £4,600 in interest. If this debt was balance transferred to another credit card then immediately shifted back to Barclaycard's 6.9% for life deal, it'd take 14 years to repay at an interest cost of around £900, over 80% cheaper. Though better still would be paying more than the minimum (see Danger: Minimum Repayments).
£5,000 debt on a Barclaycard making the minimum repayments
| | Rate | Time until repaid | Interest until repaid | Saving |
| --- | --- | --- | --- | --- |
| Barclaycard | 18.9% | 22 years | £4,600 | - |
| Move off and back to Barclaycard (1) | 6.9% | 14.5 years | £1,120 | £3,480 |