The Tart Alert
A free text or email reminder at the perfect time to act
Get Our Free Money Tips Email!
For all the latest deals, guides and loopholes - join the 12m who get it. Don't miss out

Archived 7 Mar 2011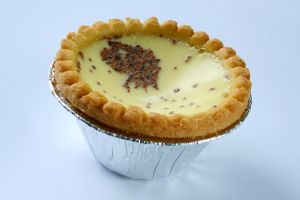 Lots of products are hot for a short term then leave you massively overpaying. Yet for 0% credit cards, car & home insurance, mortgages, mobile contracts and more, act at the perfect moment and you can save serious cash. The tart alert sends you a free text or e-mail reminder at exactly that moment.
And if youíre wondering why Ďtartí, thatís because it helps you disloyally shift from product to product and stops companies from making a fortune from our forgetfulness. It's great for stoozing too - the ultimate tart's activity.
The key dates for your diary
Itís not just how you do it but when you do it that counts. Here are the crucial dates for your diary or for the tart alert.
Credit card 0% deals

If youíre a credit card tart using 0% deals, beware! If you fail to pay off a card in the last 0% month; youíll be charged a huge whack of interest.
In order to go through the process of applying for a new card, receiving it and transferring the debt in time to prevent being charged, you need to start six weeks before the 0% deal ends.
To find the best new deals at the right time...
If youíve got existing debts to shift read the full Best Balance Transfers guide and if you need a new card for borrowing read the Best 0% Card For Spending guide.
Car and home insurance deals

Simply renewing your insurance each year wastes a fortune. While new customers are given the best deals, existing customersí prices are pumped up to pay for it. In fact, apply to your existing company as a new customer and youíll often be offered the same insurance for hundreds of pounds cheaper.
Yet getting the best price isnít a one minute job, to do it properly and steer the cost down takes twenty minutes to half an hour. Thus remind yourself six weeks before hand so you can ensure you find the time to dedicate to it.
You can also use the alert to set a reminder for your MOT.
To find the best new deals at the right time...
Use the full Cheap Car Insurance guide (the current record result is 96p for a yearís fully comprehensive) or Cheap Home Insurance guide (the current record is being PAID £67 to take the insurance!).
To save on your MOT read the Cheap MOT guide.
Savings / Cash ISAs / Regular savings

Lots of savings accounts and cash ISAs have a timed element. Whether itís a short-term introductory bonus, a rate guarantee, a fixed rate product or regular savings account, all usually have defined Ďend datesí after which your money wonít be earning you anywhere near as much, so you should shift it to earn more.
As savings account can take a few weeks to apply for and set up, itís again around the six-week mark that itís really useful to start looking. If you do manage to get the account set up early and the old rate is higher, simply put the minimum amount necessary in to open the new account and shift the cash when the top deal ends.
If your savings account doesnít have any time limits, itís still worth checking it out once a year.
To find the best new deals at the right time...
Read the full Highest Interest Savings, Best Cash ISAs and Regular Savings Accounts guides.
Mobile phone contracts

When youíre coming to the end of your mobile phone contract youíre holstering a massive MoneySaving weapon... loyalty. At this point call up your provider and ask it for the best possible deal imaginable and youíve got a good chance of getting it. Many people save hundreds by doing it.
The perfect time to do this is in the weeks running up to the end of the contract as then they know theyíre vulnerable to losing you. And if you leave it too late, while you can still haggle, you will have spent some time spending more than you need to.
To find the best new deals at the right time...
Read the full Haggle Down Your Contract and Cheap Mobiles guides.
Capped energy rate providers

If you have a gas and electricity deal where the rate you pay is fixed or capped until a certain time period, itís crucial to ensure you know when it ends. After that point, in a current of rising prices, you can suddenly be hit by huge price hikes Ė some people have seen near 50% rises.
While it may be impossible to forestall the rise totally, by doing a comparison to find the cheapest provider you should be able to cut some of the cost. Yet switching energy provider can take two to three months, so leave it too late and youíll end up with a few months on the higher tariff.
For other energy deals, itís worth checking once a year.
To find the best new deals at the right time...
Read the cheapest Gas & Electricity plus cashback guide.
Mortgage deals

If you have a fixed or discount rate mortgage and donít do anything youíll shift to the lenderís standard variable rate when it ends, and this can be a mammoth jump Ė many people find themselves paying £150 a month more per £100,000 of outstanding mortgage debt.
To sort this out you need to start to find a new deal at the very least three months before your current mortgage ends. This is partly due to research time, but also because many lenders allow you to Ďbook iní a rate up to six months in advance; this means if rates are rising you can snap a good deal early to protect yourself.
If you do get a deal and the market improves you can always then ditch this for a cheaper one nearer the time; occasionally this will involve forfeiting the booking fee of £50 - £100; yet compared to the mortgage cost thatís likely to be small Ė and can be seen as Ďinsuring yourself a good deal.í
To find the best new deals at the right time...
Read the full Remortgage Guide and Free Mortgage Guide.
Other crucial money dates
Any time limited product will usually require action as once the date ends either youíre not covered or youíre paying more. Six weeks is always a good rule of thumb to act.
To suggest a specific product which people should be warned about, please discuss it here: Dates for your diary
The Tart Alert: Free text or e-mail reminder
Itís so simple, you put in your product name and the date it ends, and it then sends you a quick reminder six weeks before the time is up. You can enter more than one product and date - just refresh the page and start again - and choose whether you prefer text or e-mail.
And before you ask, like everything else on MoneySavingExpert.com, you wonít get any other texts or emails and there are no ads and there is no attempt to collect or sell your data.
Tart Alert
For 0% deals, car & home insurance and savings...
Enter the product name and the date the deal ends NOT when you want the text into the Tart Alert.
For capped energy deals...
To get the alert roughly three months before it ends, use the Tart Alert but when you enter the date, take off six weeks to ensure you get it at the right time. And remember when the alert arrives youíve gemmyíd it slightly.
For mortgages...
Use the similar free Mortgage Alert Service from broker London & Country rather than the Tart Alert to get the right timed alert.
Once you have requested the tart alert text or e-mail reminder it's all set up. Then when the momentís right youíll be sent the following message...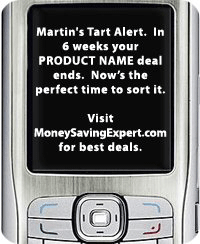 Quick Tart Alert hints
If youíre using the tart alert, here are a couple of hints to make things run more smoothly.
Start by putting in all your time sensitive products

If you can, take a few minutes to think through all your products and find out when they end. You can put several products in the tart alert, just enter one at at time and keep going until they are all recorded.

Every time you get a new deal... tart it

Itís easy to forget the details, so whenever you sign up for something new thatís relevant, get the details in the tart alert straight away.

Think about the 'PRODUCT NAME'

Try to put in the product name thatís appropriate so youíll be sure to know what it is. So you may find calling it a "capped energy deal" is more intuitive for you than calling it "Npower price fix".

If youíre not sure of the end date

Then simply put what you think it is roughly, erring on the early side as it's better to have more time rather than less time to prepare.
Tart Alert questions and answers
The first incarnation of the tart alert was only for 0% credit cards. Credit Card tarting is about someone who disloyally shifts from 0% deal to 0% deal to constantly keep their debts without paying a penny. Thatís why it became the tart alert.
Since then tarting has grown to mean anyone who churns across different products and thus the name still fits.
Who is providing the technology?
When the tart alert was first launched in November 2004, the site was still very small. Back then I struck a deal with fees-free mortgage broker London & Country which was using exactly the same technology for its mortgage alert. It already had the technology in place, so the only real cost is the rather small one of the text message.
As thatís worked very well ever since, I havenít seen a need to change it. Technically it is actually London & Country who will hold and collect the information, but don't worry we have an agreement in place to ensure your data will never be used for any other purpose than this specific tart alert and it never has, nor never will.
The reason London & Country has provided the tart alert technology for free, is because I said if it did, I'd inform MoneySavingExpert.com users of its mortgage alert service. And as that does the same thing, and as itís a fees-free whole of market broker, which is exactly what I suggest (see Mortgage guide) and the mortgage alert doesnít oblige people to use its service, I agreed.
The aim is everyone should get the text or the e-mail, but it can't be guaranteed. The e-mail may be stopped by spam filters. With the text message, it is possible you may change mobile phone number or, let's be honest, there may be a technology glitch.
Of course, every effort will be made to get it to you, but neither MoneySavingExpert.com nor London & Country can accept responsibility if glitches happen so do ensure you diarise the end date too. Having said that for the years itís been running itís been very reliable.