Travel Credit Cards
One of the cheapest ways to spend abroad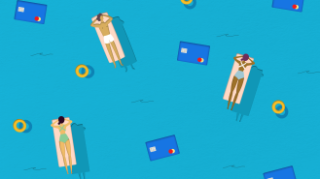 Going abroad or spending on foreign websites? Get a specialist travel credit or debit card for near-perfect exchange rates worldwide. This guide includes best-buy cards, the cards to avoid, and how to check what your card's charging you when you use it overseas.
How do travel cards work?
Specialist travel cards are so good for spending abroad because they don't charge fees. Use your everyday plastic while on holiday and you could be hit by a host of hidden charges (for full details, read the hidden holiday spending charges note). These include adding a non-sterling transaction fee of around 3%, cash withdrawal fees and interest charges even if you pay off in full (on credit cards).
But there are credit and debit cards that don't charge these fees, making them ideal to use when you're on holiday or buying from overseas websites. Use this checker to find out what you'll pay when using your existing card and check out our best buy cards below to find cards that don't charge.
If you think any cards should be added to the tool, please email us.
Use our eligibility calculator to find cards you're most likely to get, without hitting your credit score
Making an application is recorded on your credit file. While a single one is not a big problem, especially if you've a good credit score, lots in a short time are problematic.
So use our Travel Credit Card Eligibility Calculator to show cards you're most likely to get, so you don't waste an application. And it's NOT recorded as a hard search on your credit file.
The 8 need-to-knows when spending abroad
When abroad you want to pay for only what you buy, yet using any bog-standard card means you're paying to pay, too. Here's how much spending €1,000 actually cost, in pounds, when we made comparisons in July 2019 using our Travel Money Comparison tool (we assumed five €100 cash withdrawals and 20 transactions on the cards).

On a specialist credit card repaid in full: £912

Cash, via UK's cheapest bureau (pick up in London): £923

Cash from M&S (non-cardholder): £933
Top prepaid card: £923
Using a debit card from hell: £972
Change at airport (Gatwick South Terminal, ICE Travel Money, not pre-ordered): £1,030

As you can see, the differences can be massive, yet the winners are simple. Apply for a specialist overseas credit card, then use it every time you go.

Specialist overseas credit cards can be the best way to spend when you're on holiday, but can turn into one of the worst ways if you're not disciplined enough to pay them off. Always follow the golden rule:

"Set up a direct debit to repay in full every month, or the interest charges dwarf the cheap-currency gains."

Direct debits may be marked 'inactive' if a card hasn't been used in a 13 month period – so if your hols have more than a year between them, check the direct debit is still in place.

Many overseas hotels, shops and ATMs ask this when you pay by card. If you choose pounds, the retailer does the currency conversion – but rates can often be poor compared with letting your card do it (choosing euros) – see Martin's euro analysis.

If you've got a top overseas card, always choose the local currency, as your card does the exchange and it's unbeatable.

If you're using a bog-standard credit or debit card, it's touch and go. Sometimes the card machine will show you the 'non-sterling cash fee'. If this is under 2.5%, go with pounds. If it's over, pick the local currency.

Usually, the only way to know if you'll be accepted is to apply, but each application marks your credit file. But our Travel Credit Cards Eligibility Calculator quickly shows your odds of getting almost every top travel credit card so you can find the ones most likely to accept you, thus minimising applications.

How does the eligibility calculator work?

It uses a 'soft search', which is one you will see on your credit file but lenders usually don't (and where they do they can't use the info), to give us an indication of your credit score. We then match this against lenders' criteria for acceptance so we can show you the odds of getting each card.

Once you have this knowledge, it will allow you to make a smarter application. Therefore, you're less likely to be rejected and less likely to need to apply elsewhere, which would add another mark on your credit file.

Or join our Credit Club for a full credit health check

The MSE Credit Club is a game-changer. For years the credit market has been shrouded in mystery but our revolutionary tool brings together the key components to give you the full picture, and crucially, what it means for your acceptance chances and how to boost your creditworthiness. A credit score alone isn't enough to borrow, as there are other factors at play (it's why many with perfect scores still get rejected). Credit Club shows your Free Experian Credit Report and Credit Score, your Affordability Score, you Credit Hit Rate and much more.

Let's make this plain – do not use the following cards for spending overseas. Any of the methods in this guide beat them. Eight debit cards have nightmarish charges every time you use them overseas. With most debit cards, you pay a non-sterling transaction fee for spending, typically around 3% of the transaction, and a charge if you withdraw cash abroad.

But these cards have another sneaky charge: a spending fee of 50p-£1.50 each time you use your card. Imagine you buy something for £5 in a shop. With the worst of these cards, it can end up costing £6.60 with the fee and charges.

The cards from hell


IF Debit Card (existing custs only)

Spending penalty: £1.50 | Load fee: 2.25% | Cash withdrawal fee: £1.50

Ulster Bank Debit Card




Spending penalty: £0.75 | Load fee: 2.65% | Cash withdrawal fee: 2.25% (min £2, max £5)

Bank of Scotland Debit Card




Spending penalty: £0.50 | Load fee: 2.99% | Cash withdrawal fee: 1.5% (min £1.50, max £4.50)

Lloyds Debit Card

Spending penalty: £0.50 | Load fee: 2.99% | Cash withdrawal fee: £1.50

Halifax Debit Card

Spending penalty: £0.50 | Load fee: 2.99% | Cash withdrawal fee: £1.50

The cards below don't have a specific spending penalty, but instead charge a minimum exchange fee, meaning these are hell for small spends. Without this, a £5 spend on these cards would cost £5.14, but this minimum exchange fee bumps it up to £6 or £6.50...

Clydesdale/Yorkshire Debit Card




Spending penalty: none | Load fee: 2.75% (min £1.50) | Cash withdrawal: 3.75% (min £1.50)

Full list of charges for major UK credit and debit cards.

If you've a top overseas credit card, spending is almost always cheaper. Even on cards with no cash withdrawal fees, you'll usually still pay interest on the withdrawal until you pay it off.

This goes double for non-specialist credit cards. You'll pay the non-sterling transaction fee on all transactions overseas, but you'll also pay a fee and interest on cash withdrawals.

On debit cards, spending is still cheaper as while there's no interest on a cash withdrawal, there's often still a fee (as well as the non-sterling transaction fee) when you use a cash machine.

When you spend abroad, your bank gets an almost perfect rate when it does the exchange for you. It exchanges at Mastercard's, Visa's or Amex's wholesale rate, all of which are pretty close to the spot rate that the currency markets suggest (the perfect rate).

When we last compared exchange rates, Mastercard's tended to be slightly better, though there's not much in it.

Most banks then charge you for having them make the exchange for you, and this is where the up-to-3% non-sterling exchange fee comes in. That's why you should always get one of the specialist cards in this guide, which don't add fees on top.

With travel credit (or debit) cards, you get the rate when you spend or withdraw on the card – or to be completely accurate, the day the spend or withdrawal is processed, which could be a couple of days later. While there's nothing inherently wrong with this, if you're worried about currency swings a Prepaid Travel Card might be a better option.

Some prepaid cards allow you to lock in a rate ahead of time for certain currencies – so you can effectively convert your sterling into euros/dollars before you head away. While there's no way of knowing if buying currency in advance will work out cheaper than getting the rate on the day, it may give you peace of mind.
Top travel credit cards
The
Halifax Clarity*
has been one of our top picks for years due to its great feedback, near-perfect rates and that it doesn't charge exchange fees on spending or withdrawing cash abroad. You don't get charged interest on spending abroad as long as you repay IN FULL, but do for cash withdrawals until paid off (5p-ish per £100 per day), so pay as soon as you can – eg, via internet banking while abroad.
If you're making a lot of ATM withdrawals, be aware that you can only withdraw a total of 50% of your credit limit as cash. So if your credit limit is £1,000, you'll only be able to withdraw the equivalent of £500 as cash. Therefore, it's best to prioritise spending where you can.

You're only charged it until you've fully repaid the balance, so if you pay off the withdrawal amount plus any interest already accrued (via internet banking while abroad, or when you get home) you can minimise interest. If you do this, make sure the transaction has 'settled' (can take 1-5 days) and isn't 'pending'. You can check if the transaction has settled in your online account.

Any cash withdrawals you make on a credit card will be recorded at the credit reference agencies. On their own, they shouldn't matter too much, but if you have a history of poor credit, or you're looking to make an important credit application soon, they're best avoided.

Because it's usually quite expensive to withdraw cash on a credit card, lenders may see it as you being desperate for cash, and will count it against you if you apply to them.

For more information on the pros and cons, read our guide to withdrawing cash on a credit card.

Yes – you can get this card even if you already have a Halifax credit card.

This rate is only for the Clarity credit card, not Halifax's own travel money bureau, which generally offers lower exchange rates.
Best of the rest
There are a few other cards that don't charge non-sterling exchange fees when you use them to spend overseas. If you're choosing a card, remember that Mastercard's exchange rate tends to beat Visa's rate, so factor this in when making your decision.
The cards above are our top picks but if you already have one of the cards below, it's usually not worth switching as the gains are small. Here are the 'best of the rest' of the cheapest overseas spending cards.
Get Our Free Money Tips Email!
For all the latest deals, guides and loopholes - join the 12m who get it.
Top overseas debit cards
It's also possible to get non-sterling transaction fee-free debit cards, but you'll need to open a bank account. It's questionable whether it's worth switching bank for this (as you're forgoing other bank account perks – see Best Bank Accounts), which is why we favour opening an account separately so you can use it alongside your existing account.
There are a few current account providers offering debit cards without non-sterling transaction fees, although two of them are restricted to certain areas or are only non-sterling transaction fee-free in Europe.
While the cards above are our top picks, here are some other options to consider:
Currency & credit cards
Q&A
No. On all of these cards, there is a processing time. So, you actually get the rate on the day the transaction is processed by your card provider, which is usually a day or two after you used the card, but could be up to a week later.

This is important, as if there are movements in the currency markets between you making the purchase and your card provider processing it, then you could end up paying more (or less) for what you bought than you thought you were going to.

Absolutely. You'll tend to pay the same costs on foreign websites as if you were actually abroad and spending there. If you're paying in a foreign currency, all the usual charges apply – the same cheap cards are cheap, the same expensive ones costly.

There's no right answer to this, which is why this guide focuses on how to get the best rate at any moment. If the pound is strong and the euro or dollar weak, many people think, "I'm not going away for a few months, but I'll grab my cash now." If the pound's weak, many want to hold off.

There's nothing wrong with doing this, but you need to understand it's currency speculation and you're effectively gambling on exchange rate moves. Playing the currency market is something highly paid traders can't always get right. Those who do make a fortune; those who don't lose a fortune.

For more on this, read Martin's 'Should I buy euros now?' blog.

If you're going to get the cash out on a specialist overseas card, then it's better to wait until you're there.

However, if you're just planning to use a normal card or convert pounds when you're out there, there's no guarantee you'll get a better rate – and certainly changing in most hotels is normally a bad idea as they give poor rates. Overall it's safer to use TravelMoneyMax and get the cheapest rate while you're here.
Join the MSE Forum Discussion