Cheap Freeview boxes
Get set for the switch
Get Our Free Money Tips Email!
For all the latest deals, guides and loopholes - join the 12m who get it. Don't miss out
This guide is archived. The information in it is out of date – please do your own research before acting on any of this content. We've no plans to update this guide, we've left it here for reference only.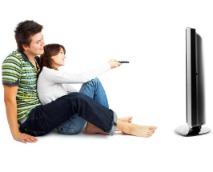 If you want multi-channel telly without the hefty monthly subscription, you can get Freeview boxes for under £20, so you boost your channel count without a contract.
As 2012 moves on, the last analogue terrestrial TV signals will be switched off, so to continue watching TV you'll need a digital receiver. Freeview is the cheapest way to get digital TV, though it's currently only available in some areas - check you can get Freeview before you buy.
Important!

Ensure you know how to shop safely before trying these deals

Full DOs and DONT's
Tips for shopping safely
Whether it's a retailer or restauranteur, airline or air-conditioner seller, computer shop or car rental company, there are always two main risks. Either it's a dodgy company, or it's a legit company that has financial problems and goes bust.
The aim of these tips is to help you minimise the risks.
What happens if a company goes bust?

Quite simply, its customers are immediately transformed into creditors. This hits hardest if you've ordered goods or tickets from them, and not had delivery, as then you become one of a line of people trying to get your money back out of the company's assets, and you usually get back much less than you paid in.

Even if you've had delivery, if the company you bought from goes under and there's a problem with the goods, it can mean you've no comeback.

While MoneySavingExpert.com endeavours to check deals are valid, we don't check companies' finances. Even huge names like MFI and Woolies have folded, so it's very important you use the right strategies to stay protected where possible.
pay by credit card for goods over £100

Pay by credit card for something over £100, and Section 75 laws supercharge your consumer rights.

Unlike debit cards, cheques or cash, pay in full or part (even just £1) on a credit card and by law the lender's jointly liable with the retailer.

This means you have exactly the same rights with the card company as you do with the retailer. So if it goes bust, you can simply take your complaints there instead and get money back if there's no delivery.

Yet it's important you ALWAYS REPAY IN FULL each month, so there's no interest cost. See the full Section 75 guide.

protect purchases under £100

Section 75 doesn't apply to purchases under £100, but there's still an option which can help. It isn't a legal protection, just Visa, Mastercard and Amex's rules, but it's a good back-up.

Spend on a Visa, Mastercard or Amex credit card or any debit or charge card. If the goods don't appear, you can try to ask your bank/card provider to reclaim the cash from the seller's bank, so long as you complain within 120 days of realising there's a problem. See the Chargeback guide for full details.

use unfamiliar sites without checking

Bogus websites are often set up to cash in on popular products like Ugg boots and Tiffany necklaces, so be wary if it's an unfamiliar site. And don't think that because it appears on a reputable search engine, that makes it a reputable site - always check.

check the site's legit

Most folk know to look for a security padlock on the bottom right of a website, but that doesn't mean the site's legit, just that payment's secure.

To find out who registered the site and when, search the Whois database. Reputable firms should also appear on the Companies House site, the UK Government's official companies register. Be very wary of businesses with just a PO Box or email address.

Study the site's worldwide web ranking on Alexa. Anything in the top 100,000 means it's reasonably big and a good, though not foolproof indication of legitimacy. Do a quick Google search for other shoppers' experiences.

let your antivirus run out

Crucially, ensure your security's up-to-date - free software can be downloaded to your computer in about five minutes. Full details in the Free Antivirus Software guide.

know your cooling off rights

Many people are surprised to learn you've MORE rights buying online (or by telephone/catalogue) due to the Consumer Contracts Regulations.

These give you a legal right to cancel an order for goods within 14 days from the day you received them. You then a further 14 days to return the goods for a full refund (including outward delivery costs), even if there's no fault. You'll usually need to pay for the return delivery. Read Consumer Rights for a full guide.

However, of course, this is balanced by the fact ordering online automatically means there's a time gap between ordering and delivering - when the company has your money. So if it goes bust during that time, the cancellation rights don't help. Also, certain goods are exempt from the regulations, such as medicines and fresh foods. Read our Consumer Rights guide for more information.

understand sometimes there's no protection

Ultimately, there is always a risk that a company can go bust. If the above routes don't apply, then you have to make a decision about whether you're willing to take the risk of parting with your cash.

Don't be scared of this. Every day we all make transactions based on trust, and this is part of that, but do balance up the amount you're spending against the risk. Don't give large amounts of money to a company you're not sure about.
Close
Cheapest Freeview set-top boxes
Freeview offers both standard and HD channels via your existing TV aerial. But in order to receive it, you will need a Freeview set-top box or an integrated TV.
The digital switchover
In 2012 all UK TV channels will be delivered digitally, and all the analogue terrestrial transmitters will be switched off. In terms of choice, this is good news for most; after all, digital terrestrial's 50+ channels beat analogue's five.
The analogue signal is being turned off according to ITV region. It started with the Border and Granada regions in 2008 and ends in 2012 with the Meridian, London, Tyne Tees, Ulster regions.
You can find out which area you're in by seeing which ITV news service you receive. Once you know, here's the official list of switchover times. Most of the UK has already switched, but for those remaining areas, here's the time schedule of when you'll go digital:
London - Begins on 4 April 2012
Meridian - Begins between 8 February and 13 June 2012 (depending on area)
Tyne Tees - Begins on 12 September
Ulster - Begins on 10 October 2012
These switchover dates only correspond to the standard definition digital TV rollout - high-definition (HD) TV is being rolled out separately. Some areas already receive HD channels.
Top boxes for use with older TVs
If you've got an older TV, we've rounded up set-top box options that will work better. Check stock levels though, as many are limited.