Cheap Memory Cards
The best deals on SD, SDHC and CompactFlash
Get Our Free Money Tips Email!
For all the latest deals, guides and loopholes - join the 12m who get it. Don't miss out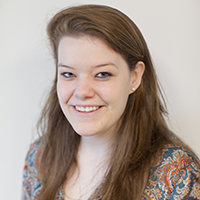 Frederika
Archived 13 May 2015
Most modern gadgets store data on tiny memory cards - and the best prices are all online. Here's a rundown of the cheapest deals, including a 16GB SD card for £5 and a 64GB USB flash drive for £15.
The majority of the cheap deals we've found are available via Amazon or Rakuten (prices correct as of 6 May 2015). Note that third party seller prices on these sites fluctuate depending on demand, so check before you buy. If you've spotted a better deal (incl postage) on any of those we've listed, please let us know in the forum.
Important!

Ensure you know how to shop safely before trying these deals

Full DOs and DONT's
Tips for shopping safely
Whether it's a retailer or restauranteur, airline or air-conditioner seller, computer shop or car rental company, there are always two main risks. Either it's a dodgy company, or it's a legit company that has financial problems and goes bust.
The aim of these tips is to help you minimise the risks.
What happens if a company goes bust?

Quite simply, its customers are immediately transformed into creditors. This hits hardest if you've ordered goods or tickets from them, and not had delivery, as then you become one of a line of people trying to get your money back out of the company's assets, and you usually get back much less than you paid in.

Even if you've had delivery, if the company you bought from goes under and there's a problem with the goods, it can mean you've no comeback.

While MoneySavingExpert.com endeavours to check deals are valid, we don't check companies' finances. Even huge names like MFI and Woolies have folded, so it's very important you use the right strategies to stay protected where possible.
pay by credit card for goods over £100

Pay by credit card for something over £100, and Section 75 laws supercharge your consumer rights.

Unlike debit cards, cheques or cash, pay in full or part (even just £1) on a credit card and by law the lender's jointly liable with the retailer.

This means you have exactly the same rights with the card company as you do with the retailer. So if it goes bust, you can simply take your complaints there instead and get money back if there's no delivery.

Yet it's important you ALWAYS REPAY IN FULL each month, so there's no interest cost. See the full Section 75 guide.

protect purchases under £100

Section 75 doesn't apply to purchases under £100, but there's still an option which can help. It isn't a legal protection, just Visa, Mastercard and Amex's rules, but it's a good back-up.

Spend on a Visa, Mastercard or Amex credit card or any debit or charge card. If the goods don't appear, you can try to ask your bank/card provider to reclaim the cash from the seller's bank, so long as you complain within 120 days of realising there's a problem. See the Chargeback guide for full details.

use unfamiliar sites without checking

Bogus websites are often set up to cash in on popular products like Ugg boots and Tiffany necklaces, so be wary if it's an unfamiliar site. And don't think that because it appears on a reputable search engine, that makes it a reputable site - always check.

check the site's legit

Most folk know to look for a security padlock on the bottom right of a website, but that doesn't mean the site's legit, just that payment's secure.

To find out who registered the site and when, search the Whois database. Reputable firms should also appear on the Companies House site, the UK Government's official companies register. Be very wary of businesses with just a PO Box or email address.

Study the site's worldwide web ranking on Alexa. Anything in the top 100,000 means it's reasonably big and a good, though not foolproof indication of legitimacy. Do a quick Google search for other shoppers' experiences.

let your antivirus run out

Crucially, ensure your security's up-to-date - free software can be downloaded to your computer in about five minutes. Full details in the Free Antivirus Software guide.

know your cooling off rights

Many people are surprised to learn you've MORE rights buying online (or by telephone/catalogue) due to the Consumer Contracts Regulations.

These give you a legal right to cancel an order for goods within 14 days from the day you received them. You then a further 14 days to return the goods for a full refund (including outward delivery costs), even if there's no fault. You'll usually need to pay for the return delivery. Read Consumer Rights for a full guide.

However, of course, this is balanced by the fact ordering online automatically means there's a time gap between ordering and delivering - when the company has your money. So if it goes bust during that time, the cancellation rights don't help. Also, certain goods are exempt from the regulations, such as medicines and fresh foods. Read our Consumer Rights guide for more information.

understand sometimes there's no protection

Ultimately, there is always a risk that a company can go bust. If the above routes don't apply, then you have to make a decision about whether you're willing to take the risk of parting with your cash.

Don't be scared of this. Every day we all make transactions based on trust, and this is part of that, but do balance up the amount you're spending against the risk. Don't give large amounts of money to a company you're not sure about.
Close
Don't know which card you need?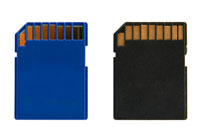 If you're unsure of which type of flash memory your gadget takes, try Ritzpix's guide. It's not comprehensive, but it's fairly detailed. Alternatively, just Google the name of the product; you should be able to find it on a product description somewhere.
What "class" memory card do I need?
Memory cards are categorised by the speed that they can take and upload pictures or video. This is called "class", eg class 2, class 4. But unless you're David Bailey, you probably don't need to worry about the class of your memory card - top speeds are only really a necessity for sports/action shots, or professional standard video recording.
The SD Association, which was established to develop and promote memory card storage standards, has a handy guide to the range of speed classes available and their associated benefits.
SD and SDHC - cheapest and most common
The postage-stamp size SD (Secure Digital) and SDHC (Secure Digital High Capacity) memory cards are common in many cameras and other gadgets which need expandable storage.
Our top picks, which include some of the cheapest on the market alongside some of the pricier, best reviewed ones, can be found below.
High performance SD cards
The cards above are fine for regular snaps and storing media etc, but they're not exceptionally fast. If you want to shoot fast-action photo sequences or record seamless full high definition video (and be able to quickly transfer the contents of your memory card to your computer) you'll need one with faster read/write times to keep up.
The "Ultra" SanDisk cards below have good feedback for doing exactly that, though they cost a bit more.
Micro SD, SDHC and SDXC - common for mobile phones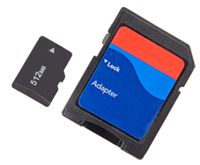 Micro SD cards are about a quarter of the size of a standard SD card, and are most commonly used in mobile phones.
But they can still be used with devices that have standard SD card slots, by inserting the card into a special adapter. Many Micro SD cards now come bundled with an adaptor.
Micro SD cards
More memory
Newer SDXD (Secure Digital eXtended Capacity) cards have a greater capacity than SD and SDHC ones, ranging from 64GB to 2TB. These must only be used with SDXC devices. This guide outlines which SD memory cards are compatible with which host products.
Get Our Free Money Tips Email!
For all the latest deals, guides and loopholes - join the 10m who get it. Don't miss out
Additional memory storage devices
We've outlined the most popular forms above, but there are many other options for memory storage, whatever the device you're using.
USB stick - for your laptop or computer
There's one big advantage with flash drive USB sticks: you'll get lots of memory for less money.
The idea with flash drives is that you load your photos or videos onto your computer from your camera, and then save them on a USB stick for safe keeping.
Portable external hard drives - for your laptop or computer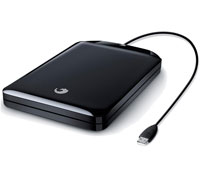 External hard drives are a great way to store large amounts of data like photos, movies and music. They're much bigger than USB sticks, but they connect to your computer in the same way, via USB 2.0 or the faster USB 3.0 standard.
Sony Memory Sticks - for Sony devices only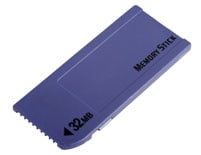 If you've got a Sony camera, camcorder, MP3 player, PDA, mobile phone or a PSP, you often need a different format of memory card called a Memory Stick. These come in numerous versions, much like SD cards, with adaptors to fit them in different-sized slots.
However, new Sony products now support SD/SDHC cards, which are usually cheaper, though you should always check they're compatible with your gadget first.
Got a Sony Memory Stick Pro Duo-based device but only have a Micro SD card? You can buy card adapters which are quite cheap and will bridge the gap between formats, making micro SD cards sit happily in Memory Stick devices
CompactFlash - cards for SLR cameras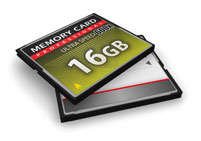 The oldest type of flash memory covered here, CompactFlash, is still sometimes used as the format of choice for higher-end digital SLR cameras due to its longevity and durability.
Canon has also chosen CompactFlash as the recording medium for its professional high definition tapeless video cameras.
Kingston 4GB CompactFlash card - £7 delivered at Amazon*
Kingston 8GB CompactFlash card - £8.25 delivered at Amazon* (third party seller)
Kingston 16GB CompactFlash card - £13.52 delivered at Amazon*
As with the SD cards above, more demanding applications will require CompactFlash cards that can be read and written faster. The SanDisk Extreme range has some of the best feedback available, and is basically industry standard for pro photographers.
Get Our Free Money Tips Email!
For all the latest deals, guides and loopholes - join the 10m who get it. Don't miss out
How to complain
If you're not happy about your product or the service you receive, you should first contact the retailer in person, by phone, or in writing. However, if you're still not satisfied, then...
Free tool if you're having a problem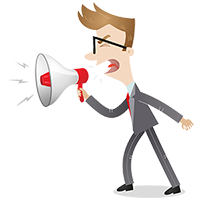 This tool helps you draft your complaint and manage it too. It's totally free, and offered by a firm called Resolver which we like so much we work with it to help people get complaints justice.
If the complaint isn't resolved, Resolver can escalate it for free to the relevant ombudsman or trade body.