Sun's out, guns out! If you're inclined to hit the pavement or treadmill this summer, don't waste your cash on gear that's £60+ elsewhere. You can get similar items for a quarter of the price, including trainers, running jackets, trousers and more.
At this time of year I get a spring in my step (spring does that!). It's warming up and the thought of running doesn't sound like the worst thing in the world. The park down the road seems tempting. It's enough for me to – nearly – dust off my trainers.
I get a sneaking feeling that lots of people feel the same way, as the running stores and sports shops are currently promoting neon/Lycra-based wares. Aldi's jumping on the bandwagon with a running range in-store from Thursday 3 April, available while stocks last.
So we thought we'd test it out. Our office is full of runners – a few are doing the London Marathon – so I gave them the products to try. The general feedback was excellent, with the main points being that the quality and material seemed just as good as more expensive brands.
They were also nice to look at too– the neon orange top being a favourite. In fact, MSE Jo said she'll be wearing it during the London Marathon so she'll be easy to spot!
However, the runners were a bit concerned about the £19.99 trainers (which look a lot like Asics). Some thought they seemed a little thin, and didn't support their feet. Others just thought you need to spend money on footwear if you want to stay injury-free.
Some highlights:
• Ultra Light Summer Running Jacket – £14.90
MSE Pritie thought the jacket was great – light, breathable and washes well. It looks really similar to one her husband uses, but his cost £60.
Similar jackets cost about £50 elsewhere.
• Running trousers – £9.99
I tried the running trousers and thought the quality and fit were really good. They actually stayed up when running – an issue I've always struggled with.
Similar trousers cost about £40 elsewhere.
• Ergonomic running socks – £2.99
MSE Amy said the socks were great and didn't make her feet too hot.
Similar socks cost about £10 elsewhere.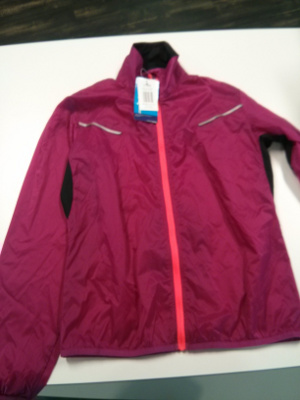 Aldi running jacket
Aldi running shoes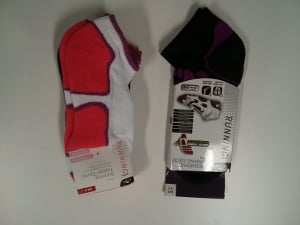 Aldi running socks