You can get yourself a free 500ml bottle of Diet Coke at Boots stores – just look out for the word "hunk" on special bottles (the topless hunk's not included, unfortunately).
If you're passing a Boots, see if you can find a 500ml Diet Coke bottle with the word "hunk" written on it. Named after the handsome topless Diet Coke man from the adverts, if you find one you'll get it for free (it's usually £1.37).
All you need to do is take it to the till. Staff will scan it, and that's it.
I went to a Boots store in central London, had a little rummage in the fridge and found a "hunk" bottle within 20 seconds. After putting the rest back neatly, I took it to the till to be scanned and noticed it came up as 0p.
It was really easy for me as the discount was already in the system, although I can't guarantee it will be that easy for you.
Apparently, there are 24,000 "hunk" bottles available in Boots stores. The promotion doesn't end until Tuesday 19 August, so you still have plenty of time to go hunting for a hunk.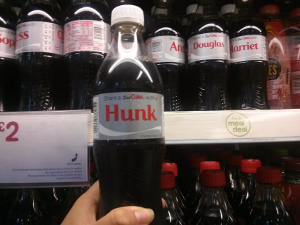 Let me know how you get on!