Buy one, get one free? Nope, this isn't a half-baked deal I have for you. Here's my nifty trick to get FOUR Jamaican ginger cakes for the price of one..
Tesco is running a UK-wide buy one, get one free promotion on McVitie's Jamaican ginger cake until the end of today (Monday 4 August).
While this offer is good, I've got a little nifty trick on how to turn it into a great one…
In some Tesco stores, there are special promotional packs with "100% extra free" on the front. These have two ginger cakes in one pack, for the same £1.37 price as the regular pack.
These packs also work with the BOGOF offer. So you can get four McVitie's Jamaican ginger cakes for the price of one – that's 34p each. Who wouldn't want a slice of that deal?
These "100% free" packs won't be everywhere. My local Tesco in Wimbledon, south west London, doesn't have them. But they're in the Tesco Express near MSE Towers in the West End.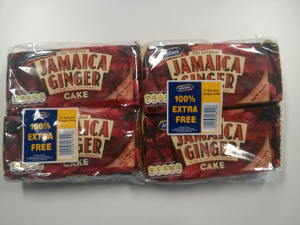 My cakes quickly disappeared, as it seems like the MSE team love a bit of ginger cake. But if you're wondering what to do with all your cake, read the Jamaica ginger cake thread in our forum for leftover ideas.
I spotted a cheat version of Nigel Slater's sticky toffee pudding that looked particularly wonderful. I might have to pop back and pick up some more cake. Only this time, I won't share it with the office…