Poundworld is currently selling a £20ish singing Justin Bieber doll, £5 Star Trek figurines and a £4.50 Super Mario model – each for just £1. Can you find 'em?
It may be mid-August, but I'm proud to say I recently bought my first present for Christmas 2014. It's never too early to start – and if you know where to look, there are some real bargains to be found.
If you're a geek like me, or have kids who are into Justin Bieber, Star Trek or Super Mario, you can start stocking up for Christmas too at Poundworld. The discount store's currently selling a limited number of action figures which have been big over the past few years. They cost just a quid, but will look like you spent a lot more – perfect pressies to stash away for a few months.
Here's what you can choose from:
– Justin Bieber doll – OK, so he's not everybody's cup of tea (the figure I tracked down is currently imprisoned in the MSE Towers fridge). But this 30cm doll is perfect for those with a Belieber in their life. If you press his stomach, 'Boyfriend' plays, though only for five seconds (phew!). This doll was only sold in the US and is no longer produced so it's hard to find a comparison price, but it's typically about £20 now online.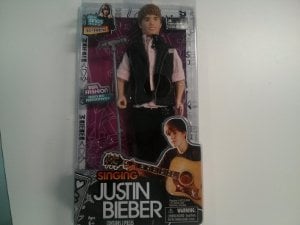 – Star Trek figurines – these six-inch Kirk and Spock models come with accessories like a phaser and interchangeable Vulcan salute hand. They only seem to be sold now by collectors in the US, but I found the Kirk one listed by a third-party seller on Amazon for £4.99.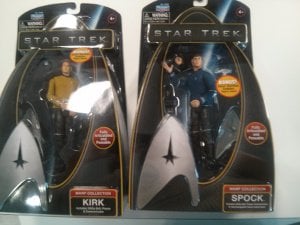 – Super Mario models – there are four football-themed figures to choose from – each has a key chain mechanism so you can stick 'em on your bag or keys. The writing on these is in Japanese, which makes tracking down a comparison price a Rainbow Road-sized challenge, but I did find six on sale for $45 (about £4.50 each). I could only find Princess Peach and Yoshi in my local Poundworld, but Mario and Donkey Kong are out there too.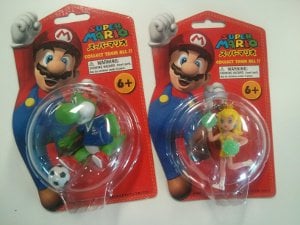 Poundworld says there are only 2,000 Justin Biebers left, so if you want one you'll have to move fast. (You can find your nearest Poundworld here).
There's less urgency with the others – Poundworld say they're in good supply currently and there are 12,000 more Super Mario models coming in on Wed 13 Aug and 10,000 Star Trek figures arriving on Fri 22 Aug. Let me know how you get on…