Rumours are rife that the Next sale is going to start this weekend. So here's my trick on how to spot what's going to be discounted, and by how much, before it's even been announced.
Ever looked at a price tag, seen a handwritten number and letter sequence, and wondered what it meant? Well, those markings could give away a store's upcoming sale secrets. Once you know this, you'll NEVER buy anything with those markings at full price.
To show you how it works, have a look at Next's sale, which looks likely to take place this weekend, starting Saturday 27 September. I say "likely" as while retailers typically like to tell the MSE Deals desk about upcoming sales, Next is different – it's rather shy about letting us know. In fact, it never gives us exact dates, nor does it indicate what's included. Right now, it is refusing to give us any info on the sale. But we have our ways to work it out, thanks to our canny forumites.
They're given advance VIP sale preview slots, meaning they get a first look a few days before the sale officially starts. The sale usually begins the Saturday after our forumites get their slots, so with a little bit of guesswork and forumites' insider knowledge, we can make an informed guess. It's not 100%, but it's worked for us in the past.
Back to how I know what's in the sale.
The writing's on the wall – I mean, the writing's on the price tags. Go into your nearest Next and have a look at the items you want. If there are some handwritten scribbles on the price tags – such as B14, G4, P7, OB9, TP12m – it's likely it's going to be in the sale.
Ignore the letters, and you're left with just a number. That's generally the price it's going to be. In previous sales the everything included in the sale has been at least 50% off, rather than "up to" 50% off, and it looks likely that this is going to be the case in this sale too.
You can use this trick elsewhere too as a lot of stores, including Monsoon, use a similar system.
So if you're thinking about buying something at full-price and spot something handwritten on the price tag, think about waiting a bit – because, as the saying goes, good things come to those who wait.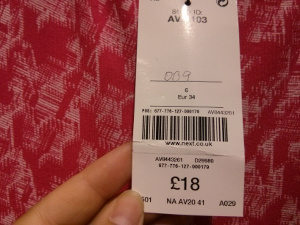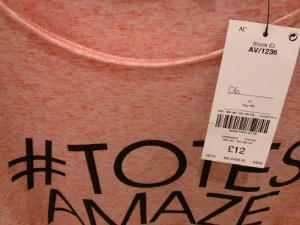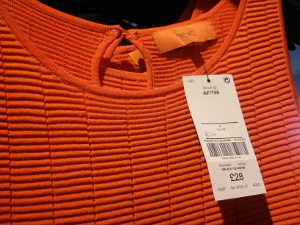 I went to my local Next today (Tuesday 23 September) to see if it had started marking tags already, but no such luck. However, from experience I know they usually do it a day or two before the sale starts, so keep an eye out Thursday and Friday. I first discovered this in August, it worked then, here's hoping it will work again.
Let us know your finds below or in our forum.