These boots are made for walking – just get yourself down to one of the four selected Dr. Martens stores that are selling the classic boot for just £3.
I don't have a huge amount of information about this cracking offer as Dr. Martens is being secretive, but here's what I found out…
The facts
Last Tuesday (26 August), Dr. Martens posted a status on Facebook saying it will be selling the original Dr. Martens, which currently costs around £110, at original prices – £3 a pair. This is what the well-known boots cost in the 1960s when they were first launched.
The discounts starts on Thursday 4 September, when the stores open, and applies to two different type of boots from the original range.
You pick either the Black CHURCH monkey boot (£110 at Schuh and Dr. Martens), or Oxblood PHILIPS 4-eye shoe (£100 at Topman) and it's one pair per person.
The offer will only be available in selected stores – London's Carnaby Street, Norwich, Leeds and Edinburgh – and it will be available on a first come, first served basis. So get there well before the store opens if you want to stand a chance of bagging a pair.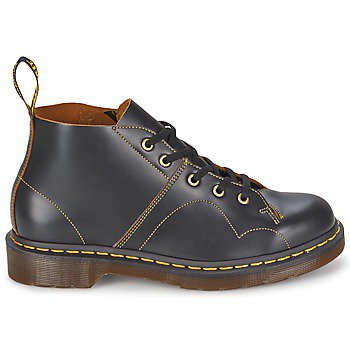 Deals Hunter undercover
I got in touch with Dr. Martens to try to find out some more but it refused to reveal any further details so I decided to visit the Carnaby Street store. Here's what I found out:
Stock is incredibly limited – the shop assistant told me there might only be around 10 pairs available in each store.
The store opens 10am which is when the promotion starts, but Dr. Martens expects people to be queuing from 8am.
Once you're there and the store opens, it's a quick process. You choose your size and style in the queue.
So to be honest, the odds of casually picking up a pair of shoes for £3 is very slim. However, if you're feeling lucky and don't mind potentially standing in the rain for a couple of hours, give it a go.
Let me know how you get on.