One Direction are the biggest boy band in the world — their following is so huge their loyal fans have become known as 'Directioners'. If you know a Directioner or are one yourself, and want to make them happy this festive season, 1D items are a sure bet.
I noticed on a recent visit to my local Poundworld store that it had stocked up on a load of 1D items. I thought I'd found a secret treasure trove, but when I spoke to Poundworld I found out that it stocked even more 1D related items nationwide. It told me that it had giant pens, concert bracelets, notebooks, key chains, Top Trumps games, mugs and tote bags, to name just a few.
Just make sure you scour your local store thoroughly, as the items aren't all in one place.
Poundworld says stock levels are good and best of all, it has confirmed it's all official merchandise.
Here's what I found on my visit:
£1 1D backstage VIP pass toy with branded lanyard (£8.99 at The Toy Merchant)
£1 1D pink lunch box (£4.99 on Amazon)
£1 1D pink plastic cup with straw (sold with the above lunchbox for £5.99 at Amazon)
£1 1D bumper sticker pack (£4 at Tesco)
£1 1D official sticker album (£2.99 at Panini)
£1 1D gel pens (£1.50 at Wynsors Word of Shoes)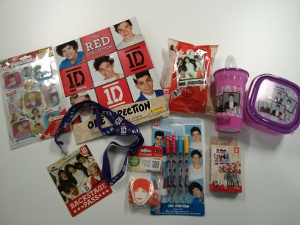 Found any other cheap 1D items? Let me know below or on our forum, I'd love to hear about them. To find your nearest Poundworld see here.