Start making some room in your freezer as I've found a trick that may mean when you buy one Dr.Oetker frozen pizza for £1.49, you can get UNLIMITED pizza (subject to availability) totally free.
This is a sneaky loophole that could result in a freezer full of 'free' pizzas. Until 5 October Dr.Oetker frozen pizzas are £1.49 at Morrisons, that's half the usual £2.99 price – a decent deal. However, here's the fun bit: pick up a promotional pack and inside the box is a code, which gets you £1.50 off future purchases.
Used right, it's initially buy one, get one free, but with the second box there'll be the same code to get another free, which gets another free… I think you've got the point! As long as it's not pulled, you can do it again and again.
How this should work….
Get the half price pizza. Dr. Oetker Ristorante pizzas (Mozzarella, Speciale, Pollo, Funghi, Hawaii and Pepperoni-Salame) are £1.49 at Morrisons until Sunday 5 October. Make sure you pick up one of the promotional boxes with the 'up to £10 off coupon' heart picture on the front.
Check for the code. Look inside the pack to see a faint eight digit unique code printed. Then enter your details on the Pizza Ristorante page to get your coupons. You get a £1 off and £1.50 off coupon by email (although mine went straight to the junk folder so make sure you check there). Then print both 'em out. You'll need to print off the £1 voucher first, then press the 'print' button again to get the £1.50 coupon.
Get your free pizza. Go back to Morrisons, pick up another promotional pizza and take it to the till with your £1.50 off coupon which gets the £1.49 pizza for free (you don't get the 1p back).
The best bit is, as long as there's stock, you can keep doing this – well up until your freezer is full, or till the deal is pulled.
Is it legit to do, will it work?
I tried it and it worked for me. When I tried to check it with Dr. Oetker, it said: "You can't mention it at all because of our risk insurance contract for promotions." (whatever that means).
We get companies trying to tell us all types of reason not to publicise such things – so I checked with Martin and he said: "We're a journalistic organisation, it's not for it to tell us we can't publish a deal that's in the public domain as it's printed on its packaging – if it doesn't want it published it shouldn't launch it."
The voucher does state: "The coupon is not to be used in conjunction with any other offer." Yet is a price reduction another offer? As the firm won't talk to us about the exact T&Cs, all we can tell you is when I tried it at Morrisons it worked. And my relationship is with Morrisons.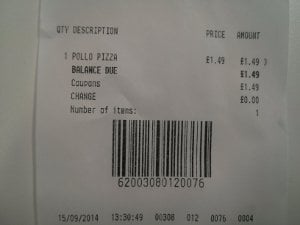 Again I checked with Martin – he's a lot older than I am and has been doing this a long time (let's hope he doesn't read that)…
"We've had this before – Tesco used to accept coupons for anything, even if you didn't buy the product. The voucher issuers hated it and hated when we said it. Yet the point is, they're not the ones accepting the coupon and giving the discount, Morrisons is and that's who your relationship is with.
"Of course, Morrisons will then want the cash off Dr Oetker, but that is an issue between those two companies, not with you. However, it is always important to be honest and straightforward. Don't swipe it through a self-service check out, present it honestly to the cashier and let he or she decide whether a half price deal counts as an offer or a simple price reduction."
So there you have it – whether you decide to try it is up to you. And of course, after this goes in the weekly email to 9 million people there is a chance it'll be pulled. Do let me know how you do if you do try it.