Now's the time to get the top toys before the Christmas rush begins and prices inflate. Argos and Boots have a 3for2 sale which includes most of these toys.
I'm sure you've seen chaotic news footage in the past; hundreds of people pushing and shoving in toy-stores to get their hands on a Cabbage Patch Doll or Furby – it's a bit lacking in Christmas Spirit for my liking. Demand goes up and prices can fluctuate, plus the odds of you getting that sought after toy is about the same as it snowing on Christmas day – slim.
The 3for2 toy sales are in full swing
Hamley's announced the top 10 toys for Christmas back in July. Argos and Boots currently have 3for2 sales on toys with the majority of the top 10 toys included in that sale. The Argos 3for2 sale*, which ends Friday 3 October, is stonkingly good and not only includes a lot of the top 10 toys but also other biggies such as bikes and Lego.
The reality is, they want to tempt you into buying three toys rather than the one (they ain't doing this out of the kindness of their hearts!). So if you only wanted one item, stay strong and go elsewhere because as you can see from the chart below, Argos and Boots are not necessarily the cheapest.
However, if you do intend to buy three toys, Argos or Boots is the place to get them and you will save some cash.
Alternatively, as the toys below are going to be popular you could team up with other parents or grandparents and get three of the same toy – getting you a third off, which is the biggest discount you can get.
The top 10 toys and where they are cheapest
Boots* has less of the top 10 buys, but if the toys you do want are there and you collect Boots points, it's worth buying there as the prices are pretty much the same as Argos. I'm waiting to hear back from Boots on the end date of its sale, I'll update you here when I know.
Should I be buying now?
Of course, it's going to be a bit of a gamble. I don't have Santa's number so I don't know if prices are going to rise or fall, but take a look at this CamelCamelCamel chart from the incredibly popular Teska Robotic Puppy from last year.
If you bought the dog with plenty of time to spare in September/October on Amazon, you'd get it for £39.99. However, it then jumps to £59.99 in November (peak time for Christmas shopping) and that pattern seems to be consistent with other popular toys that year.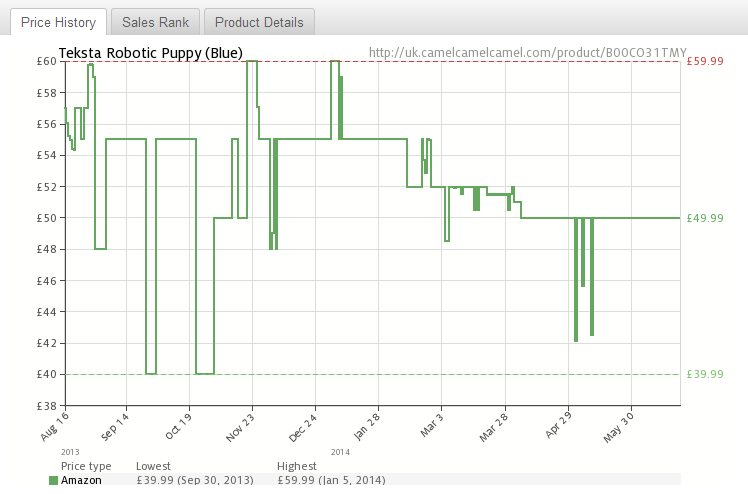 As well as the top 10 toys, my friend Lindsay, who works in Toys R Us told me that all she's ever asked about in store are Leap Pads and Frozen Dresses (good luck tracking them down as they sell out fast! But do keep an eye out in Matalan as well as the Disney store). Products that are popular year after year include Lego, Playmobil, Razor scooters and of course, anything Barbie.
Buy now, then come December instead of getting your elbows at the ready to hit the busy stores, you can stick your feet up and grab a mince pie.
What toys are your kids asking Santa for this year? When do you plan on buying them? Let us know below or in our forum.