Here's a nifty trick, by combining a coupon with a half-price offer in-store at Morrisons, you can bag yourself a free fancy soup. Who said there's no such thing as a free lunch, eh?
We were raving about this souper trick to get free soup back in October and now the offer's back. Here's how to get it…
First off, get the coupon
Just go to the New Covent Garden Co. website, fill in your details and you'll get £1 off any New Covent Garden soup.
You just need to print it off and hand it over at the till – no showing it on your phone, sorry.
The coupon is valid until Sunday 4 January and it's only one coupon per transaction and one coupon download per email address. New Covent Garden Co hasn't told us how long the coupon will be up on the site for or if there is a limited amount, so don't hang about if you want one.
Find some discounted soup
You can get a 600g carton of Covent Garden soup in most supermarkets, but some currently have them on offer. Morrisons has a range of flavours reduced to £1 from £2, until Sunday 4 January.
As the coupon is £1 off, if you pick up a soup which has been reduced to £1 – you should get it for free.
If Morrisons is not convenient, Tesco has the soup for £1.17 until Tuesday 9 December, so you'd get the soup for 17p and Asda has it for £1.50, so you'd get it for 50p – which is still a bargain.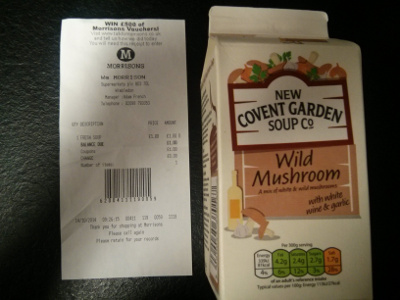 Will it work?
Morrisons hasn't confirmed it's accepting the coupons yet, so it's not guaranteed. However, it's working for a lot of people online and three of us in the office did it with no problems, so it's definitely worth a try. I tried it in my local store, with no other shopping and didn't have a problem. Honestly, the cashier looked a bit confused, but I walked out with the freebie.
For up to date coupons like this one, keep an eye on our Supermarket Coupons page. Let me know if you manage to bag yourself a free soup by commenting in our forum.