Turn up at a Giraffe restaurant in a dressing gown before 11am on Monday 27 October to get a totally free breakfast. Slippers and pyjamas are optional!
If you're happy enough to brave the strange looks from the general public and winter weather in a dressing gown, and want to eat in the restaurant, you can get a free Good Morning Brekkie. This gets you a breakfast item from the promotional set menu and a regular hot drink, which is usually £5.
The Good Morning Brekkie menu is different in all restaurants, but items include: bacon and eggs on sourdough, superfoods muesli, breakfast burrito, eggs (scrambled, fried or poached) on toasted focaccia, and toasties.
The deal will run in all Giraffe restaurants, excluding airports, Hampstead, Burgers & Cocktails Castleford, James Street and Brighton, giraffe Stop and Kiosk King's Cross.
The restaurants open at different times, but 8am seems to be the standard time, so it would be advisable to get there before then if you don't want to queue for too long. You get an extra hour in bed this weekend so dragging yourself up on Monday morning should be slightly easier!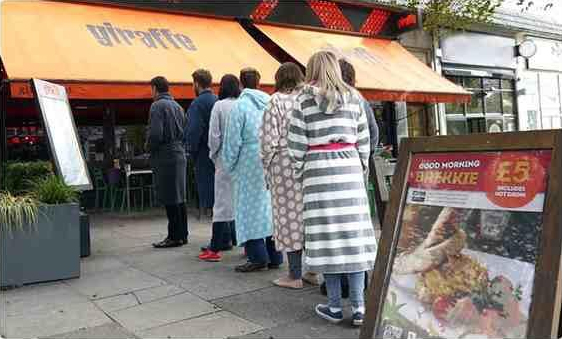 Let me know if you plan on going below, or let us know in the forum.