We've uncovered a 'promo stacking' trick to get £15 of Sanctuary Spa travel miniatures and a £12.50 gift set for just £10. Boots currently has two promotions on and if you shop right to trigger both of them then you can, hmm, clean up.
MSE update 12pm Fri 6th Jan: We've had reports that some of the miniatures on the 3for2 promotion have sold out online and that stock on other items is limited. The gift set is available in stores. Boots has confirmed that this offer is stock dependent – so go quick if you want it.
Want to know how you can pick up £27.50 of Sanctuary Spa goodies for a tenner? It's all about stacking two Boots promotions, here's how to do it:
Boots 3for2 on Sanctuary Spa minis
Sanctuary Spa minis are currently part of a 3for2 promotion meaning if you buy three of the minis on offer you'll get the cheapest item free. With this offer you could get six miniatures costing £2.50 each for £10. I tend to stock up on miniatures for holidays and my gym bag when they are on offer – whilst they aren't always the most cost effective way to travel light, they are extremely convenient.
Free £12.50 gift set with £10 Sanctuary Spa spend
As soon as you add £10 of selected Sanctuary Spa products to your basket, a £12.50 Sanctuary Spa Brimming Full of Love gift set (including body wash, scrub and lotion) will be automatically added to your order. So that's £15 of Sanctuary Spa minis and a £12.50 gift set all for £10.
Here's what your basket would look like: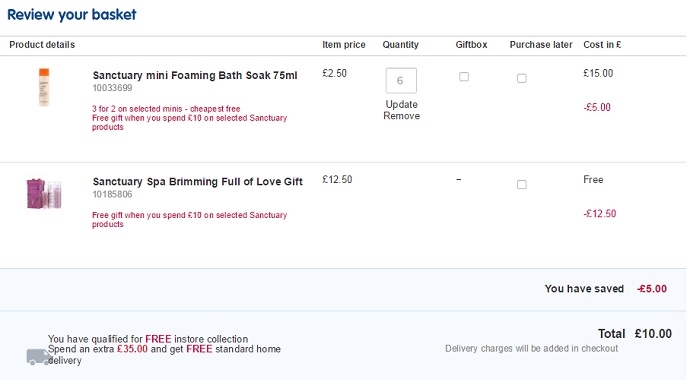 Boots has said there is no end date for the 3for2 promotion and the free gift, but it's stock dependent – so go quick if you want it. This is available in stores and online.
You don't have to buy the minis to get this free gift (most Sanctuary products on the Boots site are included) but as the minis are 3for2, stacking the offers will maximise the deal.
You can get this delivered for £3.50 or collect in your local store for free.
Big thanks to mags21's in the MSE forum for the original spot.
Sanctuary Spa minis included in the 3for2 are:
Cleansing burst body wash 75ml
Silky smooth body lotion 75ml
Feather-light body moisture spray 50ml
Ultimate salt scrub sachet 60g
Gentle polish body scrub 50ml
Velvety hand cream 30ml
Luxurious body butter 50ml
Foaming bath soak 75ml
Moisture shine hair treatment 20ml
Rescue hair and scalp mud treatment 20ml
Mande Lular body soufflé 50ml
Cleansing hair exfoliant 20ml
Curl control frizz taming oil treatment 20ml
Sanctuary Spa items in the Brimming Full of Love gift set:
White Lily & Damask Rose body wash 250ml
White Lily & Damask Rose body scrub 50ml
White Lily & Damask Rose body lotion 250ml