Holidays are coming… well, Christmas is still a while away yet, but it's certainly not too early to start stocking up the cupboards. And until Tue 20 Oct, there's a way you can pick up two 'free' 1.75-litre bottles of Coca-Cola Zero or Coca-Cola Life.
It involves combining a cashback offer available via an app with a 2for1 deal at Tesco – so it's a bit fiddly, but worth it if you'd be buying the Coke anyway.
We originally spotted this offer in April, then it ended, and now it's back again…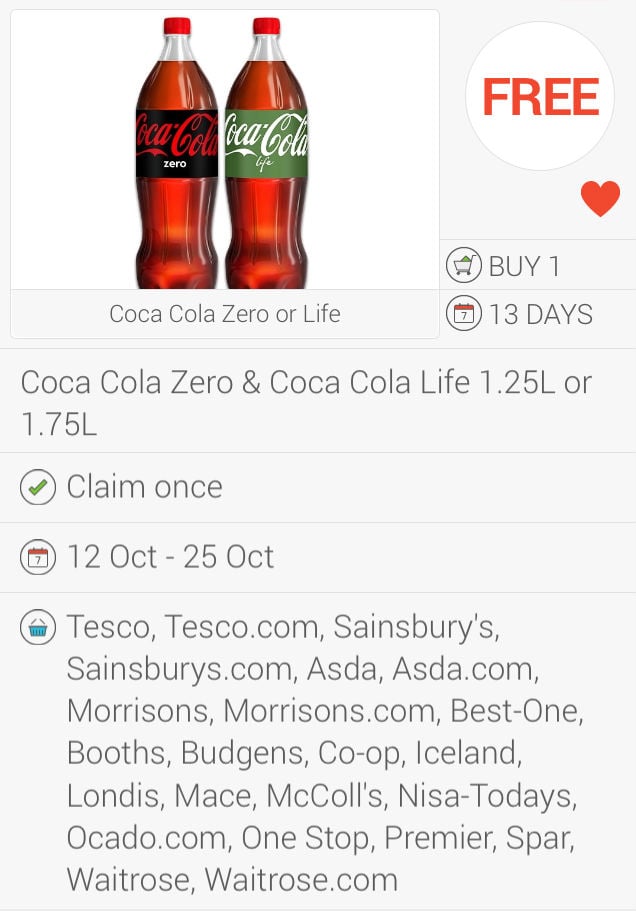 How do I get it?
Firstly, download the CheckoutSmart app and register your details – it's free from Apple's App Store (for iPhone and iPad) or Google Play (for Android devices). It's a cashback app, partly owned by cashback giant Quidco, for earning money back on groceries bought at all major supermarkets as well as smaller convenience stores.
Until 11.59pm on Sun 25 Oct, you can claim back the full amount back for a 1.75 litre bottle of Coca-Cola Life or Coke Zero at Tesco, Asda, Sainsbury's, Morrisons, Waitrose, Co-operative, Iceland and more (full list available in the app).
However, if you get it from Tesco (where they're £1.85 each), until Tue 20 Oct, there's a 2for1 offer on these particular bottles, which effectively means you'll get TWO free bottles (3.5 litres in total) once you've claimed back your money via the app.
Once you've downloaded the app and signed in, simply select the offer from the list. Then to prove you've bought the Coke, follow the on-screen instructions to upload a photo of your receipt using your smartphone camera.
CheckoutSmart will then credit your account with the amount you paid (maximum £1.85). If you shop at Sainsbury's, until Tue 27 Oct, they're on a two for £2, so you can get your free bottle plus a second bottle for 15p.
When will I get my cashback?
It can take two or three days for your receipt to be processed but as soon as this is done, your CheckoutSmart account balance will be updated with the new cashback amount. You can withdraw your money (via PayPal or bank transfer) as soon as your balance has been updated.
Will I get the full amount back?
You only need a £1 balance before you can make your first withdrawal (£5 each time thereafter), but do bear in mind that a 5% processing fee applies to amounts of less than £20 – so your maximum reward becomes £1.76 if you want it right away, so you'd be getting two bottles of Coke for just 9p.
Alternatively, you can redeem other offers to build up your balance and eventually withdraw £20+ without charge.