With Easter fast approaching, we thought cracking out an Easter egg taste test would be an egg-cellent idea. We've done our best to try an own brand egg from each store to see if you can save money while still enjoying a tasty treat. The larger stores will have greater variety, but we tested the cheapest own-brand eggs we could find in our local branches. We've also thrown in two widely available branded eggs – Cadbury Mini Eggs and Maltesers – for good measure.
How we did it
It was a dreary afternoon and we set 30+ members of the MSE family the odious, nay repugnant task of completing a blind chocolate taste test. We removed all packaging, broke up the eggs and asked them to mark their taste from 1 to 10 (1 being the foulest thing in the world, 10 being heavenly confectionery).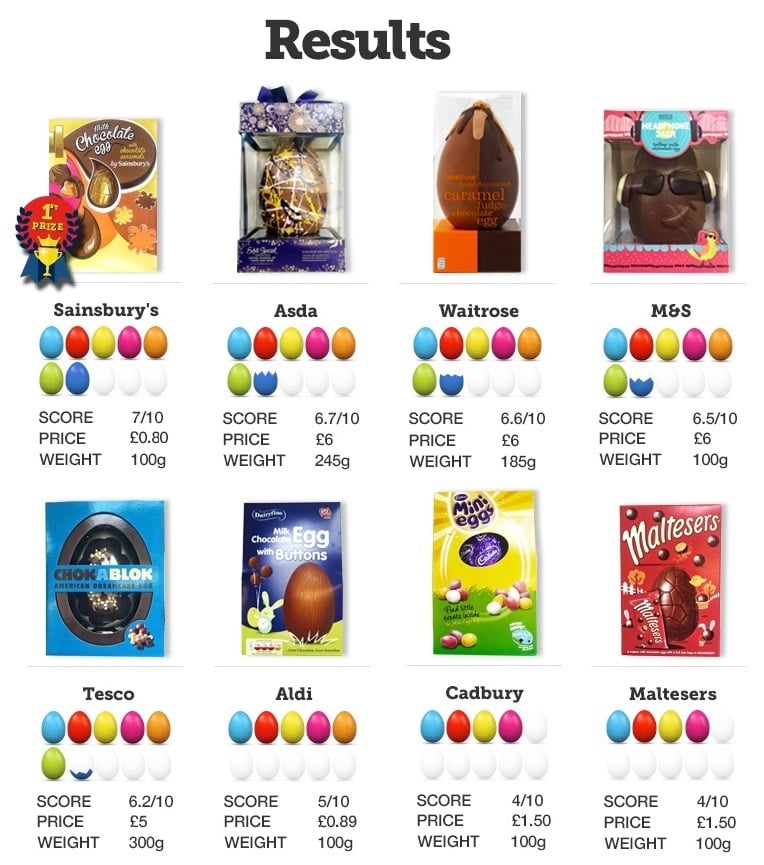 The results
In first place…the 80p Sainsbury's chocolate egg with chocolate caramels costing 80p per 100g. Despite being the cheapest, it scored an average of seven out of 10 which just goes to show, scrimping on the pennies doesn't mean scrimping on the taste.
In second place was Asda's colour splash egg, part of its 'Extra Special' collaboration with Leiths School of Food and Wine, working out at £2.45 per 100g.
Both Sainsbury's and Asda were much better value for money than the Waitrose caramel fudge chocolate egg (£3.24 per 100g) and the M&S headphone Jack egg (£6 per 100g) which scored 6.6/10 and 6.5/10 respectively.
Surprisingly, branded favourites Cadbury Mini Eggs and Maltesers got a joint-lowest score of 4/10.
Proof that you don't have to go for the top brands or shell out to get the best-tasting egg this Easter. Enjoy!