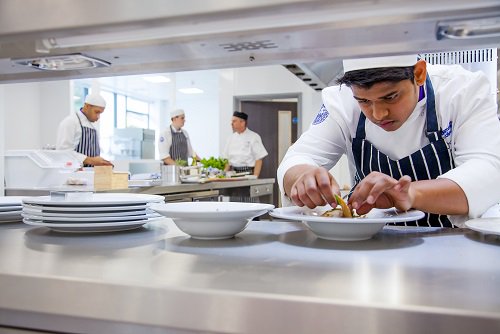 Top chefs in fine dining restaurants had to start somewhere and you can visit training restaurants in colleges and universities across the UK and grab a three-course meal for as little as £14.50, a fraction of the price you can spend in high-end eateries (which can really burn a hole in your wallet).
So, in order to give you a flavour of what to expect (it's a tough job but someone's got to do it!), we went to South Thames College in Morden (South London) to try out its training restaurant called Taste. We tucked into a fancy three-course meal for £14.50 served and cooked by 16 to 19-year-olds studying cookery and hospitality – the things we do for you!
On top of this, drinks were competitive (particularly for London prices) – for example soft drinks from £1, glasses of wine from £3 and a glass of Prosecco for £3.25. What's more, depending on the college, dining's not the only thing you can get – hairdressing and beauty can also be on offer at a discounted rate.
As they're students you may have the odd hiccup, but equally you may have excellent service as they could be trained better than those in your local restaurant. It's certainly not the atmosphere of the Ritz, but why not spend less, eat the same standard of food and help students develop their craft?
Our expectation was for it to look like a school canteen, but far from it, it looked professional and modern like any high street restaurant.
A bit more info on Taste…
• Opening hours – Open to the public for lunch service, midday-2.30pm Wed-Thu (last orders 1.30pm) term time only – here's the college's term dates to give you a rough idea but call to enquire.
Also open for evening meals on occasion (see 'special events' for details). The last date it's open for the 2014-2015 academic year is Wed 17 Jun. All times and days subject to change.
• Booking – essential online, by email taste@south-thames.ac.uk or via phone on 020 8408 6560.
• Dress code – no specific dress code, but smart casual is preferred
• Haircut and 2-course meal package – Get a blow dry (£11), cut and finish (£13) or re-growth colour and finish (£20) with a two-course lunch on Wednesday until the end of June as part of a 'special events' package with the training hair salon.
The food options included broccoli velouté with blue cheese foam for starter, pot roasted pork with dauphinoise potatoes, carrots and apple purée for main and baked Alaska flambéed at the table to finish (see pictures).
The food was delicious, we couldn't fault the standard and it certainly matched the grub we've eaten in posh establishments elsewhere where they can charge double. Our waiter had impeccable customer service and although there was the odd blip, it was sorted with a smile! Here's a link to the full spring menu.
These types of restaurants probably don't suit taking a first date or a loved one out on a special occasion, but it depends on who you're trying to impress. What a great idea though if you're meeting your pal and fancy something a little different.
The restaurants usually have set times and days you can dine and it's only available during college and university term times (they are students remember!), so check ahead of your visit.
There are lots of training restaurants all over the UK. If you're in London you can also try Pillars at the University of West London (Ealing), for Glasgow try Scholar's at the City of Glasgow College, for Belfast try the Academy Restaurant at the University of Ulster, but as it's difficult for us to list them all here, you're best off simply visiting your local university or college's website or search online for training restaurants in your area.
Bon Appétit!