By MoneySavingExpert's Coupon Kid, Jordon Cox
Clear some room in your freezer, and get ready to be the butt of 'who ate all the pies' gags, because this trick is piping hot. Buy one Higgidy pie from Tesco for £3.50, and you could get UNLIMITED pies totally free (while stocks last, and they won't last long). You could even earn 25p back from each one…
MSE update Tue 15 Mar: Some stores have now sold out of the pies with a free voucher, but we're still hearing from a few people who are finding them.
What's better than a bellyful of 'free' pie and some money off the rest of your shopping? When you're next at Tesco, have a look out for these special packs of Higgidy pies with a yellow 'free voucher' sticker: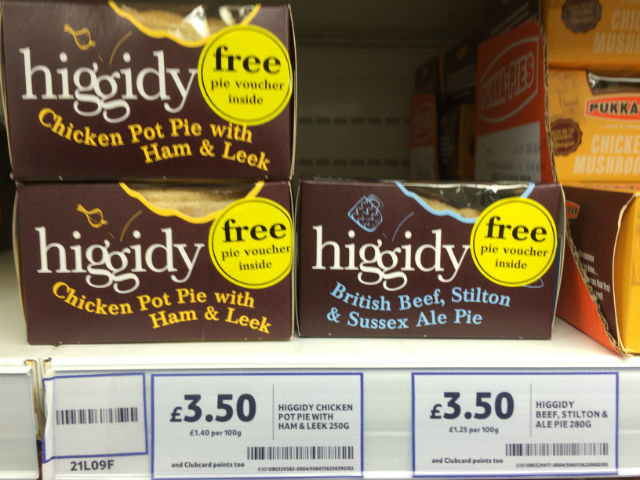 These pies are not stocked in every Tesco, only about 400 stores around the country stock them, (mostly Tesco Extra and superstores).
So while this isn't guaranteed, it's a fun way of a bagging a supermarket bargain if you're lucky enough to find them. Here's how to do it:
1. Pop into Tesco and look out for the chicken or beef Higgidy pies with a yellow sticker on the box saying 'free pie voucher inside' like our picture.
2. Buy a pie for £3.50.
3. Look for the coupon inside the box that looks like this: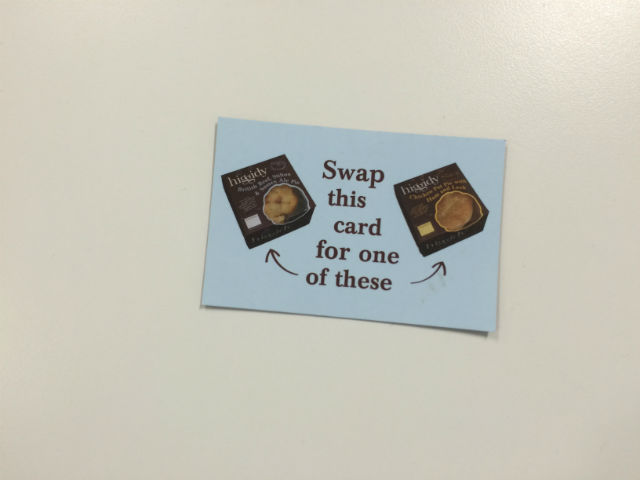 4. Go back to the shelf (hopefully still full of pies) and pick up another one with the sticker. 'Buy' the pie using your free pie voucher, and you will get another freebie voucher inside the box. Repeat this step as many times as you like for unlimited pies (or until there are no more pies left). Make sure you wait until you have bought/claimed your freebie pie before taking the next coupon out of the box.
5. The coupons are valid until Sat 30 Apr, so be sure to keep your last one safe in case you spot any more pies before then. You can use your freebie coupon on pies without a 'free voucher' sticker as well (if there are none of the voucher ones left), but you'll lose your couponing streak – so it might be worth waiting in case they reappear.
How you can make a 'profit'
If you look at the barcode of the coupon, you can see that it'll scan through the till at £3.75 (as shown by the '375' within the last four digits of the code). See MSE's extreme couponing guide for more about how to read barcodes.
The pie only costs £3.50 (it may cost more in certain locations) so this coupon's value is 25p higher. This 25p profit or 'overage' should be taken off the rest of your shopping at the checkout if you bought more than just the pie.
If you weren't buying anything else, you could find something for 25p to get the whole lot free. Maybe a 25p tin of Tesco baked beans – you can't beat free pie and beans.
We can't guarantee everyone will get this overage, but it worked for me when I tried it so it'll hopefully work for everyone.
What happened when I tried it…
When I went to check this offer at Tesco Lakeside, there were only 3 pies left. Needless to say, I cleared the shelf. I started off buying the only beef & stilton pie they had for £3.50. After purchasing, I sat myself on a bench in store, and pulled out the coupon to get my next pie free.
Back to the shelf, this time for the chicken pie. As the coupon is worth £3.75, I picked up a loose apple (30p) and added it in with my basket. The total came to £3.80, and the coupon scanned at £3.75 making my total 5p. As there was then only one pie left, I took the next freebie coupon out of my second pie and got the final one (along with another 30p apple).
The total cost for my shopping only came to £3.60 when it would've cost £11.10 without the deal. Even though I only managed to get a few of the pies, and wasn't able to take this to the extreme, I still made a decent saving. Plus I still have a freebie coupon left over, so will be heading to another local store this weekend to try and pick up more.
Can everybody get it?
There are no guarantees here, but it worked when I tried it and it worked for MSE Lucia as well. Plus many others have reported success. As long as you can find the packs with coupons in, it should work for you.
If it does not have the sticker on, it does not have a voucher. The packs with coupons in could disappear at any time and if there aren't any on the shelf, it might be worth asking someone in store to check in the back. Either get rich or pie trying!
They are being stocked in 400 Tesco stores, but Tesco will not tell us stock levels. If you see a shelf full of pies with the sticker, you can do the pie trick all in one visit. Simply buy each pie individually, taking each coupon out for your next one after you have paid.
Anything else to know?
If you do manage to take this trick to the extreme and buy 10 pies, you can claim yet ANOTHER pie free. On the side of the packaging it says the following:
"Eat 10 Higgidy pies or quiches over 4 months, cut out the 'use by' squares and return them to us (with your address), & we'll send you a voucher for another pie or quiche to say thanks for everything."
You can find out more info on the Higgidy website.
This blog is in our weekly email so promotional packs might not last long as we don't know how many there are. It's one to look out for when you are in Tesco but don't make a special trip. Hap-pie hunting!
A few MoneySavers' success stories…
Since publishing this, we've heard from some people who managed to get some. Here's some ins-pie-ration:
"Thanks for the heads-up on pies, loads at local Tesco. I got 3 so far and coupons scan at £3.75"
– Jon A
"Went to my local store this morning, managed to clear the shelf and got myself 7 pies and small Easter chocolates for the kids only paying 25p each time and claimed Tesco points too"
– Julia A
"Done it! I had the last 3 chicken ones, I've the beef one in the freezer. I did get challenged though!"
– Dawn A
Have you become lord of the pies with this trick? Have you spotted any other cool tricks like this recently? I'd love to know your stories in the comments below, on Twitter @MSE_Deals or on Facebook.