By MoneySavingExpert's Coupon Kid, Jordon Cox
Easter and the four-day weekend is over, but you can cheer yourself up with some cracking deals on Easter chocolate. Retailers have now slashed the price of loads of Easter-themed items, including chocolate eggs, cakes and biscuits.
Stock on these treats varies per store, but everything we found had best-before dates ranging from May-December 2016, so if you're not bothered by Easter branding, it might be worth making a trip down to your local supermarket to see what treasures you can find. When it's gone, it's gone though, so go quick if you want to stock up.
Deals found in stores
Egg-cellent deals include last year's winner and this year's runner-up in the MSE Easter egg taste test for just 50p at Sainsbury's (was £1), 15p Creme Eggs at Tesco (when you buy a five-pack for 75p), and £10 Thorntons eggs reduced to £4.
It's worth noting that if there is still lots of stock left over, it is likely it will be reduced further later this week, though nothing is guaranteed.
Here are the discounts we found (or MoneySavers spotted) in stores on Tue 29 Mar:
Sainsbury's (find your nearest*)
Sainsbury's milk chocolate egg (155g) – 50p (was £1) – came 2nd in this year's MSE taste test, and was last year's winner.
Cadbury Heroes Easter egg (274g) – £1.50 (was £3)
Cadbury Dairy Milk with icing (115g) – £1.50 (was £3)
Pete the Pig Easter toy – £1.80 (was £6)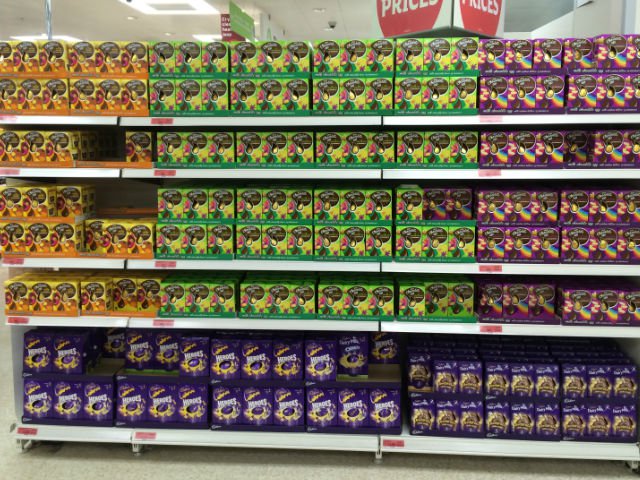 There was plenty of discounted stock at the Sainsbury's Jordon visited
M&S (find your nearest*)
Easter Bunny biscuits (100g) – 75p (was £1.50)
Chocolate nest cake (715g) – £5 (was £10)
Mini Bubbly Bunnies (66g) – 75p (was £1.50)
Mini Easter biscuits (125g) – 60p (was £1.20)
Thorntons (find your nearest*)
Harry Hopalot chocolate bunny (60g) – £1 (was £3.50)
Harry Hopalot chocolate bunny (250g) – £2.50 (was £7)
Milk chocolate fudge cake egg (338g) – £4 (was £10)
Continental milk, dark & white egg (268g) – £4 (was £10)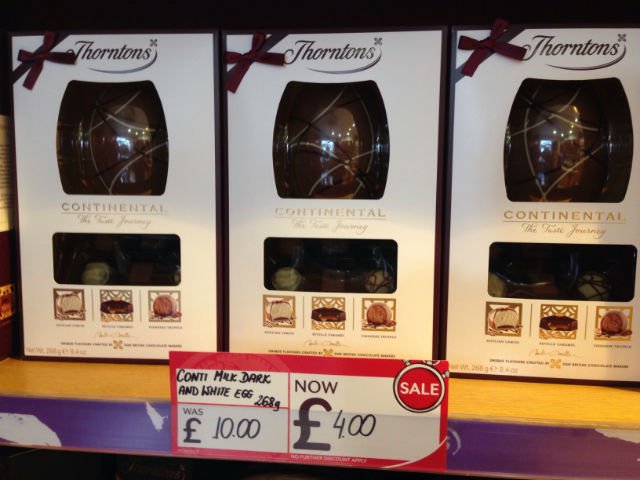 All the eggs we saw in Thorntons had at least 50% off their original price
Aldi (find your nearest)
Dairyfine mini chocolate eggs – 29p (was 99p)
Easter marshmallows (225g) – 49p (was 99p)
Tesco (find your nearest*)
Cadbury Creme Eggs (5 pack) – 75p (was £1.50)
Fox's double chocolate crunch creams 168g – 49p (was 99p)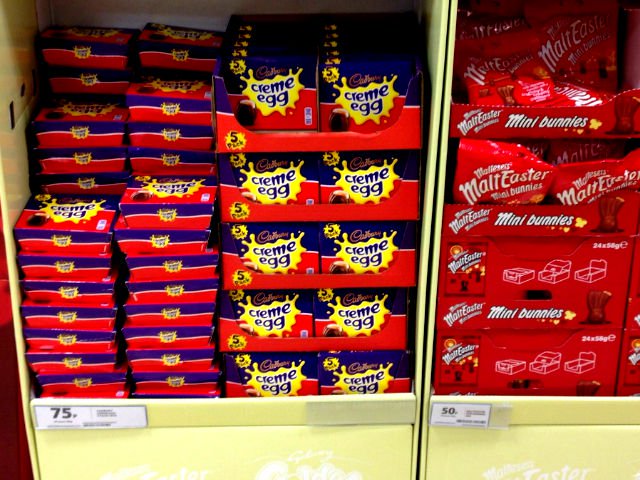 The chocolate was reduced in Tesco, but the labels didn't make this clear
Co-op (find your nearest)
Milkybar mini eggs – 50p
Mini chocolate bunnies (5 pack) – 25p
Waitrose (find your nearest*)
Green & Black's butterscotch egg – £3 (was £6)
Cadbury Egg & Spoon – 50p
Deals to get online
If you're after posh chocolate, there are some end-of-season sales at retailers such as Hotel Chocolat and John Lewis. Just be sure to factor in the delivery cost.
Big City Easter Bunny – £3.75 (was £7.50)
Easter Egglet Sleekster – £11.25 (was £22.50)
Family favourites Easter gift bundle – £18 (was £45)
Thorntons statement Easter egg (388g) – £6 (was £15)
The Chocobean Company Easter egg (120g) – £2.50 (was £5)
Chococo butterfly Easter egg (175g) – £6 (was £12)
Malteaser Easter egg (314g) – £6 (was £12)
Disney's Frozen chocolate Easter gift set – £3 (was £6)
Lindt solid mini eggs drum (2kg) – £20.50 (was £41)
Lindor shell egg (322g) – £5.50 (was £11)
If you decide to sink your teeth into some cheap Easter goodies, I hope you can get a sweet deal with these reductions.
Have you found any cheap Easter eggs or bargains recently? I'd love to know what you have seen in the comments below, on Twitter @MSE_Deals or on Facebook.