By MoneySavingExpert's Coupon Kid, Jordon Cox
It's the week before Easter, which means last-minute eggs will be bunny hopping off the shelves. But how much do you need to shell out, and is it worth paying eggs-tra for a 'premium' version? We did a taste test to find out…
Here at MSE Towers, we've a team of researchers and analysts who'll leave no stone unturned in their search for the best deal. So while it may be a loathsome and difficult job, tasting 10 chocolate eggs is all in a day's work for our poor, hard-done-by staff.
We asked 40+ MSE tasters to compare a mixture of budget, own-brand and 'premium' eggs to give us a full taste of the market (and more chocolate).
Last year, we ran a similar Easter Egg taste test 2015 and found a Sainsbury's own-brand Easter egg (90p) beat its more expensive counterparts on flavour and value. But did we get a similar result this year?
Before laying your money down on eggs, see our results. They might surprise you…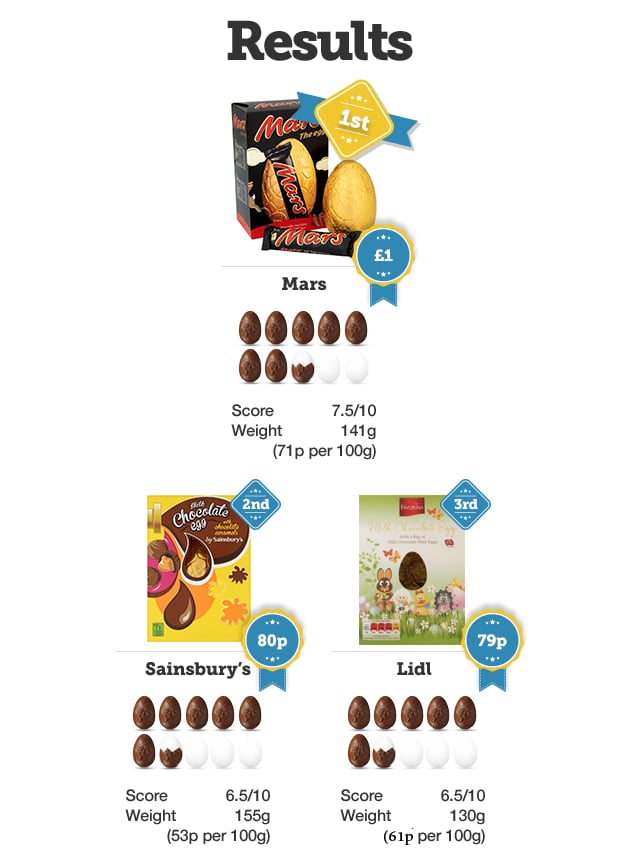 Full results – MSE Easter egg taste test 2016

Brand/retailer
Price
Weight
Price per 100g
Score
Mars
£1
141g
71p
7.5/10
Sainsbury's
80p
155g
53p
6.5/10
Lidl
79p
130g
61p
6.5/10
Cadbury
£4
274g
£1.09
6.0/10
Waitrose
£7
185g
£3.78
6.0/10
M&S
£12
355g
£3.38
5.5/10
Aldi
79p
130g
62p
5.0/10
Poundland
£1
70g
£1.43
4.5/10
Thorntons
£6
294g
£2.72
4.5/10
Asda
£4
250g
£1.60
3.5/10
– In first place… the £1 Mars Easter egg (71p per 100g). Despite being one of the cheapest options, it scored a cracking 7.5 out of 10.
– In second place last year's champion, Sainsbury's, and in third place, Lidl, priced 80p and 79p respectively. Two more cheaper options in our test that proved popular, showing saving some pennies doesn't have to mean scrimping on flavour.
– Surprisingly the Thorntons chocolate egg came an eggs-cruciating ninth place in our test. With the egg priced at six times the value brands, and even being beaten by Poundland, paying £6 for something that came so low would be a yolk.
– The most expensive eggs from Waitrose and M&S came middle ground in fifth and sixth being beaten by Cadbury, Lidl, Sainsbury's and Mars.
How we scored them
We asked each tester to try each egg and then place it on a scale of how good it tastes, from "rotten egg" to "Eggs-traordinary ". There were 10 options of the scale, but they were not numbered. We hoped this would give a more accurate reading on how good it tasted instead of just putting a number on it.
Each rating on the scale was then given points based on how highly rated it was, and an average score was given (rounded to the nearest half). For those eggs that shared the same average score, the more money saving eggs with a cheaper price per 100g took the higher rank.
So if you are yet to buy Easter eggs this year, this test is proof you don't need to shell out to get egg-celent tasting eggs. Enjoy!
Have you ever found that buying a cheaper product tastes better than buying a premium one? Have you tasted any of these eggs yourself? I'd love to know your thoughts in the comments below, on Twitter @MSE_Deals or on Facebook.