MSE Update Fri 22 Apr 1pm: We've heard reports from MoneySavers that the £1 cups aren't available in many Starbucks stores and some staff are unaware of the offer. Starbucks has told us today:
"The Starbucks Earth Day offer applies to all reusable tumblers that we sell in store, including the £1 reusable cup. For Earth Day, we made every effort to ensure that stores would have enough supply however, due to high demand some stores have sold out. We are expecting further deliveries to all stores soon. To avoid any confusion, we have issued a re-notification to all stores today."

We're spilling the beans on a trick that will get you a £1 drink at Starbucks this Friday (22 Apr) PLUS 50p off all your drinks until June. If you're a regular coffee drinker, this is a not-too-taxing way to save on your caffeine fix, so it's definitely worth a shot.
£1 Starbucks drink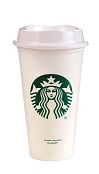 To celebrate Earth Day on Fri 22 Apr, Starbucks is giving a free drink to anyone who buys one of its coffee tumblers (travel mugs without a handle) in store. This includes the £1 medium-sized reusable cup, so you could get a pricey Starbucks drink for just £1 (normally up to £3.75).
Starbucks says its stores will be well stocked with the £1 cups, but demand's likely to be high so they could run out early. Your free drink can be any hot or cold drink off the menu, but the size you get will depend on the size of the tumbler you buy.
50p off drinks till June
What's more, until Thu 30 Jun, you'll get 50p off any hot or cold drink when you take your reusable cup to Starbucks. This offer includes all drinks and sizes, except the £1 short and tall filter coffee.
So, if you buy a £1 reuseable cup on Fri 22 Apr, you'll not only get a cheap drink but you'll save 50p every time you go back, as long as you remember to bring it with you. Of course buying pricey coffee regularly isn't MoneySaving, but if you're planning on buying a drink from Starbucks anyway, this is a crafty way to save.
Starbucks says that these offers are only in participating stores. Franchise stores (such as those in airports and hotels) don't usually take part in offers like this. If you're planning a special trip, it's worth calling ahead to check if your local store is participating in case it has put the mochas on this deal.