By MoneySavingExpert's Coupon Kid, Jordon Cox
Hello… remember me? I'm "that guy who blogs for that MoneySaving bloke" as I've heard before. If you're wondering why I've been quiet recently… No, I have not stopped money saving… And no, the trolls haven't scared me away – I've been on holiday for two weeks in America and had a money saving time in the 'happiest place on Earth'. That's Disney World, in Florida.
Before the comments start pouring in with "did you get your holiday cheap?" – I didn't pay for it, my Dad was kind enough to book us a trip together to de-stress and bond. All of the other things besides flights and accommodation though I paid for – and obviously I got some great deals, so I thought I'd share a few short tips with you here (Our Disney guide has a full rundown).
Supermarket shopping
You may have heard of massive supermarket chain Walmart, but to actually visit one is a whole different experience. The one I went to is basically an Asda, Toys 'R' Us, Halfords, Dunelm Mill and Primark all under one roof – and they even had a McDonald's, two cafes and a nail salon to top it all off.
But I went there to check out its coupon game – and I was not disappointed. Down nearly every food aisle there was some type of coupon either on a product or in a peelable batch.
Some of my favourites included a $5.09 bottle of wine with a $5 off coupon stuck to it, a massive bottle of orange juice for $2.59 with a $1 off coupon and a bottle of toilet cleaner that costs $1.97 with an additional $5.75 worth of coupons around its neck – I'm no loo-ser!
If you go on a self-catering holiday to anywhere in the US, popping to the nearest superstore could really get you some bargains – and that is just the coupons on the bottles, you can print 100s before you go from coupons.com.
Stocking up on cheap clothes
I hardly ever buy clothes in the UK, and by mixing coupons with sales in the USA, I picked up a few great deals. These were all in outlets and malls near Disney such as the Lake Buena Vista factory outlets and the Florida Mall, as prices for souvenirs and clothes are extortionate inside the parks. There are cheap souvenir shops all around the Orlando area, so be sure to have a look.
Starting off in the Reebok outlet. As a UK size 14, I can never find any here so I picked up two pairs of trainers. I combined a $10 off $70 spend coupon (that I got from a coupon booklet being handed out outside Walmart) with a 'buy one, get one 60% off' deal on trainers. I spent $70 (£50) on two pairs of memory foam trainers, which dropped down to $60 (£42) after the coupon and with 60% off the cheapest pair, it made them just $12 (£9).
I also had a good snoop through the clearance section of JC Penney and picked up two gingham shirts (which are my style) at $25 (£18) for the two, instead of their $100+ RRP.
Cheap burgers
When eating around Orlando (or anywhere), there is a little trick that I like to do to save money on food. In most places, you can order a double cheeseburger meal and then an extra bun for a small fee (under $1, or sometimes free), then deconstruct and reassemble the burger in two buns to feed two people.
As the stateside portions are massive, you can also split the chips (ask for fries, or you'll get crisps!), which means instead of paying $12 each for two meals, you can halve the price and still have a decent-sized burger each.
Cheap Theme Park tickets
If you're going to Florida, park tickets are expensive – but there are many ways to get a discount instead of paying the more pricey gate price. One way is to go through authorised Disney ticket sellers – such as Attraction Tickets Direct and Undercover Tourist, where you'll get a discount (even if it's small). I personally wouldn't trust the Disney ticket sellers around Orlando that have "cheap Disney tickets" signs or ticket resale shops – no matter how cheap they are, they might be fake. See more tips in our Disney tickets guide.
As you can see, I had a rollercoaster of a time…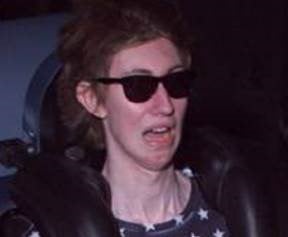 While the touristy areas of central Florida can be expensive, if you look in the right places, you can cut back costs. I had an amazing time but now it's back to UK deals and saving you money.
If you wanted to build your own cheap Disney holiday, there are plenty of tips in our Disney guide. You can also find info on booking the cheapest flights and how to bag the best hotel deals.
Have you ever been to Walt Disney World on a budget? This Disney nerd (DisNerd) would love to discuss with you in the comments below, on Twitter @Jordon_Cox or on Facebook.