By MoneySavingExpert's Coupon Kid, Jordon Cox
Start spreading the news… you could take a bite of the Big Apple for as little as £358 per person, including all flights and a five-night stay at a three-star hotel not far from Wall Street & Brooklyn Bridge.
Whether you fancy shopping on 5th Avenue or gazing at Lady Liberty, there are endless things to do while you're there – but normally, it doesn't come cheap. Yet if you take a look at the package below, you might find you can experience New York on a surprisingly small budget.
To get the absolute cheapest price, you'll need to claim via a cashback site – but even if you don't go to that extra effort, you can still get the full package for less than £380 each.
This is going to be a popular deal so it's not guaranteed you'll be able to get the same package prices as I found. But hopefully, if you're planning a trip to New York soon, this'll help give you a decent starting point at least…
Hotel and flight package – £378 each
The cheapest place that I found it was through Expedia* package booking, where my total came to £757.59 for two people (about £378 each). This is based on return flights from London Gatwick (via a short stopover in Iceland) and five nights in a hotel from Tue 31 Jan until Sun 5 Feb.
If these dates don't work for you, there are cheap flights with WOW Air on Tue 14 Feb to Sun 19 Feb (£250 each), or Thu 23 Feb to Sun 28 Feb (£257 each). Hotels can be found at similarly low prices during this time too.
The Flights
Of course, cutting your costs does mean a little bit of compromise. So while it'd be nice to fly business class on a Virgin Atlantic jet, that's unfortunately not what you're getting with this deal.
The flights are with Icelandic budget airline WOW Air, and include a stopover each way in Iceland's capital Reykjavik. It's worth noting that checked-in baggage will be extra, but you can have 7kg of hand luggage each (as long as your bags are within the specified size limit).
London Gatwick to New York (Newark) – via Reykjavik (1 hour, 5 min stop)
Departing 11.00am GMT – Landing 16.25pm EST
New York (Newark) to London Gatwick – via Reykjavik (1 hour, 40 min stop)
Departing 17.35pm EST – Landing 9.30am GMT
Important: If you do need to check in hold baggage, it'll cost an extra £79.98 per suitcase (up to 20kg). So if you can get away with just hand luggage – it'd be considerably cheaper.
The Hotel
What I like about this deal is that you'll be located in Manhattan and just a short walk from some famous attractions. The three-star Hotel 91 is in the heart of Chinatown on East Broadway near Canal Street.
Attractions such as Brooklyn Bridge, City Hall, One World Trade Center, Wall Street and the 9/11 memorial are all under a 25 min walk away. It's a short walk from the East River, which means you can walk along the coast with Brooklyn in the distance.
If you wanted to get to Times Square, Central Park and other attractions, you will need to take the subway to uptown. Breakfast isn't included, so you'll need to factor this into your costings.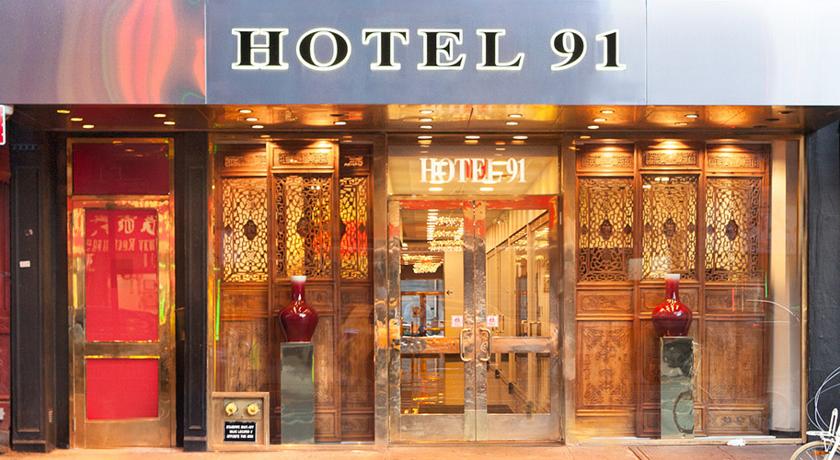 How to get it for £358 (via cashback)
To really max the discount, you can book through TopCashback*, which is currently offering 5.25% cashback on package bookings at Expedia. This means you'd get £40ish cashback, making the entire holiday just £717 for two people (£358 each).
Fancy a different hotel?
If the hotel we've found doesn't suit, there is another deal on a three-star hotel just a short walk from Times Square, Central Park, Rockefella Centre and Radio City music hall.
The Wellington Hotel is located on the corner of 55th and 7th Avenue just minutes away from the action and will come to £883 (£441 per person) before cashback.
If you take advantage of TopCashback's 5.25% cashback on package bookings, it'll drop to just £836 (£418 per person) for five nights. A nice alternative if you don't mind paying a bit extra to be nearer Central Park and Times Square.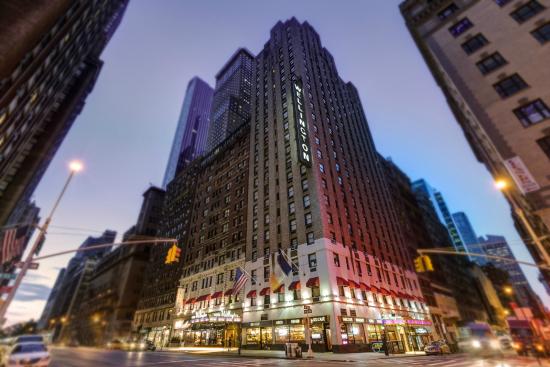 Step by step – How to book
If you're not familiar with Expedia – here is a step by step guide of how to book. If you wanted to get the 5.25% cashback through TopCashback*, you'll need to go through their website and click through the link before you complete these steps.
1. Go onto Expedia* and put in the dates and details in this box under "Flight + Hotel" to get a package deal. The date range I used to find cheap deals is 31/01/2017 – 05/02/2017.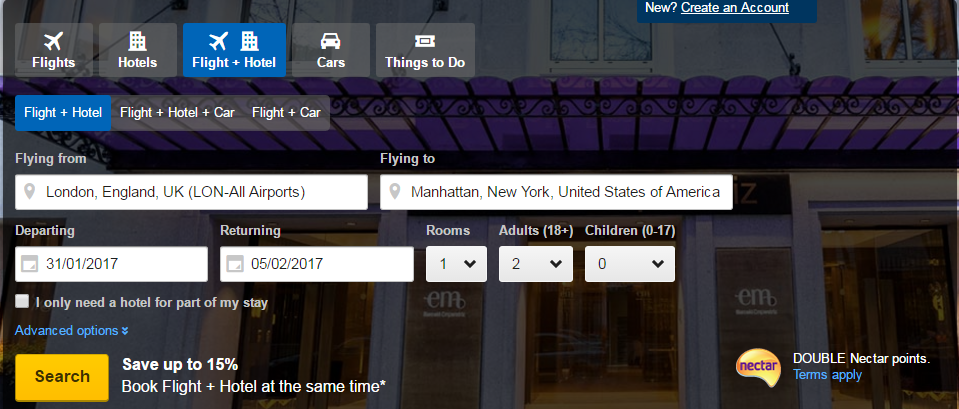 2. You should see lots of hotel options, so you can pick the same as me to (hopfully) get the prices above or a different one if you wanted. They all display the price per person.

3. After you've been through and selected a room, select your flights. I went with the cheapest flights from WOW Air.
You should then come up with the review screen ready for you to go ahead and book your trip. Have fun in NYC!
Have you ever managed book a bargain trip to the Big Apple? I'd love to hear your stories in the comments below, on Twitter @Jordon_Cox or on Facebook.