By MoneySavingExpert's Coupon Kid, Jordon Cox
This Friday (12 Aug), Uber minicab drivers will be hand-delivering FREE ice lollies to anyone nearby who requests them to their home or office address.
Like the Uber app itself, this freebie won't be available everywhere. But if you happen to live or work in one of 17 urban areas where Uber drivers operate, you'll be able to join the fun.
How do you get it?
Follow the steps below from 11am until 7pm on Fri 12 Aug…
1. Open up the Uber app on your smartphone, and set your pick-up location to wherever you want to have the ice lollies delivered.
2. Select 'ICE CREAM' via the slide bar at the bottom of your screen.
3. As long as there's a driver in the area, your FOUR ice lollies – Pops strawberry & mint and/or apple & elderflower, pictured above – will be chauffeured to the location you chose within minutes (whichever they have in stock).
Where is Uber doing this?
You can do it in the following 17 areas where Uber operates: Belfast, Birmingham, Bristol, Cardiff, Edinburgh, Glasgow, Leeds, Leicester, London, Manchester, Merseyside, Newcastle, Nottingham, Portsmouth, Sheffield, Southampton and Windsor.
If you're in Central London, you'll be directed to the Uber Eats app to grab some ice lollies delivered by motorbike or bicycle. Uber says if you haven't ordered on Uber Eats before, you can still use new member offers after ordering your free ice lollies.
What's the catch?
Thankfully, it doesn't look like there is a catch. Uber does say that supplies will be limited to 35,000 ice lollies (that's about 8,750 people getting four lollies each), across all 17 participating areas – so it's probably better to do it earlier in the day.
IMPORTANT: Be careful NOT to request an Uber minicab ride (unless you need one), as you may be charged even if you cancel the request. Make sure you've moved the slider at the bottom of the app to 'ICE CREAM'.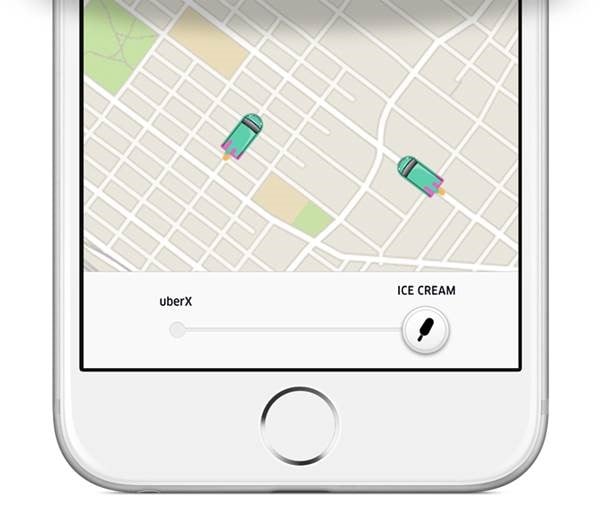 Uber hasn't confirmed how many drivers will be on the road with free ice lollies, but chances are there'll only be a handful in each area – so if you see one near you, request it straight away to get your freebie.
You'll need to make sure you're in the pick-up location you request the ice lollies to be delivered to, as the driver may drive off if they aren't claimed within five minutes.
Obviously, this is just an elaborate publicity stunt for Uber, but we can't knock them for giving away totally free ice lollies and I certainly won't be turning it down!
You can find all the full T&Cs on its website.
Happy ice lolly hunting!
Are you going to grab your four free ice lollies, and will you share them? Let me know in the comments below, on Twitter @Jordon_Cox or on Facebook.