By MoneySavingExpert's Coupon Kid, Jordon Cox
Right now, there seems to be a technical glitch on Tesco's till system, and it means you can get a posh 'pizza and pud' meal deal that normally costs £5 for a very tasty 85p. What's more, you can repeat this several times – I got £54 of grub including pizza and puddings for £16.
Basically, when you buy a large Pizza Express classic American or margherita pizza (normal full price is £6) and a Gu dessert (£3.15), Tesco has a meal deal offer until Tue 23 Aug that means you only pay £5 instead of £9.15. HOWEVER, as of Thursday afternoon, the till is still honouring Tesco's Brand Guarantee – where it automatically refunds the difference on branded items its rivals are selling cheaper – as if it was full priced. This means you get £4.15 back per meal deal as the individual items are cheaper at Morrisons.
I can't promise it'll work for you, but it worked for me at the Tesco nearest MSE Towers this afternoon and I've had success stories from other people in various locations around the country. Of course, you'll have to decide for yourself if you feel it's right to take advantage of a glitch like this, but if you're interested, you'll have to go quick. Here's what you need to know:
MSE Update Fri 5 Aug 5.02pm: We've had reports that this glitch has still been working for people this afternoon, so if you're heading to Tesco this weekend, you may want to check it out.
How to do it:
1. Go into Tesco Metro or Extra (it won't work at Tesco Express) and find the Pizza Express classic American or margherita pizza and Gu desserts (chocolate, key lime or Madagascan vanilla flavours). You can buy up to five of each to make the most of this glitch as you'll only get a maximum of £20 back in the Brand Guarantee.
2. Add in eight different items to automatically trigger the Brand Guarantee, which comes into effect if you're buying at least 10 different items. Try to find some cheap items, such as a banana or carrot – or ideally things you'd normally buy anyway. See our Tesco Brand Guarantee news story for how it works.
3. Take your items to the checkout (we used the self-service till). If it's worked, you'll see your total go down by £4.15 for each meal deal until you reach the £20 Brand Guarantee threshold.
Some cheap items I found that you can add into your shop (to get you to the 10 items) include individual carrots for 6p, Haribo sweets for 10p and a single banana for 12p.
What I bagged:
I got a £54 shop for just £16 by using this glitch. In my excitement and in a rush trying to check out the rumours about the glitch, I bought a lot of £1 chocolate to make up the difference, so that's why the total is higher than it needed to be (see my haul below).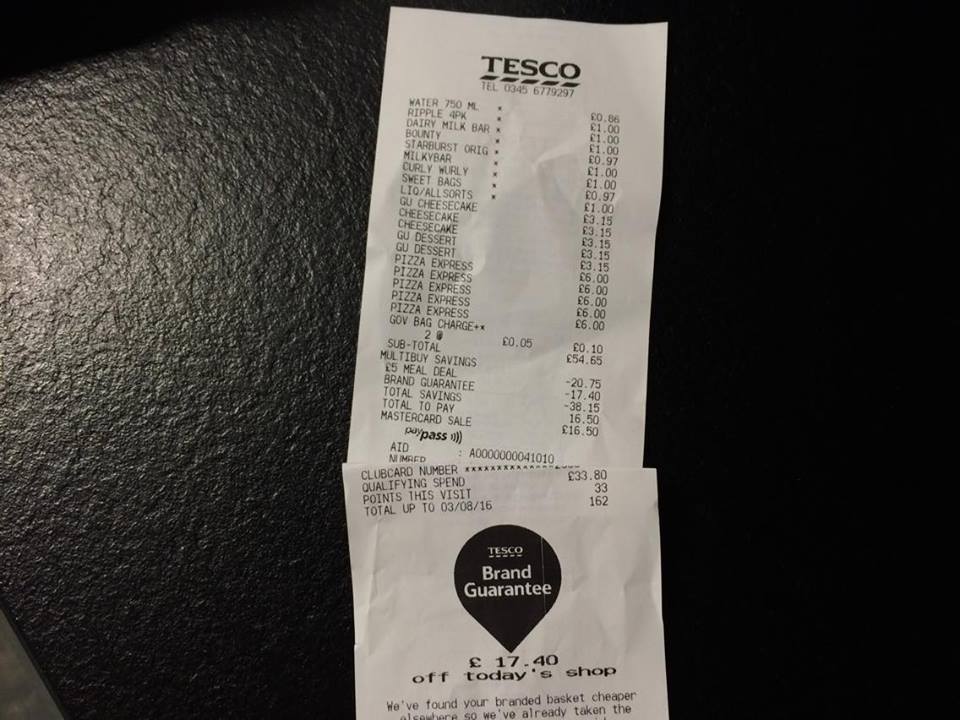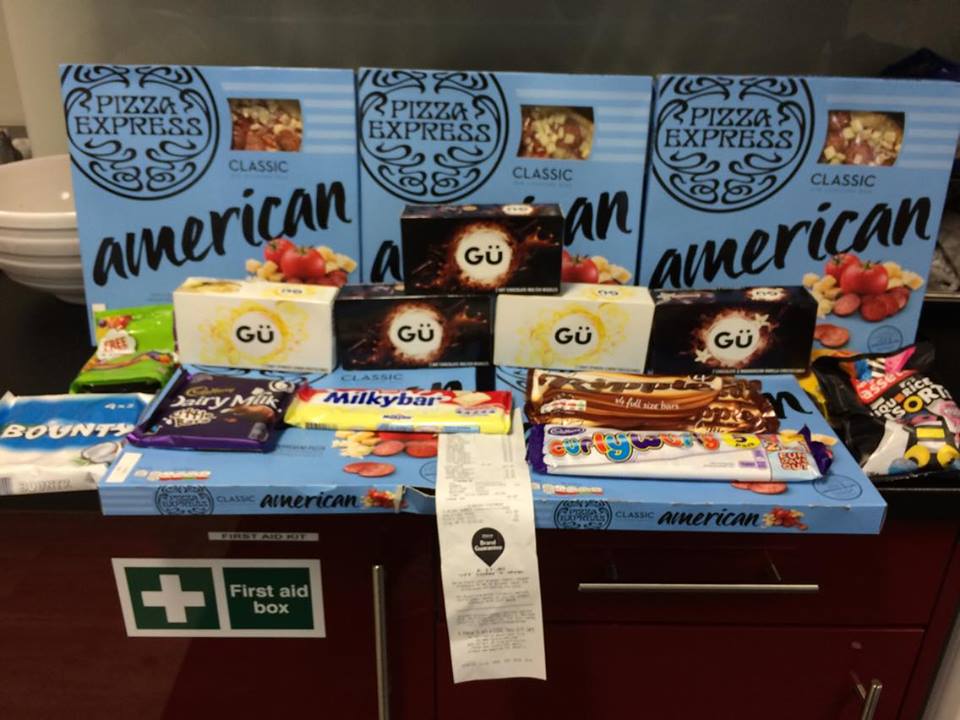 If you're going to Tesco to test this glitch, you could also print seven coupons to get £7 of shopping for just 39p, so you can still treat yourself to some bargains even if you can't get the pizza and pud.
Have you tried out this glitch? I'd love to know how you got on in the comments below, on twitter @Jordon_Cox or on Facebook.