By MoneySavingExpert's Coupon Kid, Jordon Cox
We've seen a lot of them recently. Fake £80 Lidl vouchers, five 'free' tickets to Legoland, 'free' Disneyland passes and even 'free' flight tickets have been circulating on Facebook. Update Tue 8 Nov: We originally published this blog in August, but the principles remain the same.
Scores of people are still being fooled every day by these bogus offers and competitions, where scammers tempt you to part with your personal information which they can then sell on to third parties – or even worse, use to steal your identity.
While some of these spurious offers are convincing, there are simple ways of telling what's legit and what's fake. And if you do suspect something's a scam, you should do your best to avoid it and ideally report it to Facebook or whichever social network you're using.
Here are some common things to look out for when spotting a scam:
If it seems too good to be true – it often is
Sometimes there are stonking deals out there and if we have included them on our site or in the weekly email, we will have thoroughly checked they are legit.
But, Lidl giving away an £80 voucher to everyone for its birthday (image below), and 100 free flights with British Airways… They sound too good to be true… because they are.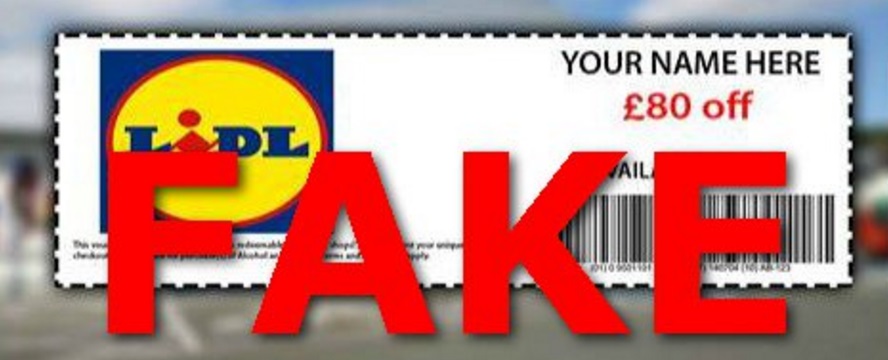 Of course, there are genuine competitions on social media but it's unlikely any company would give every single person who enters such an expensive prize. It just wouldn't be feasible.
Spelling & grammar mistakes are often a telltale sign something's not right
Many of these scams are littered with spelling mistakes, which should act as an immediate red flag. If it was a genuine offer from a major corporation, quality checks and editing would prevent spelling mistakes.
One Facebook page, supposedly giving away three Range Rovers in a competition, was titled "Rannge Rover"
They're not always blatantly obvious, though – so do look out for quite subtle missing letters. One example that I found on a British Airways scam said: "Congratulation! You have won 2 free British Airways Ticket!"
Look at the images for inaccuracies
We've seen many people fall for an Easyjet hoax this week in which supposed round-trip tickets were up for grabs due to last-minute cancellations. It came with several images of luxurious business class seats – but the plane's paint job wasn't quite the Easyjet shade of orange, and in any case Easyjet doesn't even have a business class section! So we were able to work out it was a fake.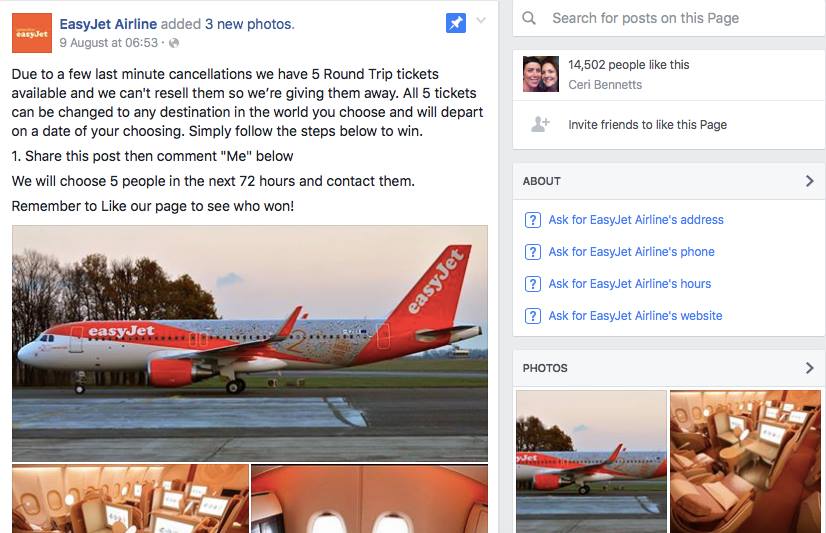 Look for small details to check if a page is legit
When on Facebook and Twitter pages, most larger companies will be 'verified' (indicated by a blue tick on their profile). As a general rule, verified status means you can trust anything posted by an account is legitimate. Yet some major companies aren't verified, so in this case, look to see if they have the small details any real company would have (eg, lots of 'likes'/followers, website links, company history).
One bogus 'Disneyland' page claiming to give away huge prizes was a pretty convincing fake. It had used the same logo, header and information as the REAL Disneyland page, but it wasn't verified. It also had only that one competition post on its entire Facebook timeline and the page had only 6,000 likes (the real Disneyland page has 14,000,000).
Other things of note on the page included its spelling and grammar, claiming it's a 'fictional character' instead of an amusement park and its about section saying "Like our page to win".
Carefully check links (URLs) are going where you'd expect
Often, when you click one of these scams you'll be taken away from social media to another website, and it's really important you check the URL (the website address) to ensure you're not being led into dodgy online territory.
If Legoland was really giving out five free tickets, you'd most likely be taken to Legoland.com… but in the recent scam, you are taken to Legoland.com-everythingfree.com. When you notice the addition of "everything free" and the double ".com", the penny should drop that this might not be a genuine website.
One Easyjet scam we saw even had "crook" in the URL… not something I would want to click on!
Posts asking you to share & message friends is a common tactic of scammers
Scammers like nothing more than to have their spurious offers and competitions shared. So a common tactic is to ask you to share the page with your Facebook friends thanking the promoter for the chance to win.
Lidl's £80 voucher scam asked you to share on your page saying "Thank you for my voucher" and message 15 friends about the offer… unfortunately, that just spreads the scam even further.
Look for warnings on real company pages
Major supermarkets such as Asda and Tesco have both had fake voucher giveaways circling the net, and the legitimate social media pages both posted out a warning saying they are fake. If you 'like' or 'follow' the real pages (the ones with the blue tick) you can often easily check whether there's a fake around that you should be wary of.
This is something Lidl had to do recently with a scam promotion circulating: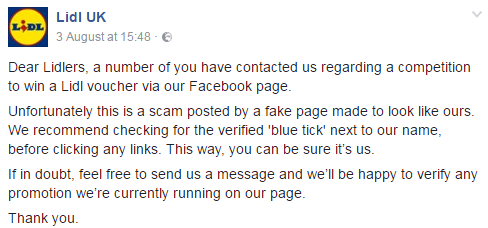 To stop you falling victim to other bogus offers, see our stop scams guide. If you have already fallen a victim to a scam, see what to do next.
Do you know any other ways to spot a fake? Join in the conversation and let me and others know by commenting below, tweeting on Twitter @MSE_Deals or on Facebook.