To much fanfare, last week Amazon* launched its new shopping service, Amazon Dash, where Prime customers (see free Amazon Prime trick) can order household essentials from 40+ brands, including Andrex, Ariel and Nescafe, at the touch of a physical button, for delivery within 24 hours.
The idea is that you have multiple buttons, called Dash Buttons (see image below), kept all over your home – by the toilet, the washing machine, the coffee machine etc – which can be set up to order one item each, so that you can easily order a replacement when something's running low, without having to go to a website or app.
It certainly sounds like the ultimate in convenience, but will it save you money and is it worth it? We've compared Amazon Dash prices below to see how it stacks up against the supermarkets. But first, let's explain the basics.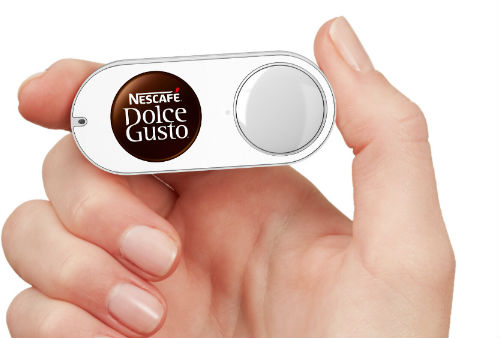 How does Amazon Dash work?
Amazon Prime customers can buy Amazon Dash buttons, eg, Andrex or Nescafe, from Amazon*. Each costs £4.99 and comes with £4.99 credit.
To set up a Dash Button, connect it to Wi-Fi and select the product you want it to order via the Amazon App.
To order, press an Amazon Dash button. You'll then get a mobile notification to confirm the order's delivery date and price. Prices via Amazon Dash match those listed on Amazon.
If a Dash Button is pressed multiple times, you'll only get one delivery.
If you place an order by mistake, you can cancel it via your Amazon account – we're waiting for Amazon to confirm how long you have to cancel.
If you want to change the product connected to your Dash Button, you can do it via the Amazon App.
IMPORTANT: Especially if you've kids, make sure you put Dash Buttons somewhere that's difficult to accidentally press, to avoid ordering in error.
How does it compare price-wise?
We've picked 10 household items from big brands available at Amazon, and checked how much they cost at the supermarkets (including Tesco, Sainsbury's, Asda, Morrisons, Ocado and Waitrose). Below, we've listed the Amazon Dash price on Tue 6 Sep against the cheapest price we found across all the supermarkets online for the same quantity (you may sometimes find cheaper still by buying different quantities).
| | | |
| --- | --- | --- |
| Household items | Amazon Dash prices | Cheapest supermarket prices |
| 3 x 38 washing tablets (Ariel) | £27.80 | £27 (Sainsbury's) |
| 5 x 9 toilet rolls (Andrex) | £17.50 | £17.50 (Ocado) |
| 3 x 84 anti-bac wipes (Dettol) | £6.50 | £6.50 (Ocado) |
| 6 x 1.82l conditioner (Lenor) | £30.67 | £18 (Tesco) |
| 60 dishwasher tablets (Finish) | £10.80 | £10 (Sainsbury's) |
| 12 x 80 tissues (Kleenex) | £18 | £12 (Ocado) |
| 6 x 14 nappies (Huggies) | £12 | £12 (Asda) |
| 18 x 56 baby wipes (Johnson's) | £10.50 | £15.30 (Sainsbury's) |
| 48 x 100g dog food (Pedigree) | £12 | £12 (Tesco) |
| 84 x 100g cat food (Whiskas) | £18.27 | £18.27 (Ocado) |
What's the verdict? Convenient but expensive
Out of the 10 items we compared, four brands were available for less at the supermarkets, one was the cheapest at Amazon, and five came out the same – it looks like Amazon could be sometimes price-matching supermarket offers, eg, 84 x 100g Whiskas cat food is £18.27 at Amazon, matching the discounted price at Ocado.
We also compared prices with like-for-like supermarket own brands and, unsurprisingly, the vast majority of these were cheaper than buying the big brands from Amazon or supermarkets.
Overall, Amazon Dash may be occasionally competitive on big brands, but it's smashed by supermarket own brands. So, if you're an own-brand shopper, as most MoneySavers should be, you'll be paying well over the top with Amazon Dash.
Those who are normally committed to shopping for big brands online will also lose out, because with Amazon Dash, they wouldn't be able to buy different brands depending on what offers there are. With Amazon Dash, you have to stick with the brand you've chosen.
It might save you time compared to nipping to your local supermarkets, but as it stands, Amazon Dash's convenience alone isn't enough to press our buttons.