By MoneySavingExpert's Coupon Kid, Jordon Cox
MSE Update Tue 6 Nov: Prices for these holidays have now changed – but there are some hovering around £400pp if you are looking for a travel bargain.
Fancy a New Year treat? You and a travel buddie could be jetting off to Kuala Lumpur and staying in a central three-star hotel for just £380 per person. Or, if the budget will stretch, the world-famous five-star Shangri-La hotel from £486 each.
Whether you fancy chilling by the infinity pool, visiting the Petronas Towers or just soaking up the Malaysian culture, there are endless things to do while you're there – but normally, it doesn't come cheap. Yet if you take a look at the packages below, you might find you can experience Malaysia much more affordably than you'd expect.
To get the absolute cheapest price, you'll need to claim via a cashback site – but even if you don't go to that extra effort, you can still get the full package for around £400 each.
This is going to be a popular deal so it's not guaranteed you'll be able to get the same prices as I found. But hopefully, if you're planning a trip to South East Asia soon, this'll help give you a decent starting point at least…
Hotel and flight package – £403 each
The cheapest place I found it was through Expedia* package booking, where my total came to £806.65 for two people (about £403 each). This is based on return Emirates flights from London Heathrow (via a short stopover in Dubai), and seven nights in a hotel from Wed 15 Feb until Thu 23 Feb.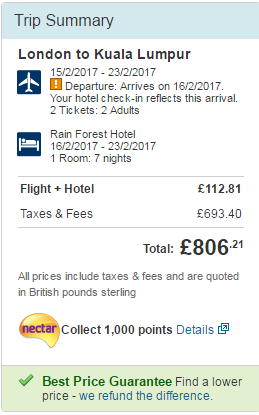 If these dates don't work for you, there are cheap flights with KLM & Emirates on dates throughout February. Hotels can also be found at similarly low prices during this same time period.
The Flights
The flights are with Emirates, and include a stopover in Dubai. Prices are inclusive of luggage and meals.
– London Heathrow to Kuala Lumpur – via Dubai (2 hour, 55 min stop)
Departing 8.25pm GMT – Landing 9.25pm +1 UTC
– Kuala Lumpur to London Heathrow – via Dubai (1 hour 15 min stop)
Departing 10.15am UTC – Landing 6.25pm GMT
The Rain Forest Hotel (city centre)
What I like about this deal is that you can choose between being in the hustle and bustle or out in the Malaysian mountains, and there isn't much difference in price. The city centre hotel is the three-star Rain Forest Hotel located in Chinatown, just walking distance from many temples and markets.
Attractions such as the Petronas Towers, Batu Caves and numerous mosques and temples are all not far from the hotel.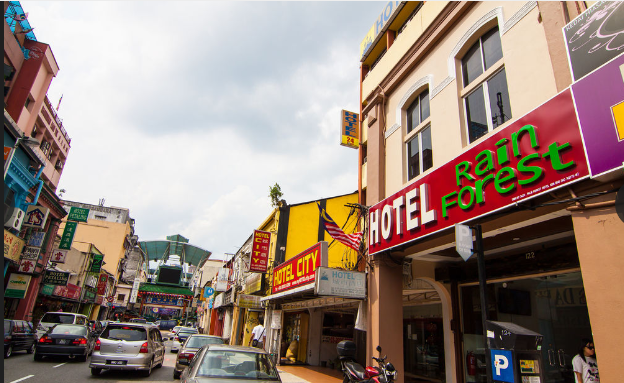 How to get it for £380 (via cashback)
To really max the discount, you can book through TopCashback, which is currently offering 5.25% cashback on package bookings at Expedia. This means you'd get £40ish cashback, making the entire holiday just £763 for two people (£380 each) once the cashback is paid.
The Shangri-La Hotel Putrajaya – £513pp
If you wanted luxury, the Shangri-La hotel is located in the Malaysian mountains and is situated next to a botanical garden. The home and office buildings of the Malaysian Prime Minister are just walking distance away and the hotel offers a free shuttle ride to a nearby mall.
By taking advantage of TopCashback's 5.25% cashback on package bookings, you can slash the price further to £972 (£486 per person). A nice alternative if you don't mind paying extra to stay in the lap of luxury.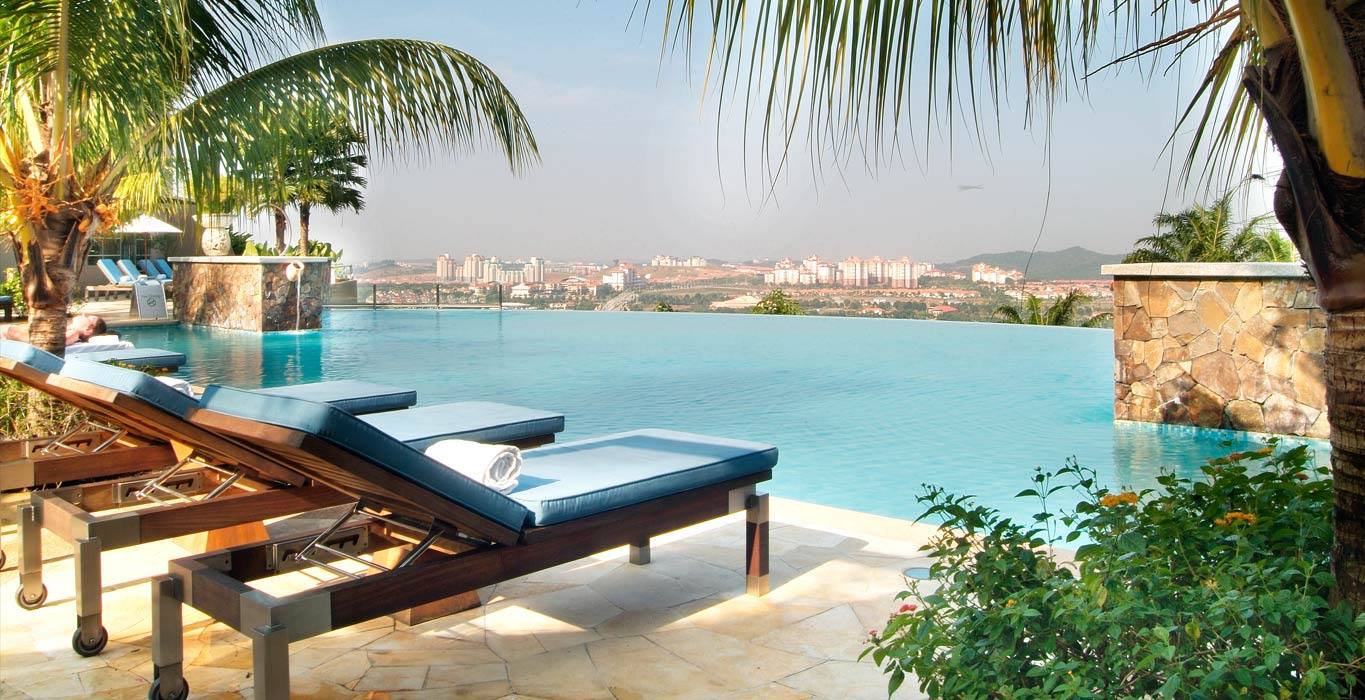 Step by step – How to book
If you're not familiar with Expedia, here is a step by step guide of how to book. If you wanted to get the 5.25% cashback through TopCashback, you'd need to go through its website instead and click through the link before you complete these steps.
1. Go to Expedia*and put in the dates and details in this box under "Flight + Hotel" to get a package deal. The date range I used to find cheap deals is 15-23 Feb 2017.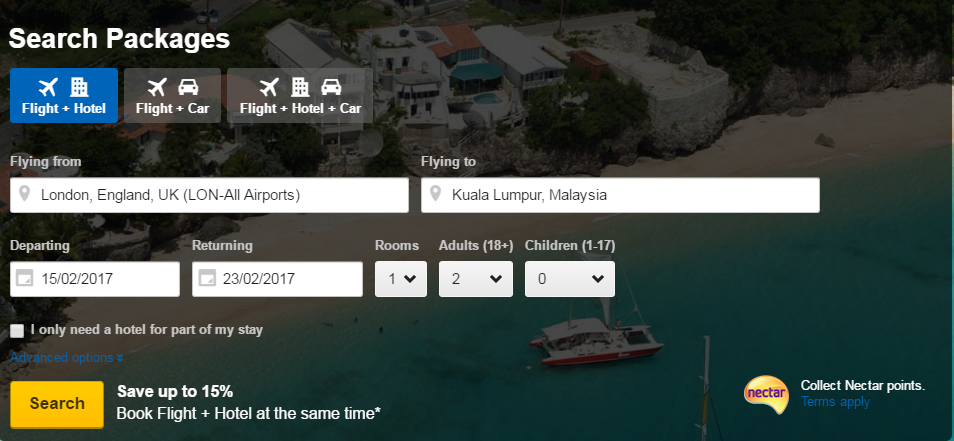 2. You should see lots of hotel options, so you can pick the same as me and (hopefully) you'll get the prices above. They all display the price per person.


3. After you've been through and selected a room, select your flights. I went with the cheapest flights from Emirates, but KLM & China Southern is also available for a higher price.

You should then come up with the review screen ready for you to go ahead and book your trip. Have fun in Kuala Lumpur (or as the locals say, berseronok!)
Have you ever booked a bargain trip abroad? I'd love to hear your stories in the comments below, on Twitter @MSE_Deals or on Facebook.