By MoneySavingExpert's Coupon Kid, Jordon Cox
Now Christmas has been and gone, the supermarkets and other retailers have been slashing prices on festive treats to clear the shelves…
If you're not giving up chocolate for New Year, it might be worth making a trip to your local supermarket to see what delicious treasures you can find.
There are definitely bargains to be had (though mostly in stores, rather than online), and most have best-befores of April-October 2017, so if you're not bothered by Christmas branding you could amass more chocolate than Willy Wonka in no time.
Do remember, the discounts usually get bigger the further past Christmas we go… yet whether you can save more by waiting will depend on how much stock is left.
MSE Update Tue 3 Jan: While this blog was originally written on Boxing Day, there are still plenty of cheap chocs out there. I picked up some cheap Smarties tubes today from my local Tesco, so keep your eyes peeled.
Reduced chocolate found in stores
Shelves are choc-a-block with cheap treats. Here are a few of the tastiest discounts I spotted in stores in the past week:
Terry's Chocolate Orange (130g) – 49p (was £1)
Kinder chocolate bars (10-pack) – 49p (was £1)
Lindt Lindor milk chocolate truffles (200g) – £1.49 (was £3)
Cadbury medium selection box (180g) – £1 (was £2)
Cadbury Heroes box (185g) – £1.50 (was £3)
Thorntons chocolate Santa (200g) – £2.50 (was £5)
Thorntons classic collection (511g) – £9 (was £11)
Toblerone (300g) – £3 (was £4)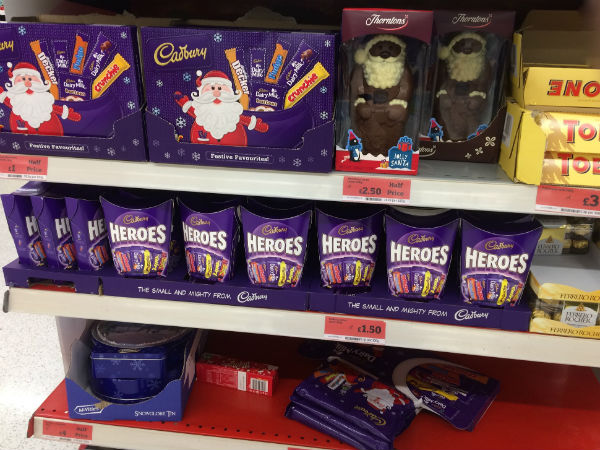 As you can see, there were plenty of reduced goodies at the Sainsbury's I visited
Pink Smarties tube (150g) – 50p (was £2)
Lindt Bear – £1.25 (was £3)
Reese's peanut butter snowman (141g) – £1 (was £5)
Maltesers 'fun size' selection pack – 50p (was £2)
Dairy Milk winter edition (100g) – 50p (was £1)
Celebrations bag (490g) – £1.50 (was £3)
Ferrero Rocher collection (24-pack) – £3 (was £8)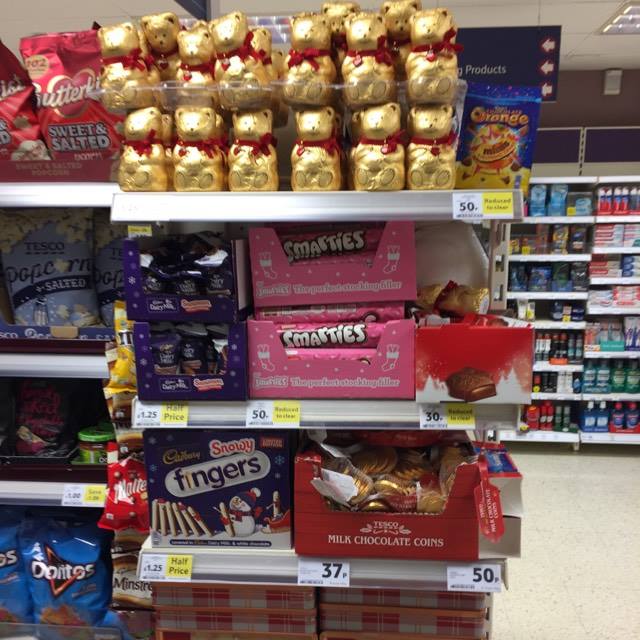 Here is a selection I found on Tue 3 Jan in Tesco
Thorntons mint collection (282g) – £3 (was £5)
Cadbury Milk Tray (600g) – £2.25 (was £6)
Lindt red jumper teddy bear (200g) – £2 (was £5)
Deals you can still get online
If you fancy really gorging yourself, Thorntons* has a factory clearance sale with up to 60% off online (and possibly in stores depending on stock). Delivery's £3.95.
Best-before vs use by dates
Most of the Xmas chocs I've seen have best-befores from April to October 2017, so check before buying if you plan to save them for Christmas 2017.
It's worth noting though, 'best before' doesn't mean the same as 'use by', and chocolate with a best-before date won't turn inedible at the stroke of midnight.
See our Food Saving guide for more info.
Found any sweet post-Xmas bargains? Feel free to boast gleefully about how much you've saved in the comments below, or tweet @MSE_Deals on Twitter.