By MoneySavingExpert's Coupon Kid, Jordon Cox
VIVA LAS VEGAS. You can hit the jackpot with this travel deal as I've found a week in Las Vegas for £461 per person, including direct flights from London (and baggage) and a seven-night stay in a three-star hotel on The Strip.
Whether you fancy chancing your arm at the casino (though we're not fans of gambling at MSE) or exploring the many resorts, eating at one of 1,000s of buffets or catching a show, there are endless things to do while you're there – but normally, it doesn't come cheap.
However, I've spotted a cracking price for a trip for two in December 2017 – and there are similar cheap deals in October and November too – which means you don't need a wallet the size of the Grand Canyon (an average week-long holiday in the peak of summer is about £1,200pp).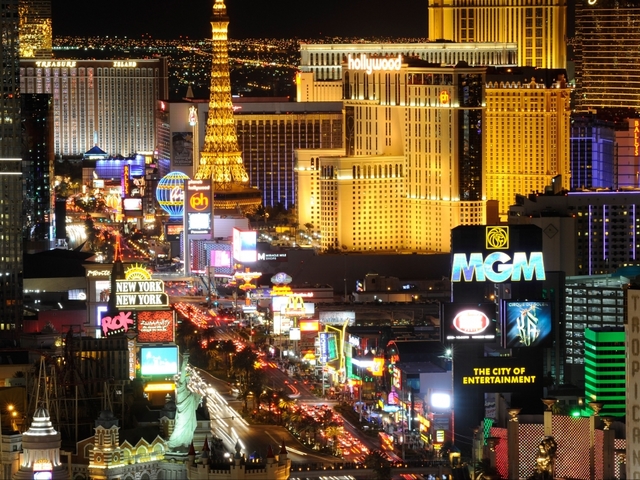 There's no guarantee you'll find the same as I did (last checked on Fri 31 Mar) as this is likely to be popular, but hopefully, if you're planning a trip to Las Vegas, this'll help give you a decent starting point at least…
Direct flights – £324 each + £50 baggage each (£747 total for two)
The cheapest flights I found were with Norwegian Airlines from London Gatwick Airport, from Thu 7 Dec – Thu 14 Dec, booked direct through its website. Return flights come out at £324 each including taxes, plus £50 (£25 each way) for hold baggage. If you wanted to travel without checked-in baggage, you could get flights and hotel for £411 each for two people.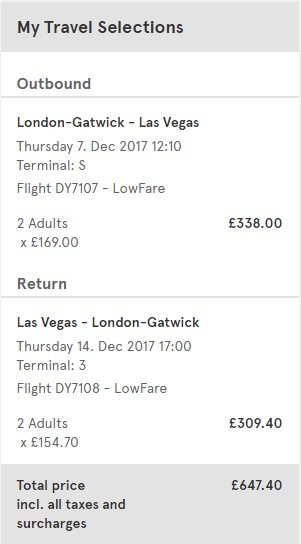 If these dates don't work for you, there are cheap flights a week before with Norwegian and around November at the same price (see our cheap flights guide for tips on finding cut-price fares).
Hotel – £176 for seven nights
What I like about this deal is that you'll be located directly on The Strip in the heart of the action. For this deal, I picked the Circus Circus hotel, casino and theme park (what more could you want from a hotel?!).
I found this price on hotel website Booking.com, for seven nights from Thu 7 Dec – Thu 14 Dec. There are other hotels and deals available on other sites – but this was the cheapest I found for these dates (check out our hotels guide for more ways to cut your costs).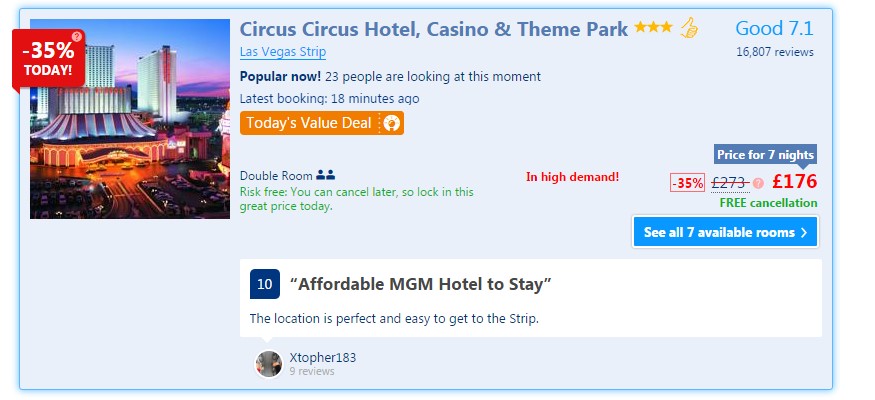 Fancy a different hotel?
If the hotel I've found doesn't suit you, there's another deal at the three-star Stratosphere hotel and casino – where you can sleep with a view.
The total for a seven-night stay in the Stratosphere is £185 (£9 more) also with Booking.com, but it is a bit further up The Strip and further from the action.
Important: It's worth noting that Las Vegas has a city tax that has to be paid at the hotel when you get there. Usually, taxes are around $25 per room per night of your stay, so be sure to factor in those costs for your stay.
Total price – £461 each (£922 for two people) plus city tax
So if you play your cards right and have lady luck on your side, you could be jetting off to Las Vegas for £461 per person. If these dates don't work for you – or you want to find out more ways to cut the cost of your holidays, see our Cheap Flights and Cheap Hotels guides.
Have you seen any great travel deals recently? Will you be booking this one? I'd love to hear your stories in the comments below, on Twitter @Jordon_Cox or on Facebook.