McDonald's food hack – Spend 59p, get Big Mac & fries for £1.99 again and again
This handy McDonald's 'hack' is a way to get a Big Mac and regular fries for £1.99 (norm £4ish) every time you go into McDonald's…

Now, you can only start to reap the rewards after first making an initial purchase (the cheapest item I could find is a 59p mini McFlurry). And although you may spot this same £1.99 meal deal on vouchers in newspapers, or printed on the back of bus tickets, with this trick you don't need them and can do it over and over again.

It's through a promo called 'Food for Thoughts', which rewards you with cheap grub if you fill out a quick survey about your experience after you've made a purchase. You could do it all in one visit, though it may take a few minutes as you'd need to buy one item then fill out the survey to get your Big Mac and fries voucher. Of course, it's not the healthiest meal – but if you're eating there anyway, you might as well do it cheaply.
Here's what to do...
1. You'll firstly need to buy any item in McDonald's and keep the receipt – you may have to ask for it. PS: if you just want a Big Mac & fries, it's actually cheaper buying a drink or McFlurry cone first, then filling out the survey to get your voucher.
2. On the top of every receipt you'll see 'tell us how we did' and the URL of the Food for Thoughts website, as well as a code to input on the website to identify your receipt (see image).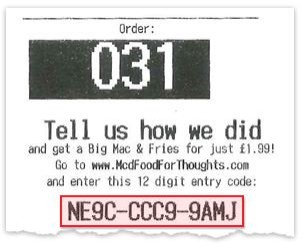 3. Simply input the details of your receipt and fill out the survey – it should take about two minutes and it's just a few questions about your experience.
4. At the end, you should get a five-digit number – write it on your old receipt and it becomes a voucher for a £1.99 Big Mac and fries (normally £4.08 or £4.49 as a meal with a drink).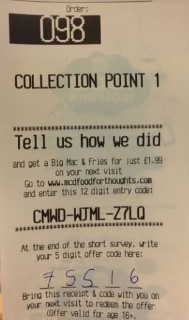 5. Hand it over it to the cashier to claim the offer.
6. The beauty of this is you can keep the deal rolling with every single receipt, so all you have to do is make a single purchase to get your first receipt, use the voucher for the Big Mac and fries and with the subsequent receipt do it again and again – so you have cheap McDonald's for as long as this survey goes on for.
We've heard reports of some MoneySavers getting a receipt by buying sauce for just 20p. This may not work in all branches, so your safest bet is still the 59p McFlurry if you embarrass easily.
If you're not a fan of Big Macs – or fancy something different – McDonald's says you can ask for a Fillet-o-Fish or Veggie Deluxe instead. And if you're not in the mood for McDonald's, take a look at what else is available on our Restaurant Vouchers page.
There is no expiry date once you have written your five-digit code on the receipt – but the numbers are trackable, so you can't just write five random numbers on there. McDonald's has told us it's valid in all of its restaurants.
Will you be using this new McDonald's hack to get some cheap food? Do you know any other hacks? I'd love to know in the comments below, or on Twitter @MSE_Deals.
Have your say
This is an open discussion but the comments do not represent the views of MSE. We want everyone to enjoy using our site but spam, bullying and offensive comments will not be tolerated. Posts may be deleted and repeat offenders blocked at our discretion. Please contact fbteam@moneysavingexpert.com if you wish to report any comments.
We are aware that some users may currently be having issues seeing the comments and we're working on it.