By MoneySavingExpert's Coupon Kid, Jordon Cox
Easter and the four-day weekend is over, but you can cheer yourself up with some cracking deals on Easter chocolate. Retailers have now slashed the price of loads of Easter-themed items, meaning you can now grab 16p Cadbury Creme Eggs at Aldi, £1.25 Lindt bunnies at Asda and more tasty treats.
Stock of these goodies varies per store, but everything we found had best-before dates ranging from June 2017-January 2018, so if you're not bothered by Easter branding, it might be worth making a trip down to your local supermarket to see what treasures you can find. When it's gone, it's gone though, so go quick if you want to stock up.
What we found in-store
As well as the cheap Creme Eggs and Lindt bunnies, other egg-cellent deals we found include this year's winner in the MSE Easter egg taste test for just 50p at Sainsbury's (was 80p), £7 Thorntons eggs reduced to £2.50 and Cadbury Mini Eggs for 50p at Morrisons.
It's worth noting that if there is still lots of stock left over, it is likely it will be reduced further later this week, though nothing is guaranteed.
Here are the discounts we found (or MoneySavers spotted) in stores on Tue 18 Apr:
Asda (find your nearest*)
Lindt chocolate bunny (100g) – £1.25 (was £2.50)
Small Easter eggs incl Creme Egg/Smarties/Rolo/Mars – 75p (were £1.50)
Large Easter eggs incl Mars/Twirl/Double Decker – £2 (were £4)
Aldi (find your nearest)
Cadbury Creme Eggs (5-pack) – 79p (was £1.50) – so effectively 16p each
Speciality Easter eggs – 99p (were £4.99)
Sainsbury's (find your nearest*)
Sainsbury's milk chocolate egg (170g) – 50p (was 80p, down from £1) – winner in this year's MSE taste test.
Malteasers Easter egg (274g) – 75p (was £1.50)
Lindt gold bunny (200g) – £2 (was £4)
Cadbury Egg 'n' Spoon (136g) – £1 (was £2)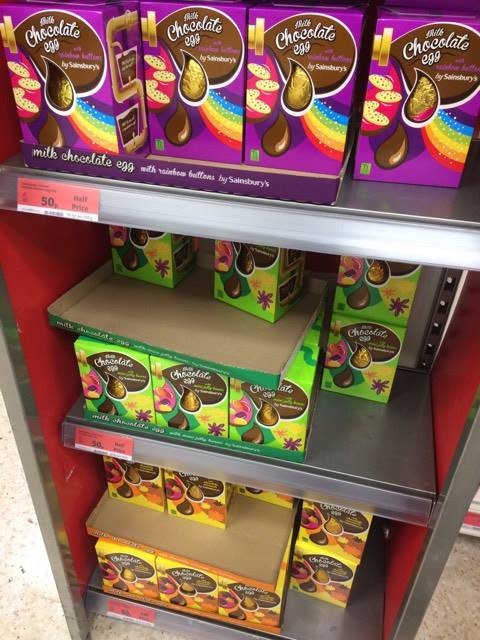 Morrisons (find your nearest*)
Cadbury Creme Eggs (5-pack) – £1 (was £2)
Cadbury Mini Eggs (90g) – 50p (was £2)
M&M milk chocolate egg (135g) – 50p (was £1) – cheaper than the price of a single bag of M&Ms!
Sparkles the milk chocolate unicorn (225g) – £2 (was £4)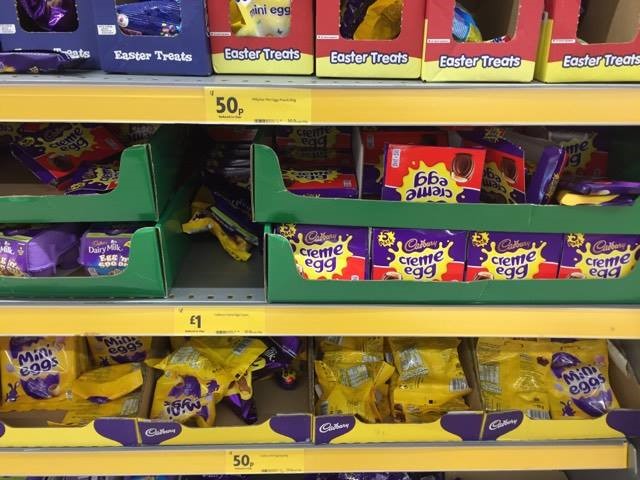 Thorntons (find your nearest*)
Footy Fan milk chocolate egg (150g) – £1.50 or 3 for £3 (was £4 for one)
Fabulous Fudge milk chocolate egg (235g) – £2.50 or 3 for £5 (was £7 for one)
Revelations chocolate egg (210g) – £2.50 or 3 for £5 (was £7 for one)
Continental milk, dark & white egg (268g) – £4 or 3 for £10 (was £10 for one)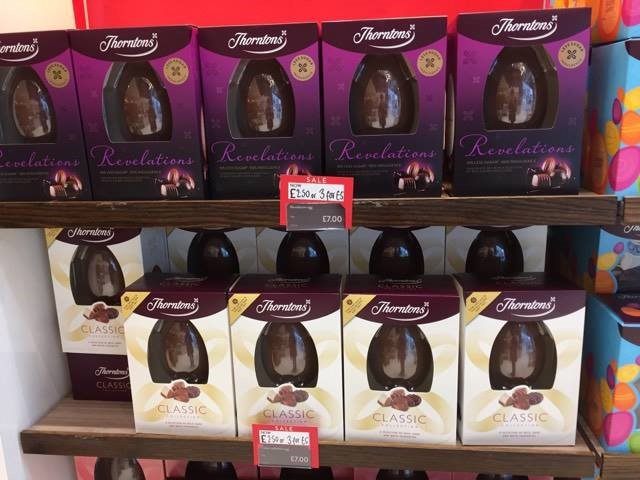 Hotel Chocolat (find your nearest)
You Crack Me Up extra-thick egg – £13.50 (was £27)
Egg Sandwich milk & dark chocolate eggs – £5 (was £10)
Brownie hard-boiled egg – £7.50 (was £15)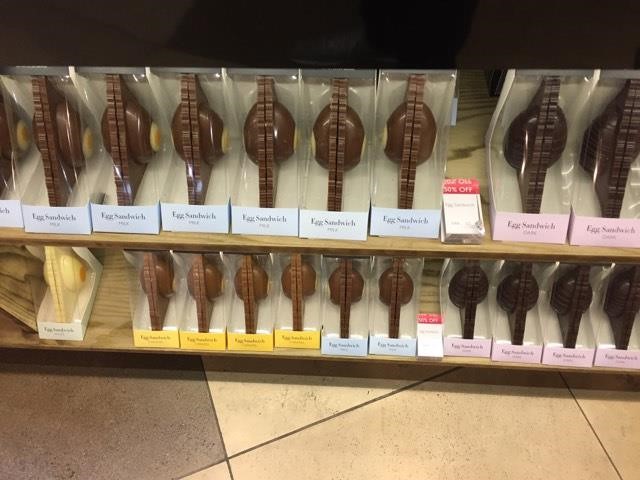 Tesco (find your nearest*)
I went into three different stores and didn't find any stock. I haven't heard of any successes from MoneySavers either, but it's probably worth a look if you're going to your local anyway.
Deals to get online
If you're after posh chocolate, there are some end-of-season sales at retailers such as Hotel Chocolat and John Lewis. Just be sure to factor in the delivery cost.
Big City Easter bunny – £3.75 (was £7.50)
Easter Egglet Sleekster – £11.25 (was £22.50)
Lemon meringue pie Easter egg (342g) – £4 or 3 for £10 (was £10 for one)
Milk chocolate Easter egg (265g) – £2.50 or 3 for £5 (was £7 for one)
Happy Jackson Queen of Awesomness milk egg (120g) – £4 (was £8)
Choc On Choc white chocolate quail eggs (300g) – £5 (was £10)
Malteaser Easter egg (314g) – £6 (was £12)
Shopkins Easter gift set – £4.20 (was £6)
If you decide to sink your teeth into some cheap Easter goodies, I hope you can get a sweet deal with these reductions.
Have you found any cheap Easter eggs? I'd love to know what you have seen in the comments below, on Twitter @MSE_Deals or on Facebook.