By MoneySavingExpert's Coupon Kid, Jordon Cox
I'm really excited about this one as if you're a pizza lover like me, there's a tasty pizza trick here that can save you some serious dough on frozen pizzas, again and again.
The return of this offer on Dr Oetker Ristorante pizzas means, if you buy one promotional frozen pizza at £1.25 in Asda (norm £2.50ish), you can get your next FOUR pizzas for 25p a pop until Wed 3 May. So you'll get five pizzas for a total of £2.25 – less than the cost of just one at full price.
Now, I have to admit it's a bit fiddly, but if you're willing to put in a bit of effort the savings are guaranteed as long as you can find the pizzas on offer in stock where you shop. And with a bit of a planning, you could use it to stock up for a pizza party at home when friends or family come over – or just pick them up as a MoneySaving add-on to your grocery shops over the next few weeks.
Here's how to do it:
1. Go into an Asda store* and purchase a 320-365g promotional pizza: Mozzarella, Speciale, Funghi, Pollo, Pepperoni-Salame and Hawaiian varieties are all included (make sure the one you pick up has the 'Make Midweek Matter' promotion on it).
The promo is running in all major supermarkets, but Asda is the cheapest with the pizzas on offer at £1.25 (norm £2.50) until Wed 3 May, so you'll need to shop there to bag five pizzas for £2.25. The next cheapest we found is £1.50 on offer at Morrisons* until Sun 30 Apr.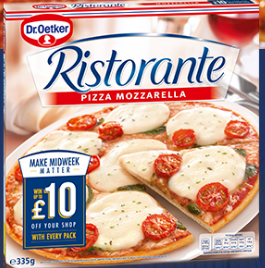 2. Bring the pizza home and look for a code on the inside of the box.
3. Go to the Ristorante Pizza promotional website, and enter the code. You'll then be given a £1 off coupon to print.
4. Take the coupon to a store within 14 days of printing and use it to get £1 off your next promotional pizza, making it just 25p at Asda. Then repeat the steps above.
Unfortunately, this isn't an unlimited free pizza trick like in previous years as you can only enter the promotion four times per household – which means you can only get four pizzas for 25p each after your initial purchase.
The promo, which runs until Wed 31 May, will also enter you into a competition to win a £5 or £10 supermarket gift card (which is what the packaging advertises), so be sure to check your inbox for an unexpected surprise. There are 20,000 gift card prizes available.
I hope this will keep you fed for the next month and be sure to let me know if you get lucky with the competition too.
Have you grabbed yourself some cheap pizza? Have you seen any other great deals like this? Let me know in the comments below, on Twitter @MSE_Deals or on Facebook.