By MoneySavingExpert's Coupon Kid, Jordon Cox
This week I uncovered a new Burger King hack which could save you a whopping amount of cash if you're a regular as it gets you a £4.40 Bacon Double Cheeseburger for £2 every time.
What's more, there's no voucher or effort needed, it's really simple, you just need to order in a slightly different way.
MSE Update Tue 4 Jul 8.36pm: Since we found this hack, Burger King has launched a new set of vouchers that includes a Bacon Double Cheeseburger and fries for £1.99. Yet it's not available at many outlets, including airports and service stations, and you need to print the voucher or download an app to get it. So given there's so little faff, we think this hack is still worth knowing about…
So, how does it work?
If you order a Bacon Double Cheeseburger it'll set you back £4.39… Yet if your restaurant has 'King Saver' budget menu, there's a plain Double Cheeseburger (no bacon) for just £1.49.
Now, Burger King's slogan is 'Have it your way', which means you can customise its burgers with additional beef patties (90p each), cheese (50p) or bacon (50p). Do you see where I'm going with this?
So just order a plain Double Cheeseburger off the 'King Saver' menu and ask the server to add bacon and, hey presto! – a Bacon Double Cheeseburger for £1.99, saving £2.40 compared with ordering it the standard way.
Can you tell the difference?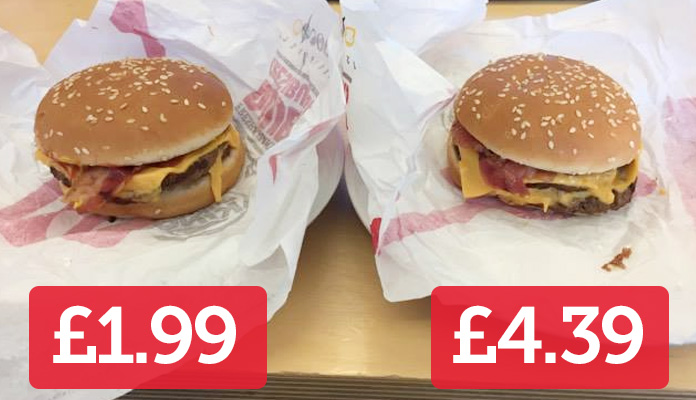 Here's one I ate earlier: The plain Double Cheeseburger with bacon (left) looked, tasted and weighed almost exactly the same as the original Bacon Double Cheeseburger (right)
To replicate it exactly, you should order it plain as the Double Cheeseburger comes with pickles, ketchup and mustard, which aren't in a normal Bacon Double Cheeseburger. However, if you want the extra, it won't cost you any more.
What about getting it as part of a meal?
If you want regular fries and a refillable small drink as well, you could order these off the King Saver menu too, bringing the total for your self-made meal to £3.97 – which is £2.42 less than a Bacon Double Cheeseburger meal, which costs £6.39.
Will it always work?
We hope it should work every time. We've tested it on 10 occasions in London and Manchester – nine times it worked, and only once were we told "no". Burger King has however confirmed its 'Have it your way' policy is valid nationwide. The pricing is based off the restaurants we tested, but Burger King told us prices may vary per location.
Obviously, Burger King could close the loophole, or it might just do nothing and let this generate some PR buzz around its King Saver options. We'll wait and see.
There are plenty of other hacks in restaurants chains (including our McDonalds hack for £1.99 Big Mac and fries every time) and we'll be blogging on more soon.
I'd love to know what other high street 'hacks' you've used to save yourself some money. Please share them in the comments below, Tweet us @MSE_Deals or tell us on Facebook.
This is just one of the 'life hacks' we feature on the site…
See our 80+ MoneySaving Life Hacks guide for lots more – including an app which lets you eat neighbours' food for free, how to turn your phone into a free sat nav and a tool to check if hackers have stolen your info.