By MoneySavingExpert's Coupon Kid, Jordon Cox
No, I'm not Pinocchio – my nose isn't growing. I've just spotted a deal that'll jet a family of four to Orlando, Florida for two weeks in September for less than £1,000…
MSE Update Thu 10 Aug 4.43pm: As expected, the super low fare below was snapped up quickly, but you can still find a deal at a nearby hotel for £287pp for two adults & two children, or £470pp for two adults on the same dates… but you'll have to go quick! I've left the blog the same below to walk you through the steps to finding the cheap fares.
Now, the reason this is so cheap is because it's during the school term, so I'm not suggesting this is for people with school-age kids (see our guide on School Holiday Fines), but for those who can work around the dates, or just want to go as adults, this is too magical a deal for me not to mention.
And this is no Mickey Mouse operator either, as it's through Thomas Cook and combines a low fare for flights and hotel with an online discount code. The super-cheap holiday we've found is leaving on 10 Sep. Flights alone to Orlando will normally set you back around £500, so this is a cracker.
There's no guarantee you'll find the same as I did, and it may involve a bit of trial and error to find the cheapest dates, but here's what I found when I last checked on Thu 10 Aug:
Package holiday – £245pp (£981 total) incl hotel, flights, car hire & breakfast (based on two adults and two children under 17)
For this deal, I searched the Thomas Cook website for a two-week long holiday leaving on Sun 10 September 2017 from Manchester (though you can leave the dates and airports blank to find the cheapest price. This is the deal that came up: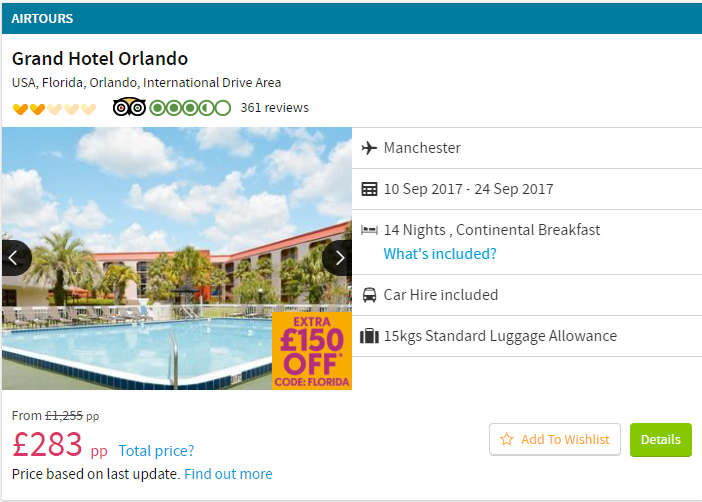 Flights
As part of this package, you'll get direct flights from Manchester Airport to Orlando International. The aircraft is the Airbus A330 and you'll receive food and one free checked in bag (up to 20kg) per passenger. Here are the flight times:
– Manchester to Orlando International
Departing 12.55pm GMT – Landing 5.15pm EST
– Orlando International to Manchester
Departing 7.15pm EST – Landing 8.40am (+1) GMT
Hotel
You'll be staying at the 3* Grand Hotel Orlando which is just off the famous International Drive or 'I-Drive', (the a road full of restaurants and attractions that runs through Orlando), within easy reach of Universal Studios and Sea World. You'll get a buffet breakfast included for each night of your stay, as well as a complimentary area shuttle to take you to local attractions… but free car hire is also included in this package.
If that all sounds tickety-boo, then there is also a way to get even more money off of your trip.
Use £150 off discount code to max saving
By using the code FLORIDA at checkout, you get £150 off Florida holidays priced over £1,000 until Thu 31 Aug. This should drop your total for two adults and two kids down to £981 (£245 each). Your total should look like this: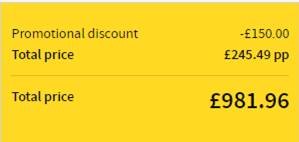 Don't have kids? Two adults from £400pp
If you don't have kids, or just want an adults-only break in the Sunshine State, simply adjust the search on the Thomas Cook website. Look for two weeks leaving on Sun 10 September for two adults, and you should get the same hotel and flights at a price of £800 (£400pp).
Unfortunately, there is no code to use as you aren't spending over £1,000 (unless if you find a more expensive hotel). So if you can get the time off work, you'd be hard pressed to find a better deal than this.
What about school holiday deals?
If you can't take your kids out of school, the cheapest last-minute summer deal I've seen is £927pp for two weeks leaving from Stansted on Sun 20 Aug – so almost four times the price, unfortunately. Though if you fancy a break during the October half term, I've seen it for slightly less at £712pp for only one week with the same details as the above leaving Wed 18 Oct.
Remember there could be extra costs…
While these trips include your flight, hotel and car hire, they do not include any park tickets and these are never cheap. Two-week passes for a family of four at Walt Disney World will cost roughly £1,400, or for Universal its £884 – so be sure to factor in these costs if you're going (see our cheap Disney Tickets guide).
But while there are clearly extra costs to consider, if you've got your heart set on Disney or Universal, and you don't fancy paying top dollar to stay in the official theme park resorts, this could be a budget-friendly way of doing it. Or if you're not fussed about the parks, this is a relatively cheap two weeks in Sunshine State, where there's plenty more to see and do besides the theme parks.
Are you tempted by this deal? Let me know if you're thinking of going for it in the comments below, on Twitter @MSE_Deals or on Facebook.