By MoneySavingExpert's Coupon Kid, Jordon Cox
Angry shoppers have vented their fury after the prices of popular toys were hiked in time for the Argos 3for2 toy sale.
The annual promotion, which launched on Wednesday morning, is popular with MoneySavers stocking up for Christmas, but hundreds of savvy shoppers spotted prices on at least 20 different toys had risen overnight – meaning in some cases you actually end up worse off than if you'd bought before the 3for2 offer started.
What's more, most toys that have now increased in price can be found cheaper at rival toy retailers such as Smyths Toys and Toys 'R' Us, even when you take into consideration the 3for2 discount, potentially leaving thousands of parents out of pocket, when they were led to believe they were getting a good deal.
We contacted the Advertising Standards Agency (ASA) to clarify the rules on this type of promotion as we plan to lodge a formal complaint. A spokesperson told us: "We will carefully consider any complaints we get about Argos."
What have we seen?
One of the most extreme examples, which we, and several MoneySavers spotted, is the Fisher-Price Think & Learn Teach 'n' Tag Movi robot, which inexplicably jumped from £31.99 (when we checked at 5pm on Tuesday) to the much higher price of £54.99 in the 3for2 deal. And there are a couple more big increases pictured below…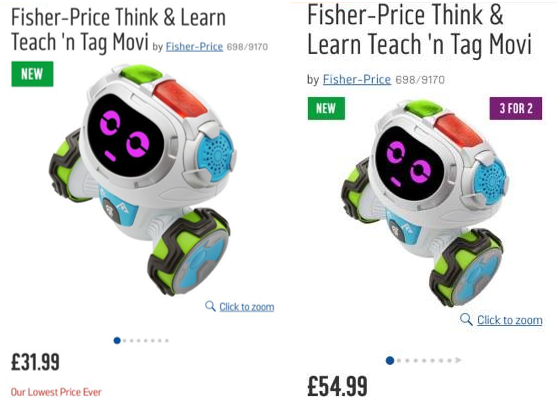 – At its 'lowest price ever' on Tuesday night, but now the Movi is £23 more. At Smyths Toys it's £39.99


– A shopper spotted the chair £13 cheaper yesterday. At Smyths Toys it's £26.99.



– A shopper spotted the Hexbug for £34.99 on Tuesday, but today it's £15 more. It's cheaper at Menkind for £29.99, or at Smyths Toys for £34.99.
What has Argos said?
When we asked Argos about the price changes we'd spotted, it said: "Before this launched, we ran a promotion on a limited number of toys which we didn't clearly mark as a promotion due to a technical issue. These toys have now returned to their standard price and are included in our '3for2' promotion. We're sorry for any confusion this has caused."
What have MoneySavers said?
There were a lot of negative comments towards the sale online on Wednesday morning.
Linda got in touch with us after we featured one of the toys in our Argos sale write-up. She said: "You have put the price of the Fisher Price robot at £31.99 (which it was at 8am this morning), but now Argos have changed it to £54.99."
Plenty of others were dissatisfied and also shared their dismay on social media…
Argos put the prices up on the toys today, so what are you saving really? They'll lower the prices again when the 3 for 2 ends. #notfair

— JennyBlue (@JennyBlueEFC) September 27, 2017
@Argos_Online why is it the product I want was 25.99 yesterday and today it's gone up to 29.99 due to it being in th 3 for 2??

— Natasha (@xNatashaPerry) September 27, 2017
So is the 3for2 still a decent deal regardless of any price rises?
Buying the three particular toys pictured above in the 3for2 sale today would cost you £104.98. However, buying the exact same toys at Argos on Tuesday without the 3for2 'discount', you'd have paid £93.97 – so even now the cheapest item is technically 'free', the higher prices leave you £11 worse off.
What's more, in the examples above and many others we found, it would actually be cheaper buying three full-price toys at Smyths Toys or other rivals, as its current prices currently work out cheaper than the 3for2 at Argos. For instance, if you'd bought these three toys individually at Smyths, you'd pay £101.97 in total, £3.01 cheaper than Argos, despite the 3for2 offer.
That said, we're not saying there are no savings to be had in the Argos 3for2 sale, just make sure you do your own price comparisons before buying.
So what do you think is going on? Will you be buying from the Argos 3for2 sale? Let me know in the comments below, on Twitter @MSE_Deals or on Facebook.