Ikea MoneySaving tips & hacks
Including 'up to 50% off' summer sale, get spare parts delivered for free, and trade in old Ikea furniture for vouchers
For some of these, you'll need to be an Ikea Family member (have its free loyalty card). If you don't have one, you can sign up for free online or in a store (find your nearest).
Most Ikea stores are now open again and so we've adapted this guide to make sure our tips and tricks are still relevant. We've had to take a few out, such as the free tea & coffee, and the free in-store events and workshops, as these have been suspended until restrictions ease further.
Ends Sun.

Ikea 'up to 50% off' summer sale, eg, £70 bar stool for £35
If you go online to Ikea or into a store (find your nearest), its summer sale which started on Mon 7 Jun is running until Sun 18 Jul. Ikea's told us there are discounts of up to 50% off, but from what we've seen the average discount is about 30%-40% off – although when the sale first started, we did spot a few items that were discounted by up to 70%.
When we checked on Mon 12 Jul, there were still over 500 lines in the sale online across all categories, such as Sofas, Storage & Organisation, Decoration and Lighting. A couple of strong examples we spotted online on Mon 12 Jul include a bar stool for £35 (was £70 – a 50% discount) and a cushion for £10 (was £35 – a 71% discount). If you find an item that is sold out online, you can check if stock is available in-store on the product page.
Products and prices can vary between stores, so it's not unusual to find the same items at different sale prices from one store to another. A few examples of strong discounts we spotted at the Greenwich store on Mon 7 Jun include a £70 chair for £35, £30 rug for £15 and a £3.50 cushion cover for £1.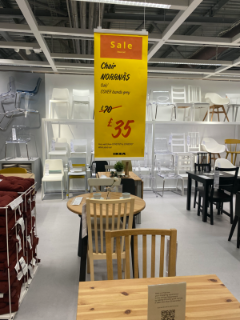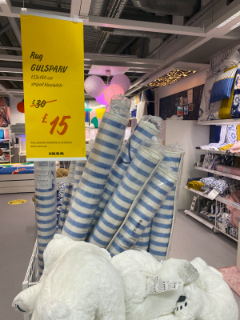 Trade in old Ikea furniture for vouchers of up to 50% of an item's original value
Ikea's recently launched a 'buy back' scheme which allows you to trade in your old Ikea furniture for vouchers to spend both online and in-store. You can trade in cabinets, bookcases, chairs and more, though it's not for everything, eg, you can't take back a bed – see a full list of what's part of the scheme below.
Depending on the item's condition, you can get up to 50% of its original value back in Ikea vouchers. It's fine if your item has some cosmetic wear, but you'll be offered less (40% back for minor scratches, 30% if several). To get the voucher, enter the details of your item online via its free buy back estimator tool and you'll be given a preliminary offer. If you're happy with the offer, take your item into a participating store to be inspected and exchanged for a voucher. If you're thinking of taking back a larger item, bear in mind that you may need to arrange transport.
Your item is then resold in its 'Circular Hub' section (previously known as 'Bargain Corner' – see more on this below). This offer is available in most Ikea stores. See full details on how the scheme works in our Ikea launches 'buy back' scheme for old furniture MSE news story.

The vouchers have no end date and can be spent both online and in stores, but can't be used in the Bistro, Swedish Food Markets or restaurants, and can't be used on Ikea Food products.
MSE Rhiannon recently traded in an old ceiling lamp that came with her house using this initiative and received £30 back from Ikea.
Bookcases and shelf units
Cabinets
Chairs and stools (excluding upholstered or leather chairs and stools)
Chest of drawers
Children's furniture (excluding baby items such as cots and changing tables)
Dining tables and desks
Display storage
Dressers
Multimedia furniture (eg, TV benches and storage units)
Office drawer cabinets and other small structures with drawers
Accessories for Ikea's PAX wardrobes (eg, clothes rails, shelves)
Sideboards
Small tables

Ikea won't accept the following items:

Non-Ikea products
Hacked or modified products
Non-assembled Ikea products
Products that have been used outside including outdoor furniture
Mattresses & bed textiles (such as blankets and mattress toppers)
Sofas/armchairs
Other soft good (pillows, towels, curtains etc.)
Items containing glass
Kitchens including worktops, cabinets and fronts
PAX wardrobes
Other over-sized items
Appliances and other electrical items
Baby products such as cots, mattresses and changing tables
Upholstered or leather products
Market hall products
Non-furniture items
Products purchased more than 7 years ago
Ikea replaces missing parts for free and will even deliver them to your door
If you're in need of spare parts such as screws, cam locks, dowels and more, Ikea will give these to you for free. If you want to collect these in store, simply head to the returns department in your local store.
Alternatively, you can order online via its spare parts page and arrange for the parts to be delivered to you for free. The page also shows you how to find a spare part number so that you can be sure you're ordering the correct item.
Look out for ex-display or mildly damaged bargains in the special 'Circular Hub' area
Formerly known as 'Bargain Corner', this is where Ikea puts reduced goods and it can often be found by the tills. Items here are usually ex-display or damaged in some way, though this could be as minor as a ripped box. It now also contains furniture that's been traded in as part of its 'buy back' scheme mentioned above.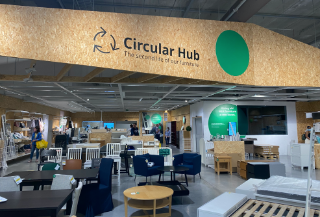 Former MSE Dani got lucky and found a light in Circular Hub (Bargain Corner) that she was going to buy at full-price – the only difference was that it had a torn box, so it's always worth checking before you check out.
MSE Laura B's flatmate found these curtains in Circular Hub that she'd picked up earlier in the store at full price. They've been repackaged and so are a little out of shape, but she's happy with that as they're 29% cheaper.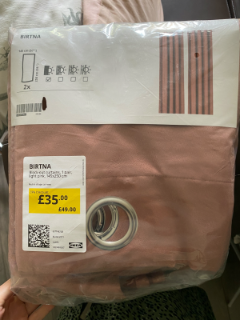 If you've lost or forgotten your Ikea Family card, you can still get its benefits
Ikea Family is it's completely free loyalty scheme, which gives members access to discounted prices on selected products, personalised offers and a free hot drink Mon-Fri (though due to the pandemic, this isn't available at the moment). You can sign up for free online.
If you can't find your card or forgot to bring it with you, you can download the Ikea store app (available for free at the App Store or Google Play) and log into your account to access a digital version of your card. Alternatively, you can usually print off a temporary card at in-store kiosks.
£2.20 for small cooked breakfast or £2.60 for large
With restaurants re-opened, the Ikea breakfast has returned to some stores. On Mon 7 Jun, we spotted a six-piece breakfast for £2.20 or a nine-piece for £2.60, including a vegetarian option, available between 10am and 11am on weekdays.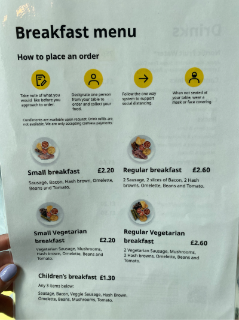 However, Ikea told us that breakfast is only available in five stores at the moment – Croydon, Edinburgh, Glasgow, Birmingham and Sheffield. But we visited an Ikea not on the list and were able to get one. So it could be the case that your local Ikea isn't serving breakfast again yet, but worth checking if you're after a cheap morning meal.
Ikea wasn't able to confirm menu prices with us, and prices could vary between stores, but these were the prices we saw at Ikea Greenwich.
Before the pandemic, Ikea Family members could get the six-piece breakfast for £1.75, but Ikea's told us this price isn't available at the moment. However, we think £2.20 for a cooked breakfast is still worth a mention.
Keep an eye on your emails for offers in your local Ikea store
If you're an Ikea Family member, you could be emailed exclusive offers and vouchers for your local store.
MSE Laura B has previously received an email with £5 off a £40 spend. We've also seen £50 off a £300 spend on outdoor furniture and accessories.
Ikea doesn't say how often these offers are available, so it's always worth keeping an eye on your inbox for emails from it, and scrolling all the way to the bottom to check for codes – MSE Laura B almost missed an offer once because the code was right at the end.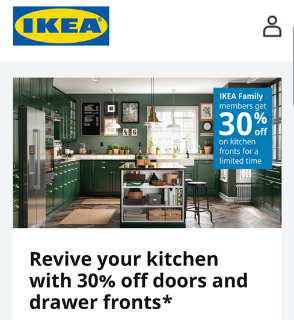 Use Ikea's free virtual reality app to see how furniture would look your home before you buy
The free Ikea Place app uses your camera to create a virtual reality version of your room, where you can add Ikea furniture and accessories into your space to see how they'd look before you buy.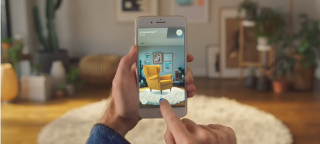 Download the free app from the Apple App Store (your Apple device will need iOS 11 or later software to run the app) or from Google Play for Android devices.
Know when to pounce on Ikea's big sales to save up to 50%
Ikea usually runs a couple of sale events each year – one in summer and the other in winter. The sales used to be mostly in store, with fewer items discounted online, but since the pandemic we've seen more stock available online, too.
We tend to see discounts of up to 40% off on thousands of products across furniture, lighting, bathroom, textiles and kitchenware. Here's when we expect Ikea to have its big sales:
We predicted the summer sale would start during the first week of June this year, and we were only out by a few days. Here's when it's started in previous years:

2021 – Mon 7 Jun - Sun 18 Jul. Online and in stores.
2020 – Mon 13 Jul - Mon 31 Aug. Online and in stores.
2019 – Thu 6 Jun - Sun 30 Jun. In stores only.
2018 – Tue 5 Jun - Sun 1 Jul. In stores only.

The winter sale start date is usually pretty consistent, but in 2020 it launched a couple of weeks earlier than we expected. It could do the same again this year, but it's difficult to tell. Here's when it's started in previous years:

2020 – Tue 1 Dec - Sun 17 Jan. Mostly online with limited availability in stores.
2019 – Thu 19 Dec - Sun 12 Jan. Online and in stores.
2018 – Thu 20 Dec - Sun 13 Jan. In stores only.
Free product insurance on your journey home and while you assemble your items
Present and swipe your Ikea Family card at the checkout and you'll automatically get free product insurance for 'accidental damage on the way home and during assembly'. This only applies to items bought in store and excludes Circular Hub items, cut fabric and custom made goods. If you need to claim, present your Ikea Family card and receipt in store within 90 days of the date you purchased.

Ikea says damaged items will be replaced on a like-for-like basis or you'll be given a store card for the item's current selling price.
Remember to bring your own bags
As part of new safety measures, Ikea is asking that you bring your own bags. Ikea bags are bigger than your average and pretty sturdy, but at 50p each, the cost can soon add up. So, if you've already loads under your kitchen sink, remember to re-use them.
Free tool to help avoid queuing during busy times at your local Ikea
Ikea can often be busy and right now where it is limiting numbers of people in store, you could need to queue outside during busy times.
Using Google's free 'Popular Times' feature (by simply Googling your local store, eg, 'Ikea Manchester'), you can find out when your local store is likely to be at its busiest, helping you plan your trip better to avoid the queues. There are two ways to use Google's tool:
The most accurate way is to check shortly before you go if now's a good time to visit the store. For many Ikea stores, Google will show 'Live' visit data (shown by a pink bar on the graph) which is updated in real time so you'll have a reasonably accurate picture of how busy or quiet the store will be.


You can plan ahead by looking at different days of the week, and in the past this has been a great feature, but because it's using historical data and habits may have changed in over the last year or so, use it to see when your local store is typically quieter, but take it as a general guide and not a guarantee.
First do a Google search for your local store, eg, Ikea Lakeside or Ikea Manchester.
On a mobile, you'll find a box with Google's Ikea listing at the top of the page – scroll down a little bit to see the 'Popular times' graph.
On a laptop or computer, you'll find this on the right-hand side.

Go prepared with measurements written down
Always carry a note of your measurements when you head to an Ikea store, eg, any spaces you want to fill and any furniture you're replacing. This should hopefully prevent extra (often costly) trips back to the store if something doesn't fit. Plus, Ikea's paper measuring tapes in store are only one metre, so if you're buying something large, bring your own tape measure.
Ikea furniture hacks
If you search 'Ikea hacks' online, you'll find endless ideas on how to transform your Ikea furniture and use it in creative ways. Former MSE Lucia painted her £13 Ikea step stool grey and found plenty of different uses for it, including a side table, extra dining chairs and a plant stand.
Get extra discounts every month
If you've an Ikea Family card, you can get monthly offers and exclusive discounts on selected products. For example, MSE Laura spotted a desk which was priced at £100 for Family members (normally £120) and a candlestick for £7 (normally £8).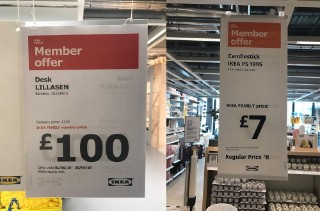 Keep an eye on our weekly email for short-lived Ikea deals
We've featured some cracking Ikea deals over the years, including its popular prize draw where everyone wins something and its '£9' real Christmas tree (you buy a £29 tree and get a £20 voucher to spend). If you don't already receive the weekly MSE email, you can sign up here.
Ikea's product recalls online
The Ikea website lists all of its product recalls in one place. If you've bought any of the items, you can return it for a full refund – usually, you don't even need to dig out a receipt.
Re-use Ikea's brown paper
After you go through Ikea checkouts, there's usually brown paper for wrapping up fragile items. If you ever need to use it, make the most of it and help save the environment by giving it a second lease of life, eg, use it for packaging parcels or wrapping presents.
We'd love to hear how you've saved money and time at Ikea. Leave a comment below, or get in touch at Twitter.
Have your say
This is an open discussion but the comments do not represent the views of MSE. We want everyone to enjoy using our site but spam, bullying and offensive comments will not be tolerated. Posts may be deleted and repeat offenders blocked at our discretion. Please contact fbteam@moneysavingexpert.com if you wish to report any comments.
Update: We are aware that some users may currently be having issues seeing the comments and we're working on it.