Ikea MoneySaving tips & hacks
Including how to avoid queuing during busy times & how to 'try before you buy'
If you've shopped at Ikea, you'll know how easily costs can add up when you pop in for a specific item and leave hours later with a car full of cacti and scented candles. So here are our tips to make your Ikea visits more efficient – and cheaper – including what's in its 'up to 50% off sale', how to 'try before you buy', and how to get free missing parts.
For some of these, you'll need to be an Ikea Family member (have its free loyalty card). If you don't have one, you can sign up for free online or in a store (find your nearest).
Most Ikea stores are now open again, with special safety and social distancing measures in place – so we've adapted this guide to make sure our tips and tricks are still relevant. We've had to take a few out, such as the free tea & coffee, in-store shortcuts, MSE Oli's favourite £1.75 cooked breakfast, and the free in-store events and workshops as these have been suspended during the current pandemic.
Ikea coronavirus need-to-knows
We've summarised key changes to shopping in-store at Ikea below, but see its coronavirus information for full details.
Limit to the number of customers allowed in store. There will be a queuing system outside to manage this.
Ikea asks you to shop alone, if possible. Just one person per household, unless you need assistance or have children with you.
In-store shortcuts have been closed and a one-way system is in place – staff and signs will be on-hand to help guide you around the store.
In Scotland, you must wear a face covering while in-store.

Ikea says there'll be extra cleaning and sterilising taking place.
Hand sanitiser stations are placed throughout the store.
There'll be protective screens at checkouts and other key points across store.
Ikea recommends you bring ready-made lists and your own bags.

Many stores are operating on shorter hours so check your local before making a trip.
Card or contactless payments only – no cash accepted.
The Coventry store will remain closed and some Planning Studios and Collection Points in London haven't re-opened yet.
Indoor and outdoor play areas – including the kids' crèche – are still closed.
Ikea replaces missing parts for free and will even deliver them to your door
For small missing parts, eg, Allen keys, screws and bolts, and larger items, head to the returns department in your local store. Alternatively, you can call Ikea customer service on 0203 645 0000 and arrange for the spare part to be delivered for free.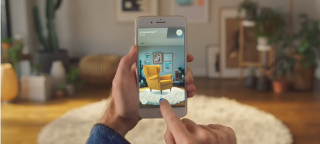 Download the free app from the Apple App Store (your Apple device will need iOS 11 or later software to run the app) or from Google Play for Android devices.
Keep an eye on your emails for offers in your local Ikea store
If you're an Ikea Family member, you could be emailed exclusive offers and vouchers for your local store. MSE Laura has previously received an email with £5 off a £40 spend. We've also seen £50 off a £300 spend on outdoor furniture and accessories.
If you've lost or forgotten your Ikea Family card, you can still get its benefits
If you can't find your card or forgot to bring it with you, you can download the Ikea store app (available for free at the App Store or Google Play) and log into your account to access a digital version of your card. Alternatively, you can usually print off a temporary card at in-store kiosks.
Free tool to help avoid queuing during busy times at your local Ikea
Ikea can often be busy and right now where it is limiting numbers of people in store and while its summer sale is on, you'll likely need to queue outside during busy times.
Using Google's free 'Popular Times' feature (by simply Googling your local store, eg, 'Ikea Manchester'), you can find out when your local store is likely to be at its busiest, helping you plan your trip better to avoid the queues. There are two ways to use Google's tool:
The most accurate way is to check shortly before you go if now's a good time to visit the store. For many Ikea stores, Google will show 'Live' visit data (shown by a pink bar on the graph) which is updated in real time so you'll have a reasonably accurate picture of how busy or quiet the store will be.


You can plan ahead by looking at different days of the week, and in the past this has been a great feature, but because it's using historical data and habits may have changed in recent weeks, use it to see when your local store is typically quieter, but take it as a general guide and not a guarantee.
First do a Google search for your local store, eg, Ikea Lakeside or Ikea Manchester.
On a mobile, you'll find a box with Google's Ikea listing at the top of the page – scroll down a little bit to see the 'Popular times' graph.
On a laptop or computer, you'll find this on the right-hand side.

Remember to bring your own bags
As part of new safety measures, Ikea is asking that you bring your own bags. Ikea bags are bigger than your average and pretty sturdy, but at 50p each, the cost can soon add up. So, if you've already loads under your kitchen sink, remember to re-use them.
Go prepared with measurements written down
Always carry a note of your measurements when you head to an Ikea store, eg, any spaces you want to fill and any furniture you're replacing. This should hopefully prevent extra (often costly) trips back to the store if something doesn't fit. Plus, Ikea's paper measuring tapes in store are only one metre, so if you're buying something large, bring your own tape measure.
Free product insurance on your journey home and while you assemble your items
Present and swipe your Family card at the checkout and you'll automatically get free product insurance for 'accidental damage on the way home and during assembly'. This only applies to items bought in store and excludes Bargain Corner items, cut fabric and custom made goods. If you need to claim, present your Family card and receipt in store within 90 days of the date you purchased.

Ikea says damaged items will be replaced on a like-for-like basis or you'll be given a store card for the item's current selling price.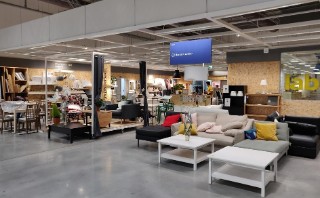 Former MSE Dani got lucky and found a light in Bargain Corner that she was going to buy at full price – the only difference was that it had a torn box, so it's always worth checking before you check out.
Ikea furniture hacks
If you search 'Ikea hacks' online, you'll find endless ideas on how to transform your Ikea furniture and use it in creative ways. Former MSE Lucia painted her £13 Ikea step stool grey and found plenty of different uses for it, including a side table, extra dining chairs and a plant stand.
Get extra discounts every month
If you've an Ikea Family card, you can get monthly offers and exclusive discounts on selected products. For example, MSE Laura spotted a desk which was priced at £100 for Family members (normally £120) and a candlestick for £7 (normally £8).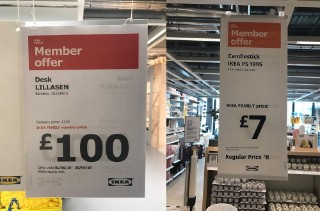 Keep an eye on our weekly email for short-lived Ikea deals
We've featured some cracking Ikea deals over the years, including its popular prize draw where everyone wins something and its '£9' real Christmas tree (you buy a £29 tree and get a £20 voucher to spend). If you don't already receive the weekly MSE email, you can sign up here.
Ikea's product recalls online
The Ikea website lists all of its product recalls in one place. If you've bought any of the items, you can return it for a full refund – usually, you don't even need to dig out a receipt.
Re-use Ikea's brown paper
After you go through Ikea checkouts, there's usually brown paper for wrapping up fragile items. If you ever need to use it, make the most of it and help save the environment by giving it a second lease of life, eg, use it for packaging parcels or wrapping presents.
We'd love to hear how you've saved money and time at Ikea. Leave a comment below, or get in touch at Twitter.
Have your say
This is an open discussion but the comments do not represent the views of MSE. We want everyone to enjoy using our site but spam, bullying and offensive comments will not be tolerated. Posts may be deleted and repeat offenders blocked at our discretion. Please contact fbteam@moneysavingexpert.com if you wish to report any comments.